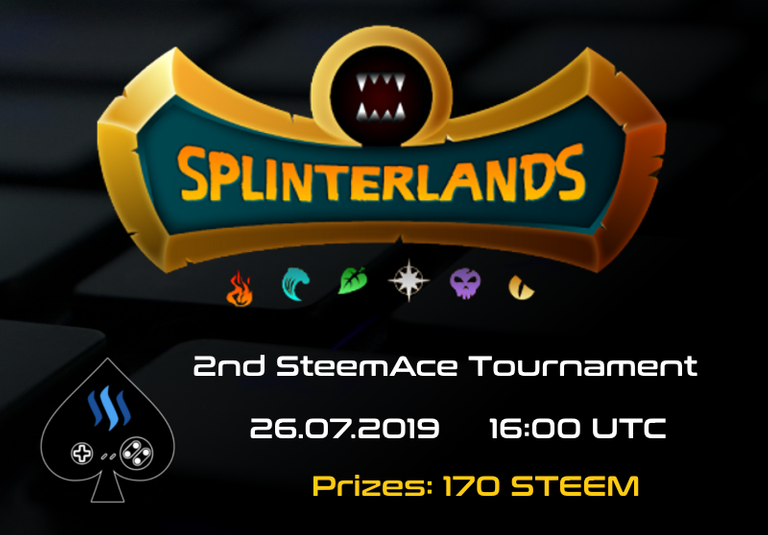 It's time for our second SteemAce tournament in Splinterlands. We are excited to give away 170 Steem to the winners. We will be hosting such tournaments on a regular basis. Keep on reading for more information about them. But first here are the details about the next tournament.
It's a silver tournament
No legendary cards allowed
Entry: 100 GG
Prizes: 170 STEEM
Time: 26.07.2019 - 16:00 UTC
Sign-up to the tournament now!

1. How to get GG Tokens
GG Tokens can be earned on our SteemAce community platform for gaming content. The three easiest ways to get GG Tokens are:
Be a content creator and get upvotes
Use your staked GG Tokens and vote others content
Buy them directly on the market
There are even more ways to get GG. We already have and will be hosting even more tournaments without entry fee where you can earn GG Tokens. Another way is to earn them passively through mining. Everything you need is one of the GGM miners, stake them and wait for your rewards.
2. Future of SteemAce Tournaments
Our plan is to constantly host different kinds of Splinterlands tournaments. Some will charge a fee, others will be free.
Free entry, GG Tokens as prizes
GG entry, Steem and other things as prizes
The great thing is, that you can always earn the entry fee of our premium tournament for free.
3. GG Tokens for Sale
There are not many sellers on the market at the moment. Seems like not many are willing to sell for these cheap prices. We decided to take a very small part of our Sell Wall (10k) and offer it for the actual market prize of 0,06 Steem per Token. Everyone who wants to join the tournament but doesn't have any GG yet, can buy the small entry fee easily. We will delete the rest of the sell wall once the tournament starts.
Good luck to everyone!

Important links