@happymax, @beeyou, @goldfashioned, @pkocjan, @lord-of-fire, @endgegner, @planosdeunacasa and @kobold-djawa are currently still fighting their battles on the SteemFest Splinterlands Tournament - while I got already kicked out thanks to the more capable player @planosdeunacasa :-)
I'm not one of the more active players for sure, but I did try to upgrade my deck for this Tournament in the hopes that would bring me one step closer to @steemfest in Bangkok coming November.
I'd already been beaten before by a few of the current players, and I think beforehand I thought @louis88 might get very very close to winning, but alas, it didn't happen.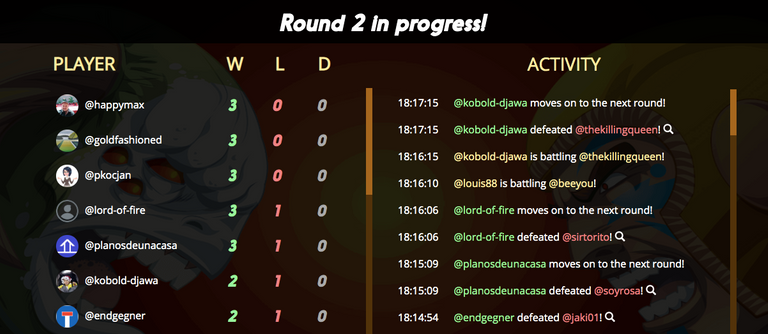 Battles! Arena!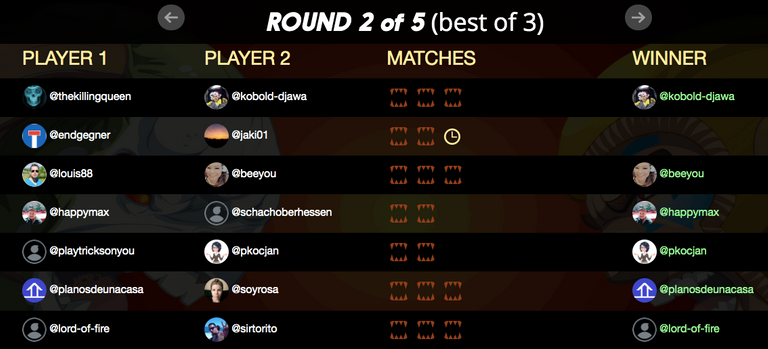 That's my name being crossed out :')

Since this was basically my first experience with playing Tournaments I didn't expect to win but I gotta tell you: I was actually having sweaty hands right before the start!
Would I click the wrong cards?
Would I still be missing cards that could win that one fight?
Would time run out before the battle starts?
Would a sudden problem appear on my laptop or internet connection?
Would I maybe maybe maybe get to the end and lose the final deciding battle? (Somehow that seems worse to me than losing in the second round)
Anyway. Cool experience, but I'm no step closer to getting to Bangkok this November. Whoever is winning right now/in the next 20-30 minutes: congratulations and enjoy your well-deserved SteemFest ticket + Accommodation! \0/
I'll just go cry in a corner.
---
For other contests and chances to win check out @anomadsoul's blog - if you can walk 15000 steps each weekend or get a lot of users onto the new ReviewHunt Platform you still have a chance to win a ticket! Cheers :-)
---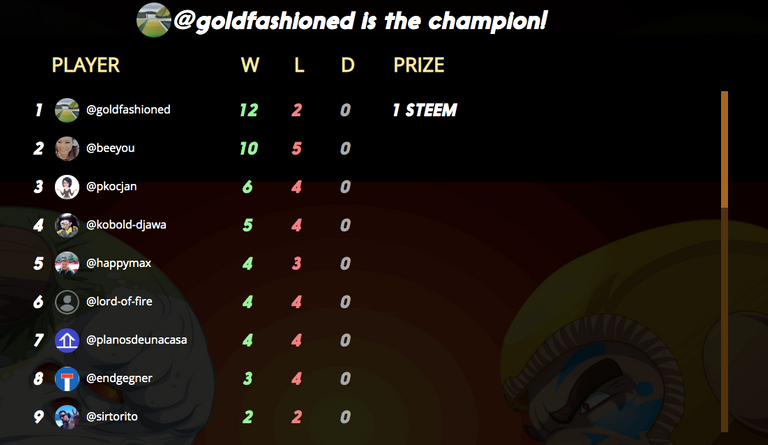 Congrats to @goldfashioned, big hugs for the pain of almost winning to @beeyou, and cheers to everyone who played.
I know it's not visible from the screenshot but I ended on place 11 out of 26 players, really really average :P