Dear Friends, i saw that there are many new user from pakistan and all over the world that earning from steemit and from its tribe but worry about exchange , withdraw. they do not know how to sell crypto.
i'm lover and user of steemit ,come and sell you crypto here, i will buy steem sbd from you , you can sell to me any crypto currency without any hesitation.
if you are ready or have wish to get instant money , then send your sbd steem with your mobile phone for jazz cash or any other way,,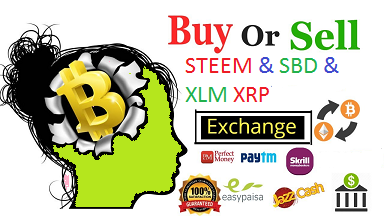 if you need dollar,
then send your skrill email address
for dollar send perfectmoney adress
for dollar send payza money email
for jazz cash or any then send to me your mobile phone in memo..
it is offer is for pakistan community. dollar offer is for all over the world.