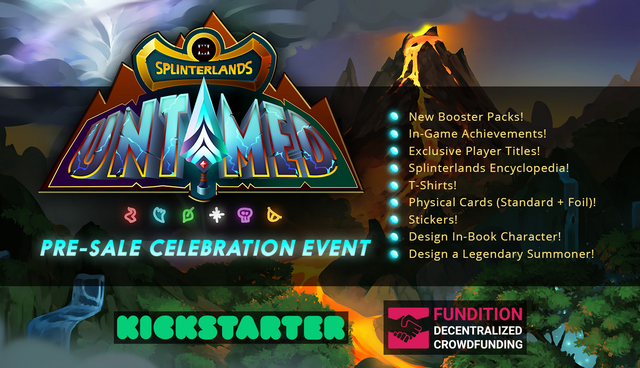 All right, we have a Kickstarter in full swing. It's the largest crowdfund in company history. It's bringing in $130,000.00 so far. THAT'S AMAZING! THAT'S AWESOME! What the hell is it???
First you can find the links here:
https://www.kickstarter.com/projects/526764488/splinterlands-untamed-a-blockchain-trading-card-game
https://fundition.io/#!/@sm-fundition/yl3a19vec
Kickstarter 101
Kickstarter is a web based crowd funding platform. People that want to get projects out into the world put together custom pages to announce their project to the world. Project creators set funding goals and stretch goals. If the funding goal isn't met all the payments are refunded. If the funding goals are exceeded then project owners open up "stretch goals" and people that pledge get some bonus loot!
Splinterlands Kickstarter
We currently have a kickstarter. The goal was $25,000. That's now 5X exceeded and some stretch goals have been unlocked. We also have a drastically simplified fundition campaign running so that people can pay with crypto. The Fundition amounts don't appear on the Kickstarter campaign, but when this team calculates the stretch goals we'll be including the money raised (though likely not the backer count because of it's too easy to fake).
There's currently two main approaches people are taking: Physical goods or Digital Only.
Digital Only
The basic deal works almost identically to do the website but it includes a $5 starter code.
0-99 packs no bonus
100-499 packs 10% bonus
500 packs 15% bonus
With the starter pack players should pay
A minimum of $205 to get the 10% bonus
A minimum of $1005 to get the 15%
(If you are really dying to skip the starter pack you can donate $2 to us and use the creeping ooze pledge level and then the amounts are $202 and $1002, but doesn't come with a starter pack)
Physical Loot
The only way to get physical loot is to use Kickstarter. It helps us figure out all the shipping costs and logistics that's otherwise a giant pain in the ass to manage.
There's 2 main pledge levels that we're seeing-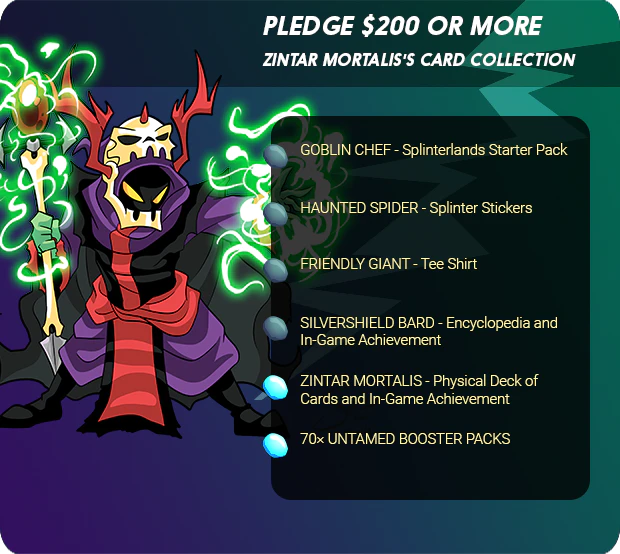 and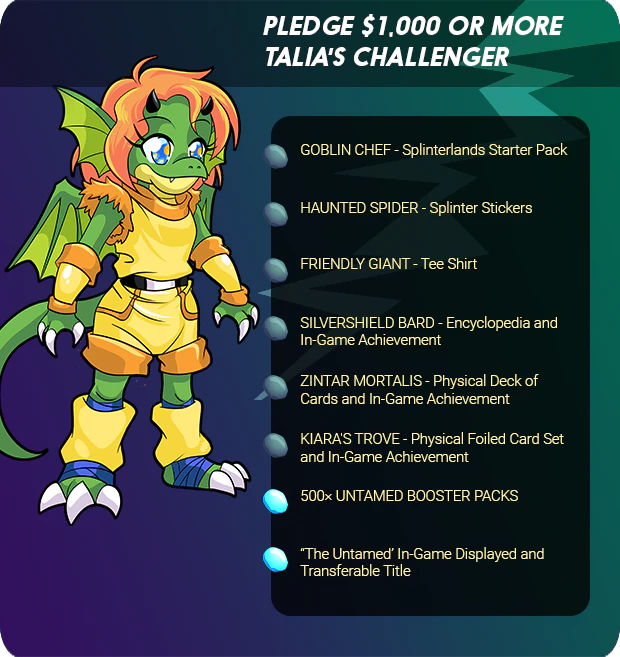 By the time you spend $200 on the physical side of things you get stickers, a tee shirt, our book, and a physical deck of cards. If you're at the higher tier you'll get a second deck of cards that has a foil coating. The foil coating is actually pretty expensive per card so the price increase is largely due to that. Also you're getting more packs at a better deal.
Super high tier pledges
These start coming with custom stuff: Titles, Getting into Lore, and Designing Legendary Summoners.
When those sold out we came back and remade the tiers, but without the design aspect so more people could access the deals.
Stretch Goals
So, far players have unlocked 3 stretch goals and we're now on the fourth. The stretch goals are for
More cards printed with the physical packs (this effects everyone getting the printed cards)
A legendary monster that's Kickstarter exclusive is being included called "Chain Golem" (This effects everyone spending more than $35)
Stickers have grown in size and number (this effects everyone getting stickers)
Players haven't unlocked it yet, but if they do we'll include legendary and potentially alchemy potions as well. (This will effect everyone spending $45 or more).
So far the big deal seems to be the Chain Golem (especially since potions aren't unlocked yet). So, let's review how that works.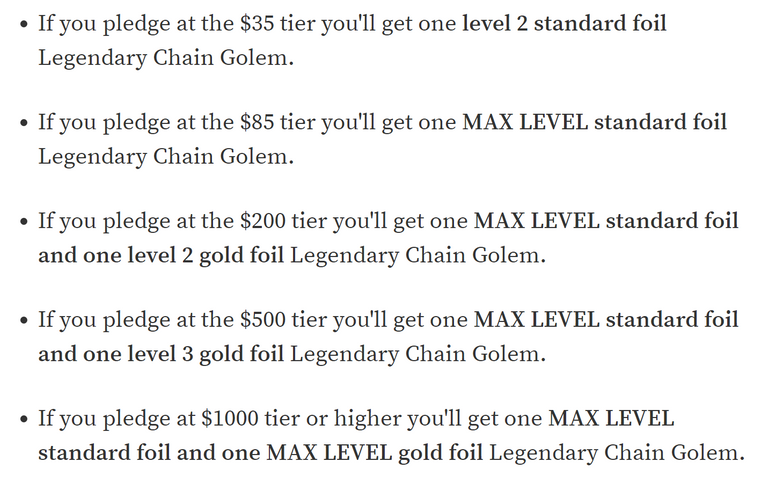 The point is that as you spend more money getting bonus packs like normal you're ADDITIONALLY getting access to this Chain Golem. That's the benefit. The added inconvenience is that you don't get the cards right away. You have to wait for the crowd fund to end, for us to get paid, and tokens to be distributed. We're planning to have this happen in November, but not promising that. Things can go to shit in blockchain and it can be out of our control.
Three Examples
Fundition
Fundition - Digital Only Tier at $45 - Overall pledged $205 - ie - Pledge at the $45 tier, when asked how much money to contribute type in $205. You have now "overpledged" the $45 tier to make your total spend $205.
With $205 spent you'll get
a Starter Pack
110 UNTAMED packs (with access to all airdrops)
A max level standard foil chain golem.
A level 2 gold foil chain golem.
Access to potions if they are unlocked (215 charges of legendary and alchemy)
Additional unannounced stretch goals if they are unlocked
Disadvantages
Have to wait until after Nov 7th
No referrals
Advantages
Kickstarter
Kickstarter- $1000 tier - Overall pledge $1000 + shipping
Starter pack
Stickers
Tee Shirt
Book
Physical Cards
Foiled Physical Cards
500 Boosters
"The Untamed" transferable title
A Max Level Standard Foil Chain Golem
A Max Level Gold Foil Chain Golem
Potions (1200 charges of alchemy and legendary if unlocked, a $108 value!)
Additional Unlocked yet unannounced stretch goals
Advantages
Disadvantages
Shipping, which doesn't count towards the pledge and is expensive
Have to wait until after Nov 7th
No referrals
Site
Purchase packs normall
100 packs has a 10% bonus
500 packs has a 15% bonus
$5000 or more has special deals, contact me in Discord.
Note- NOT, I repeat, NOT eligible for Kickstarter or Fundition Stretch goals.
Advantages
The packs arrive in your wallet immediately. You can can sell or gift them to other players directly or through Steem-Engine. Note the original buyer from us gets all the airdrops. Also note that even though you have the pack tokens you can't open the cards yet. This is still a pre-sale. Packs become openable in Late November.
Disadvantages
Not Eligible for Fundition/Kickstarter Stretch Goals
The first airdrop is sold out and packs purchased now miss the first one
One last thing
All these sales are currently pre-sales. UNTAMED won't go live until after the crowdsale ends and we've been paid. The crowd sale is slated to end on Nov 7th. Kickstarter holds the funds for 2 weeks and then transfers to us. That gets us to Nov 21. The plan is to get the digital rewards out shortly thereafter so we're targeting Nov 24-28 as the range when pack tokens go out. (Plan not a promise)
Physical stuff has custom stuff to get created, added to the book, and then shipped out. We hope to start shipping stuff in December, but it's possible with the holidays and unresponsive backers that it gets pushed back to January.
The Legendary cards have to get designed. As soon as payments go through we'll start designing them. The legendary summoners will go out in airdrops during the UNTAMED edition. As they become ready and characters get unlocked we'll be rolling them out one at a time.
Questions?
Hit me up in Discord- https://discord.gg/CAFJRjY