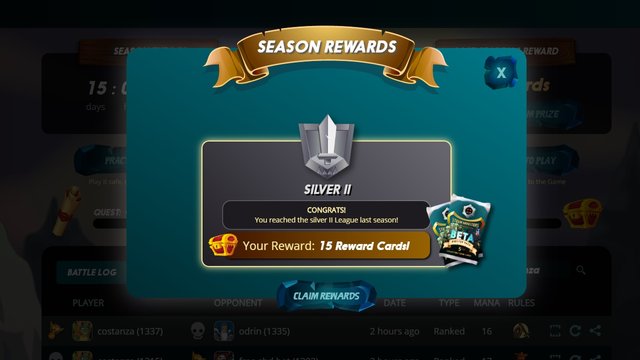 I only started playing Steemmonsters around 18 days ago thanks to getting a promo code from @clove71 and very much enjoyed my first season ending in Silver 2.
---
I always thought I missed the boat when it came down to Steemmonsters but it turns out this is not really the case. Especially the Dark Energy Crystals (DEC) that are rewarded for playing that can be converted into upvotes on Steemit really make it worth the daily playtime. The fact that cards are limited and can be sold and bought gives everything an extra twist and added value over something like Hearthstone. I also like the strategy element. At the start, everything can be quite complicated but once you get passed that it's all quite easy and a fun experience getting better and upgrading your cards.
First Season Results: SILVER 2
Despite only starting with the leased starter pack cards, I did manage to get up to the Silver 2 league without spending all that much reaching a (1478) score at my top. I could not resist buying some cards on the market (especially the summoners are hard to get and improve) but also managed to get a couple of nice ones rewards that I sold.
Best card rewards: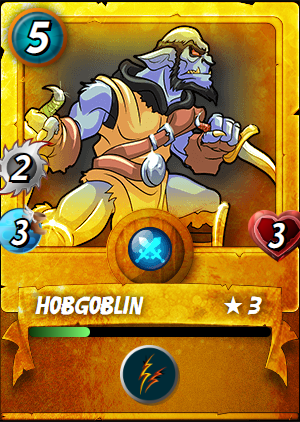 I got golden card rewarded from a daily challenge and sold it on the market for 8.072 STEEM using that to buy some cards that are more useful when starting out.
---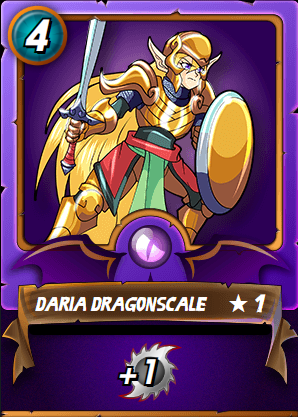 I managed to get my hands on this summoner from another daily objectives reward and it has been quite useful as it allows 2-star common cards to be played.
---
Card Bought:
Thinking about it afterward, I should have waited a bit to buy cards before understanding the game better. The fact that this game gives me a strong urge to spend money which I rarely have gives me quite some confidence that it has the potential to be picked up by a more wider audience eventually. With the low price of Steem, it's quite tricky to buy cards as the value in Steem will likely go down unless the altcoin market continues to crash.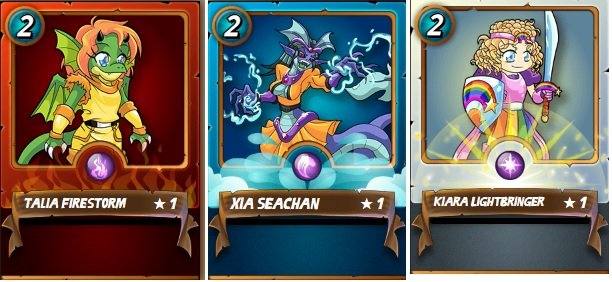 I bought 3 epic summoners cards of 3 mana because they are super useful in battle rules where summoners benefits are removed and also allow 2-star common cards to be played.

Each time I learned one of the new card abilities I pretty much went to search a card that had it so I could use it more when ended up with me buying some random cards. from now on I will mostly focus on getting cards that are Epic or Legendary and really give my game a huge boost hoping to pick up others from daily rewards or giveaway contests on Splintertalk.
---
Total Steem Spent:
Total Steem Spent Buying cards: 16.105 STEEM (14 Cards)
Total Steem Earned Selling cards: 8.955 STEEM (2 Cards)
I spend 7.15 STEEM in total but since it's possible to sell those cards back at a similar price in $ and they help to get more card rewards and upvotes from the game it's very tempting to go ahead and spent a whole lot more.
I have a couple of cards on my wishlist to pick up for the next season but the low Steem price somewhat makes me cautious.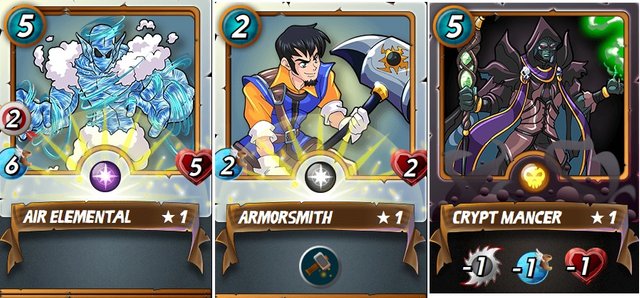 The first 2 I regularly get crushed by and the last one just looks cool and would allow me to play the death splinter.
---
Season Rewards & Collection Value: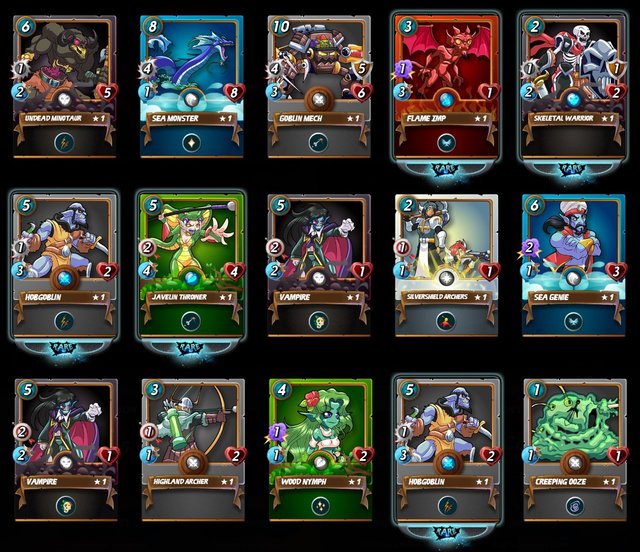 For as far as I know, nothing special that I desperately needed was inside the 15 season reward cards I received.
My collection value after 18 days now is 8.81$. Before the season reward cards this was 8.54$.

---
If you haven't started playing Steemmonsters feel free to use my referral link
---
I'm looking forward to competing in the next season and get better at the game (Still lots to learn). Any tips or must-have card advice is always welcome in the comments below. Also let me know where you ended the season!