[ESP] STEEM MONSTERS: GIVEAWAY + GANADOR + RESUMEN FINAL DE TEMPORADA + SORTEO 200 DEC + 1er TORNEO STEEM MONSTERS] || [ENG] STEEM MONSTERS: GIVEAWAY + WINNER ANNOUNCEMENT + END OF THE SEASON SUMMARY + 200 DEC GIVEAWAY + STEEM MONSTERS TOURNAMENT #1]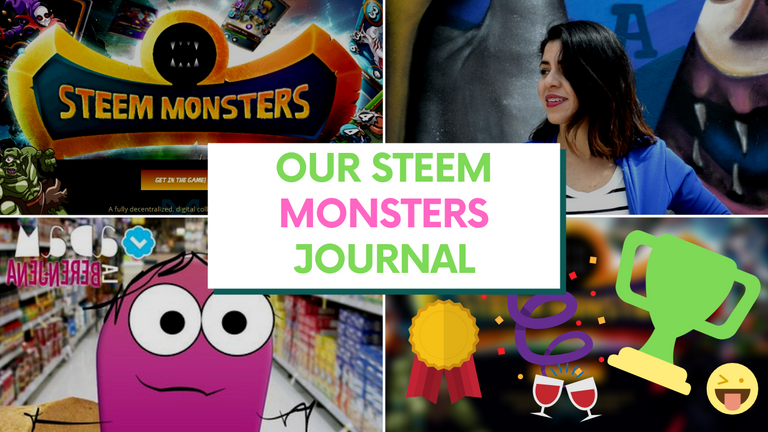 ---
¡Hola amigos!
Espero que se encuentren muy bien (como siempre).
Esta semana fue muy divertida con todo lo referente a Steem Monsters.

RESUMEN DEL FINAL DE TEMPORADA
---
Ayer compramos un último orbe antes de culminar la temporada, ninguna carta nueva pero pudimos subir de nivel las otras.

Tuvimos una super batalla, le dije a Adam (@chamerada) que si ganabamos, el merecía un monumento en su honor. La pueden ver aquí.

Cerramos la temporada en Oro III y recibimos 22 cartas de recompensa, de ellas una sola dorada y un par de raras bien útiles.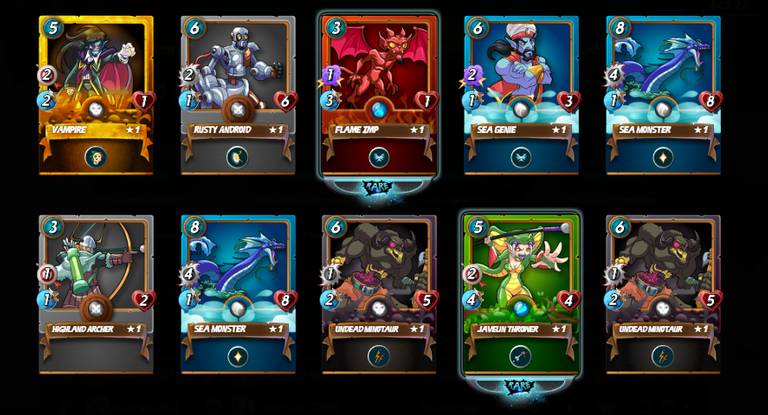 Steem Monsters

1er TORNEO DE STEEM MONSTERS.
---
Me siento muy contenta con la experiencia vivida la noche de ayer, porque no solo jugamos un torneo de Steem Monsters sino que también establecimos vínculos. Ayer conocí a nuevas personas y pude acercarme a aquellas que ya conocía gracias a la blockchain de Steem.
Antes de comenzar estaba muy ansiosa, tenía mucho miedo de que nadie asistiera o de que algo saliera mal pero todo salió perfecto. Nos reímos, unos perdieron y otros ganaron DEC pero estoy segura de que todos ganamos una buena experiencia.
Estos fueron los ingredientes principales: Mi compañero en la creación del torneo @lenonmc21 y patrocinante de 500DEC, mi querida amiga @madefrance, mi nuevo genial amigo @javiermurillo, el servidor de @rutablockchain y todos los geniales participantes @energycrystals, @jossduarte, @kenny-crane, @danielvehe, @franz54, @monster-one, @dinaudic y @vxc.
También contamos con la presencia de los hermosos @enmy, @angelica7 y @joseacabrerav.
---
Las características del torneo fueron:
Liga novato
Sin uso de legendarias (aunque hubo un pelón con esto). jajajaja
Entrada gratis
Premios:
1er Lugar: 500 DEC
2do Lugar: 300 DEC
3er Lugar: 200 DEC
---
GANADORES


---
Espero pronto volver a jugar con ustedes, me diverti mucho. Les mando un abrazo a todos.
---

GIVEAWAY
---
Hoy estaré sorteando 200 DEC de forma completamente aleatoria. Solo debes comentar esta publicación y si gustas hacer resteem y dar upvote para correr la voz.
El ganador será anunciado dentro de 1 semana.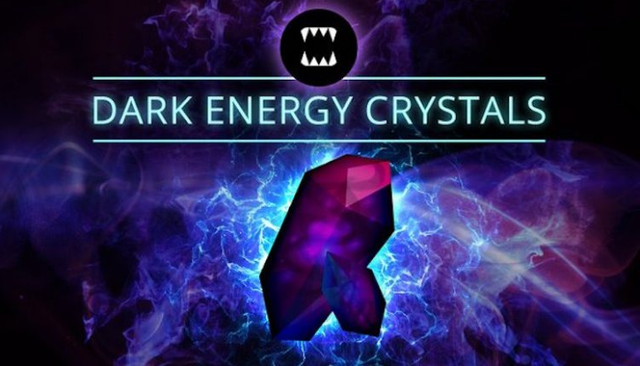 Steem Monsters

ANUNCIO DE GANADOR
---
¡Felicidades @kenny-crane! <3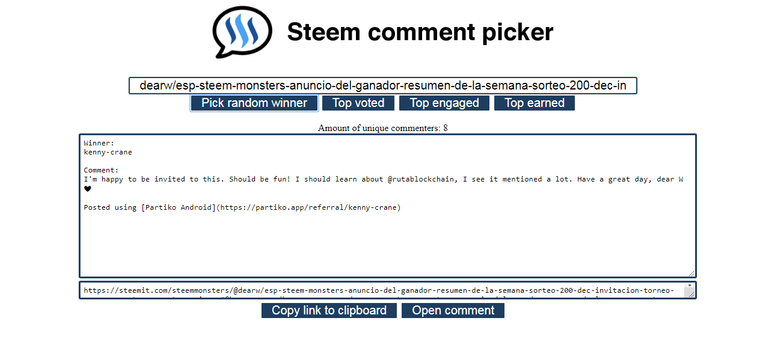 Steem Comment Picker
Muchas gracias al resto de los participantes @gillianpearce, @cryptofiloz, @chireerocks, @kenny-crane, @fermionico, @madefrance, @javiermurillo y @marcosdk.
Ya esta en marcha un nuevo concurso, no duden en participar. <3

[ENG]
---
Hi there!
I hope everything's going great for you.
This week was a lot of fun with everything about Steem Monsters.

END OF THE SEASON SUMMARY
---
Yesterday we bought an orb before the end of the season, no new cards but we could level up the others.

We had a super battle, I told Adam (@chamerada) that if we won, he deserved a monument in his honor. You check it out in here.

We closed the season in Gold III and received 22 reward cards, including a single gold and a couple of useful rares.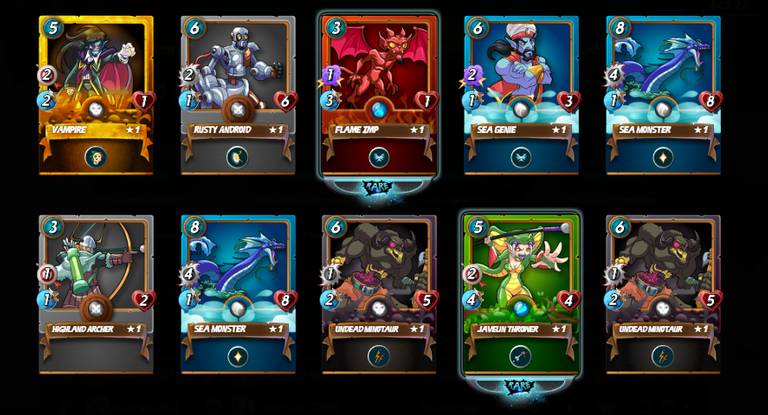 Steem Monsters

OUR 1st STEEM MONSTERS TOURNAMENT.
---
I'm so happy with the experience last night because we not only played a Steem Monsters tournament but also established links between. Yesterday I met new people and I was able to get closer to those I already knew thanks to the Steem blockchain.
Before the tournament started I was very anxious, I was afraid that nobody would attend or that something would go wrong but everything went perfectly. We laughed, some lost and others won DEC but I'm sure we all gained good experience.
These were the main ingredients: My partner in the creation of the tournament @lenonmc21 and sponsor of 500DEC, my dear friend @madefrance, my great new friend @javiermurillo, the @rutablockchain's server and all the great participants @energycrystals, @jossduarte, @kenny-crane, @danielvehe, @franz54, @monster-one, @dinaudic, and @vxc.
We also have the presence of these beautiful people: @enmy, @angelica7, and @joseacabrerav.
---
The characteristics of the tournament were:
Novice League
No use of legendary (although there was a downside to this). *Sowy!<3
Free entry
PRIZES:
1st Place: 500 DEC
2nd Place: 300 DEC
3rd Place: 200 DEC
---
WINNERS


---
I hope to play with you again soon, I had a lot of fun. I send you all a hug.
---
GIVEAWAY
---
This week's giveaway will be 200 DEC. The winner will be chosen on a completely random basis. Just comment on this publication and you are already participating. If you like you can also do resteem and give an upvote to spread the word, but this is not mandatory.
The winner will be announced within 1 week.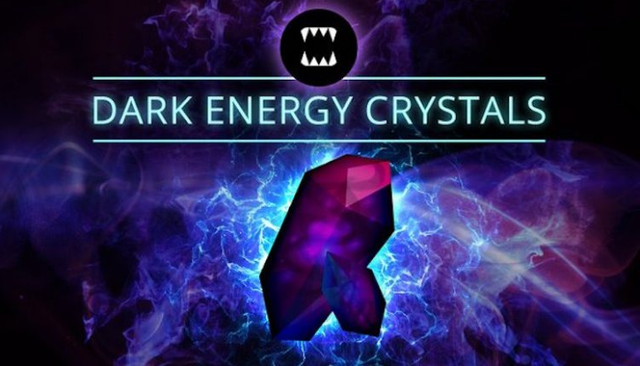 Steem Monsters

WINNER ANNOUNCEMENT
---
Congrats @kenny-crane! <3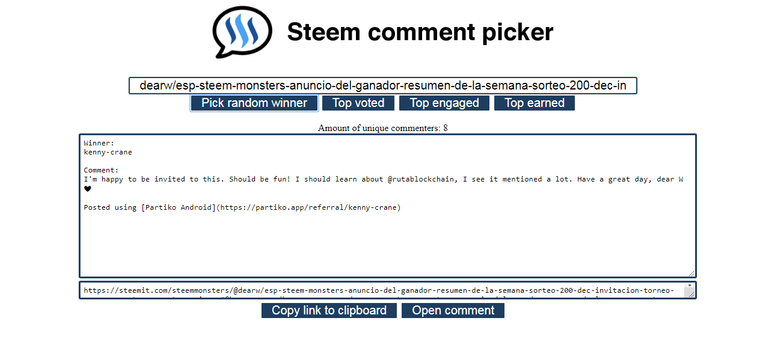 Steem Comment Picker
Many thanks to the rest of the participants:
@gillianpearce
,
@cryptofiloz
,
@chireerocks
,
@kenny-crane
,
@fermionico
,
@madefrance
,
@javiermurillo
, and
@marcosdk
.
A new giveaway is already underway, do not hesitate to participate. <3

Agradecimientos especiales a @altooq y @nathanmars por el apoyo que me han dado // Special thanks to @altooq and @nathanmars for their support.

Sígueme en / Follow me on Twitter and Instagram || chat with me on Discord: DearW#6212 || Crea contenido desde / Create content Partiko || Juguemos / Let's play Steem Monsters || Gana recompensas por tu actividad diaria / Earn rewards for your daily activity aqui/here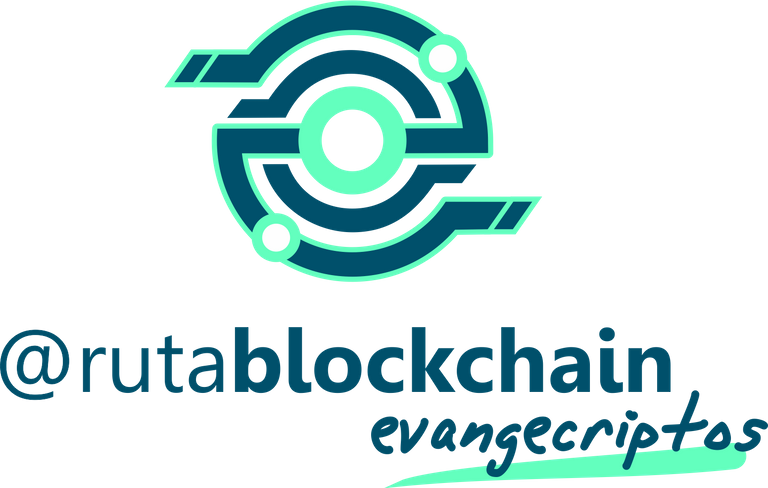 ---
---