Well the steemmonster season is going fast. Only 5 more days until we can open our loot chests!
The daily rewards change did have an impact on the overal experience. In the old days you knew that you would get x cards and you were just hoping for a great card.
Now with the changed reward system, you are just hoping on a card. Period!
The new reward system:
Well in stead of getting cards you do get a number of loot chests!
Each loot chest does represent a reward. You do have 33% chance of getting a card, 33% of getting a legendary or alchemy potion and 33% of getting some DEC. The amount of DEC you will get depends on luck. In general it is around 10 DEC but could be much higher!
Well the 1% has become the holy grail I think. That 1% chance could give you an essence orb pack! So far I did receive 1 this season and the rewards of that orb pack was around $2.
I am not saying that the chance is negative. Some things had to be done. fully understand that but from a starter perspective this could be very strange. In the lower leagues you will get only 1 loot chest. What will happen with the user experience when such a starter doesn't get any new card after the first days of completing a battle. Okay they will be happy with the DEC but what if they do receive only potions?
My daily rewards of today!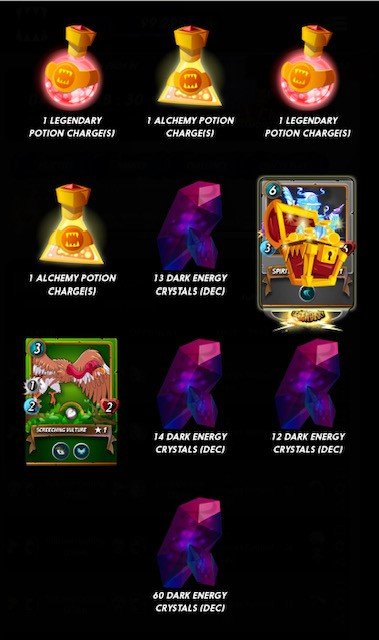 Cheers,
Peter