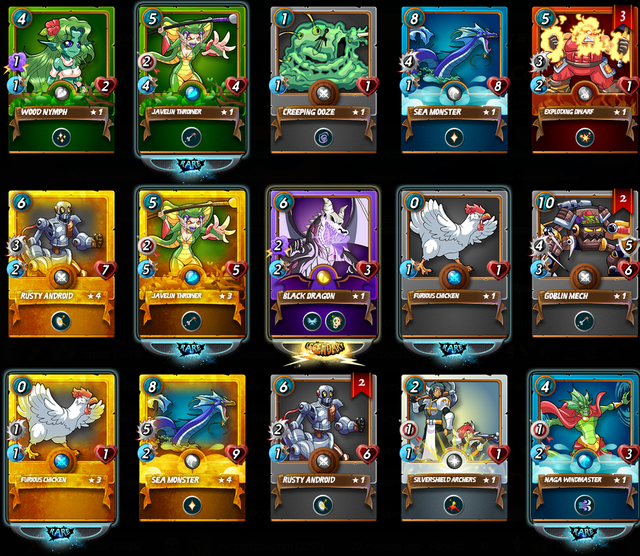 This has been the best daily rewards since I started playing regular again.
The golden chicken is a card I wanted to have since I realised how good the chicken is and how often I use it.
The level does not really matter as its only purpose is to take a hit or two and die. The golden version will bring in a nice 10% bonus for the DEC in the rare cases I win a match and over the long run will end up raking in a bunch more DEC.
And we all know more DEC means more potions and cards which is pretty nice.
Once again I am seemingly stuck in diamond 1 but I only played enough matches to get my daily quests done as my capture rate was still pretty low from last season, in which I played a lot the last days to get the last points for champion 1 which did not work out in the end :-(
I joined a guild which also ends up in more DEC and overall I am pretty stoked about the game at the moment and looking forward for the new untamed cards.
I participated in the Kickstarter with a 1k pledge. If I would tell that anyone outside of Steemit people would call me crazy but everyone who is involved with the Steemmonsters knows it is an investment as well as the cards end up producing rewards and DEC which can be sold if you so choose and the asset itself (card) did pretty well.
The rewards just keep pilling up from the kickstarter campaign which is nice and despite I will receive not only digital goodies it is what I am mostly intersted in.
I am a bit torn about the "airdrop" mechanic of the new set though as the packs "loose" value every 100k sold units but we shall see first how the market react to the airdropped monsters and the new set in general.
My "back to the start" account in now on day 3 I think and it is quite frustrating and kind of boring to play with it I have to say. I got an ooze yesterday as reward and hope a neutral card will help out a bit.