Die für mich zweite Season bei Steemmonsters neigt sich dem Ende zu, Zeit ein Resümee zu ziehen.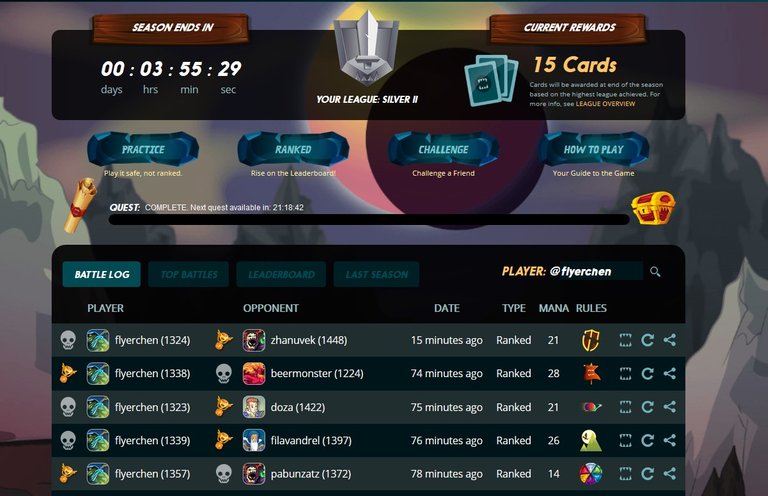 Die Season hat gut angefangen, schnell konnte ich aufsteigen. Gut, ich habe auch ein Investment in neue Karten getätigt. Das Ziel der vorherigen Season, Silber 3 war innerhalb weniger Tage erreicht.
Nach einigen weiteren Tagen gelang sogar der Aufstieg in Silber 2.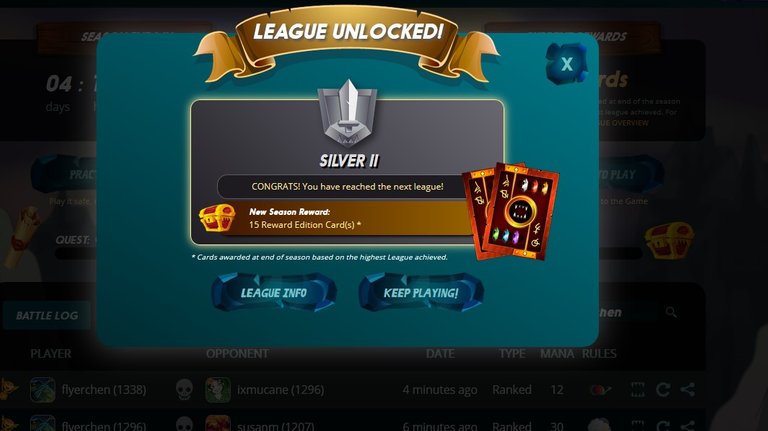 Ab dann stagnierte es jedoch.
Dieses mal wurde mir der Bereich zwischen 1400 und 1500 Punkten zum Verhängnis. Immer wenn ich eine dieser Punktzahlen erreicht habe ging es in den nächsten Kämpfen wieder runter auf um die 1300 Punkte. Meine Spitzenwert waren 1553 Punkte - das Ziel Silber 1 war also schon zum greifen nahe.
Letzten Endes fehlten mir einfach die gelevelten Karten und vor allem gelevelte Summoner um weiter zu kommen.
Mal sehen wie weit ich es in der neuen Season schaffe. Auf jeden Fall freue ich mich auf 15 neue Karten. Hoffentlich sind einige gute und starke Karten dabei.
English version (google translate):
My second season at Steemmonsters comes to an end. Time to draw a conclusion.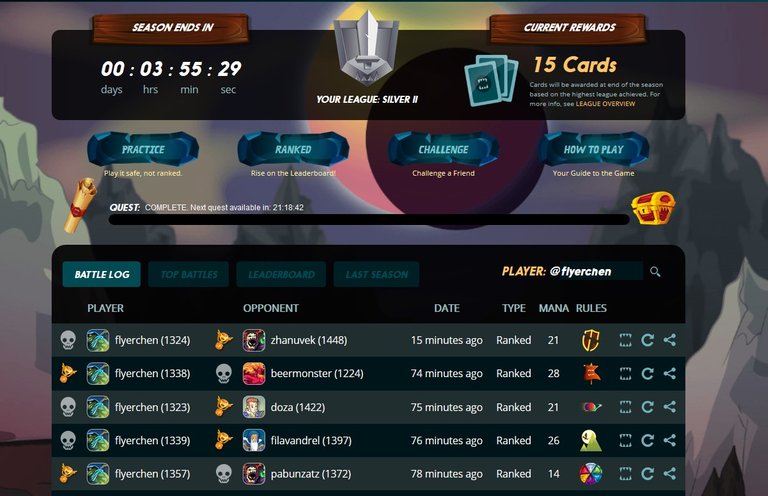 The season started well, I was able to move up quickly. Well, I also invested in new cards. The goal of the previous season, Silver 3 was achieved within a few days.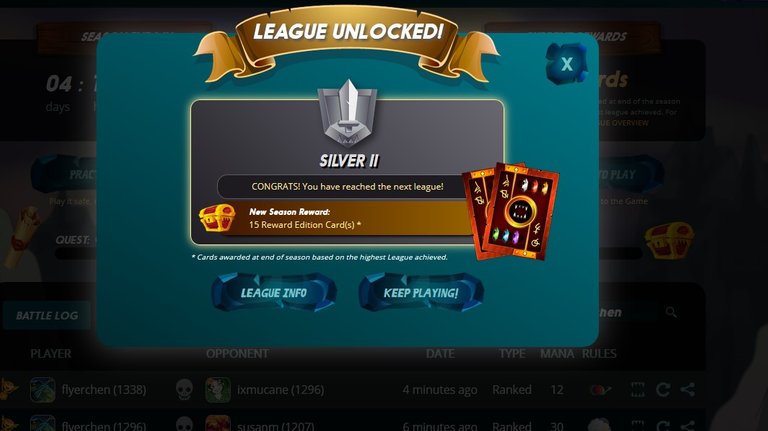 After a few more days, i even climbed into silver 2!
From then on, however, it stagnated.
This time the range between 1400 and 1500 points was fatal for me. Whenever I reached one of these points, the next few battles went down to around 1300 points. My peak was 1553 points - the silver 1 goal was within reach.
In the end my card were not good enought. There were to less cards to level my cards up especially my summoners.
Let's see how far I can make it in the new season. In any case, I'm looking forward to 15 new cards. Hopefully there are some good and strong cards.