Splinterlands Daily Quest Giveaway (Get a Free Card) - Day: 27
Hello, My Steem Friends!
I want to do something to give back to the community here on Steem. Inspired by @cryptofiloz Splinterlands Daily Quest Giveaway, I too will attempt to give a free card away each day I complete the Daily Quest!
I am not sure what to do... With the change in rewards, I don't get the cards to give away. :( I dont want potions.. they suck... just give the cards.
Here are today's cards.
---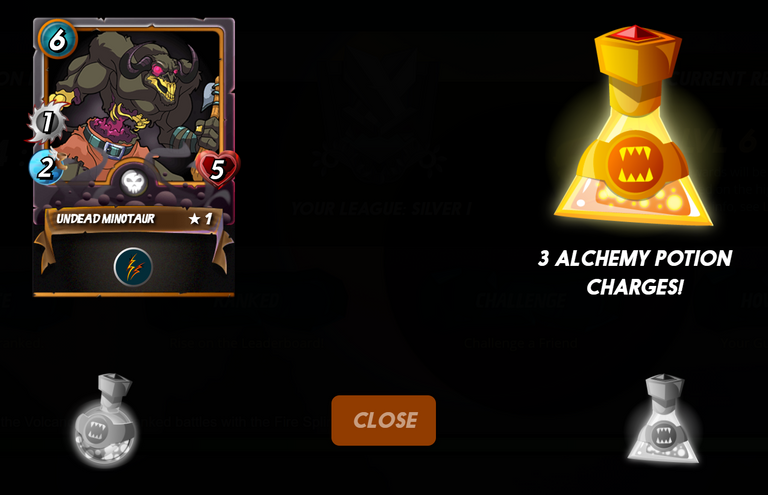 Daily Battle Summary
---
Sliver League I ( Start 1619 > End 1627 ) Sliver League I
It was a 5 with the Fire Splitter Quest
7 matches played today
2 time I lost
5 times I won
I am sorta bummed at the new rewards perks. I don't want potions, I just want the cards... I cant send potions to people. :/ What do you think I should do???
How the giveaway works.
---
No upvote, Follow, or re-steem needed (But they are welcomed).
If you do follow me you will get a +1 to your chance of winning.
If you do Resteem you will get a +1 to your chance of winning.
You mush have a Minimum Reputation of 25 (*I see a lot of spam posts, so this is just to exclude them)
Comment in the comments on what card you would like.
Be sure to include your Steemmonster's user name (got to know who to send the card too).
After about 24 hours of posting (Some times more if I get busy), I will use the https://picker.steemify.me/ to select a random winner!
There must be a least 5 valid comments for a winner to be selected.
---
Winner Winner Chicken Dinner
---
Today's winner: @ayjoe (59)
They Selected: The Serpentine Mystic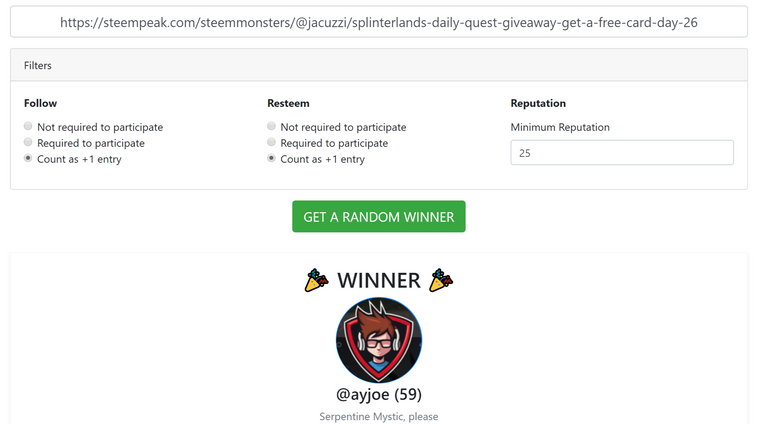 ---
Verfiable transation the card was sent
https://steemworld.org/block/40557547/e95ce980bfb4bda369c8e039fa6ba56c22057af2
---
Past Winners
---
Thank you for playing, See you again tomorrow!
---

https://roamingsparrow.com/
---


---

---
If you enjoyed this post, please consider leaving an Upvote, or a crypto Tip in support:
Bitcoin: 18zopjg9Y2VA1ouCqCZapN3UzdpK3UnMdm
Ethereum: 0x849C33abCb753540fD0D6cDd25df05BC20a1254E
litecoin: LdWUz5haDfkn4D1fxmte8nJePEGjJv6Lqh
BItcoin Cash: 1DRRtY3j5xzx6Dn9ofQgoosXdqGVsYYNcU
Steem: @jacuzzi
---
---
Thanks for reading my post, you inspire me to keep posting!
Thank you for your support!