Splinterlands Daily Quest Giveaway (Get a Free Card) - Day: 32 (PUT ON HOLD)
Hello, My Steem Friends!
** UPDATE **
So, I have been giving away cards for the last 30 days. WOOT! However with the new steem monsters update and the lack of cards in the daily quest, Urgh.. it's hard to keep doing this. I get like 1 or 2 cards and potions. I don't want potions or the DEC, just the cards.. but hey. It how it goes right?
So, I am sad to say I will be putting this give away on hold for now. Perhaps I can start to do a season give away, or a weekly thing for Steem monsters. IDK.. still sorting it out.
For now, here is the last winner and their card!
Winner Winner Chicken Dinner
---
Today's winner: @gregory-f (68)
They Selected: The Baby Unicorn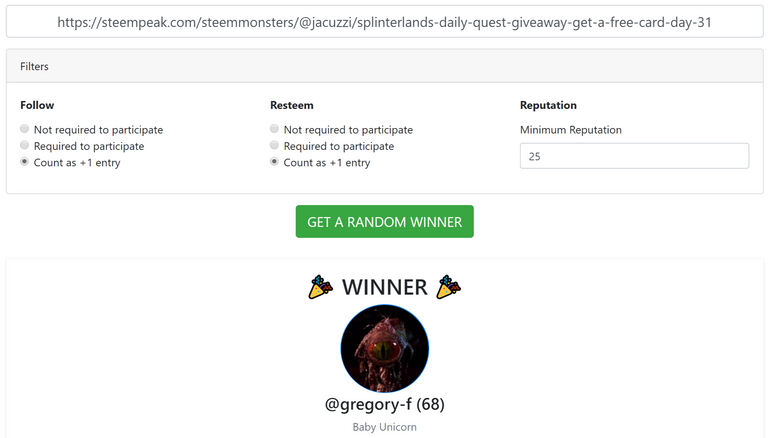 ---
Verfiable transation the card was sent
https://steemworld.org/block/40804466/66a21acc2d67b84584fa7a24c57ccd256b41e2da
---
Past Winners
---
Thank you for playing, I will tag you all when I have another giveaway.
---

https://roamingsparrow.com/
---


---

---
If you enjoyed this post, please consider leaving an Upvote, or a crypto Tip in support:
Bitcoin: 18zopjg9Y2VA1ouCqCZapN3UzdpK3UnMdm
Ethereum: 0x849C33abCb753540fD0D6cDd25df05BC20a1254E
litecoin: LdWUz5haDfkn4D1fxmte8nJePEGjJv6Lqh
BItcoin Cash: 1DRRtY3j5xzx6Dn9ofQgoosXdqGVsYYNcU
Steem: @jacuzzi
---
---
Thanks for reading my post, you inspire me to keep posting!
Thank you for your support!