My Daily Quest for today was the "Earth Splinter", the splinter in which I have the most confidence in winning my ranked matches. So it was not a surprise for me to easily complete today's daily quest.
But just right after clicking the "claim" button to get today's daily quest, I accidentally reloaded the page to see what cards I have gotten. Normally there would be another pop-up at the top-right side if you miss to see the card rewards, but there was none after reloading the page like 5 times.
So I went into the PeakMonsters.com Explorer page to see what cards I have gotten today and boy was I surprised to see that the reward system is again changed.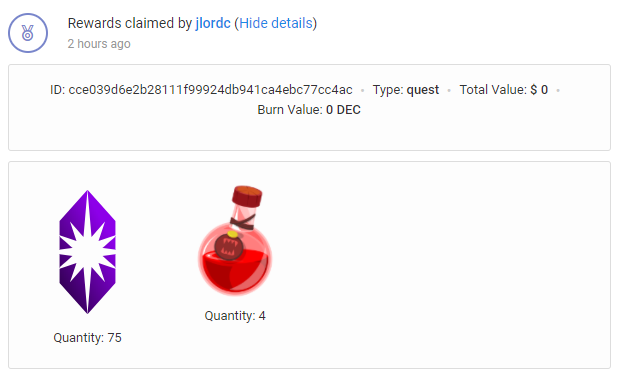 It seems that instead of getting just reward cards, one is now also able to get a number of DEC tokens and also Potions!
I'm still not really sure as to what to feel with this new change in the reward system. On one hand I like the addition of "potions" in the rewards but at the same time I am somewhat disappointed.
Recalling my horrible experience with potions last year where I invested around 20000 DEC for the legendary potion and got only 3 legendaries in a span of ~3-4 months is something I don't want to experience again. T_T
I did get lucky and was able to somewhat close to breakeven my 25000 DEC investment in the gold foil potion by getting 1 Epic gold but that's it. It's also the main reason why I chose to stay away from this potions as I somewhat doubt their effectiveness (that and I'm beginning to think that this account of mine is really unlucky or probably cursed by the god of RNG XD).
Either way, I would still continue to support and play SteemMonsters and see how this new change would go. XD
It would be nice though if we at least have the option to "convert" those potions to DEC tokens or at least swap with the "gold foil potion". I want those more than the legendary potions!!!! XD