[img]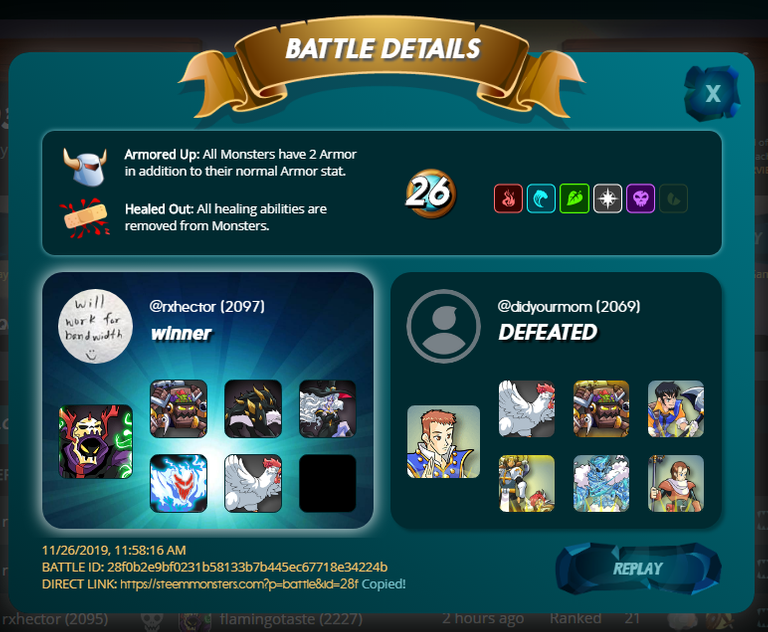 [/img]
https://steemmonsters.com?p=battle&id=28f0b2e9bf0231b58133b7b445ec67718e34224b&ref=rxhector

Tell us about your line up. Why did you put them in those places?
this was gold 3 battle - 26 mana - w/ armored up - no healing
goblin mech - armored up already , so the armor bonus is nice - beasty tank
spinback wolf - armored up already another nice bonus and the wolf is fast
dark enchantress - flying magic attack - and shes fast
fallen spector - another flyer w/ cheap mana - only level 1 but can be effective
of course the free chicken to bring up the rear/ soak up a sneak attack
Did your strategy work? What will you try differently next time?
the strategy worked pretty good for this match - even thought the spector and chicken were just foolin' around
Do you use the DEATH Splinter often? Why or why not?
Death splinter is my highest level summoner and cards - yeah, i tend to favor these even though i lose alot LOLZ
Share your post to some OTHER Social Media site. Literally ANY site. (We want more people to know the joy of playing!
Tag steemmonsters and spt.