If you were waiting for a crypto option to join the Splinterlands Kickstarter, this is the time. The Fundition campaign went live a couple of hours ago.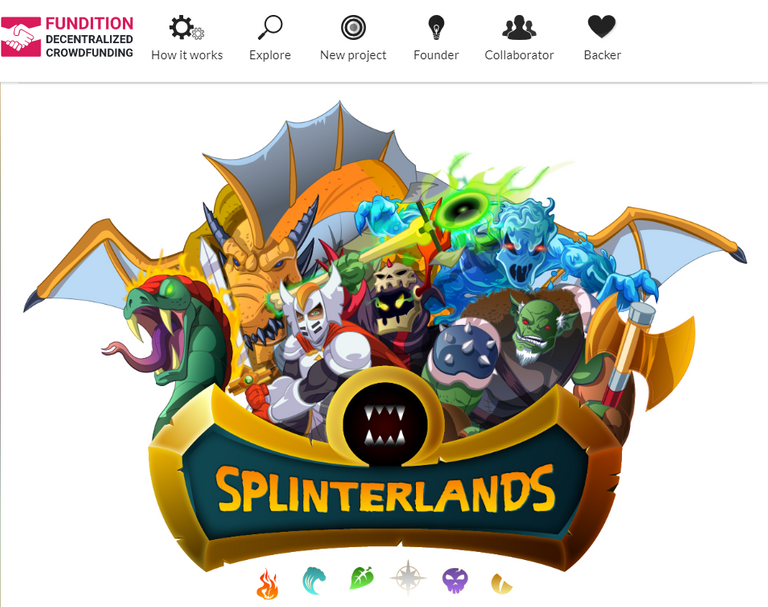 Source
I guess by now you will probably have heard of the Steemmonsters/Splinterlands Kickstarter campaign, unless you've been hiding under a rock.
With this Kickstarter campaign, the team is trying to get the word out about their physical items, like the physical deck of cards and the Splinterlands Encyclopedia. They're is also pre-selling the brand new Untamed booster packs. These campaigns offer you the best bang for your buck.
For me, the biggest hurdle in the Kickstarter is the fact that you can only pay using your credit card. I've already invested a lot in the game, and I'm not sure I would be able to justify spending even more fiat. My better half already thinks I'm crazy for investing this much.
On top of that, I have been selling part of my collection for Steem and DEC. It feels like it's a bit of a hassle to convert the DEC to Steem, cash out and reinvest it.
Needless to say I was impatiently waiting for the promised Fundition campaign to go live.
A couple of hours ago, it finally did.
Fundition Campaign Details
In case you're not familiar with Fundition: it's a crowd sourcing platform build on the Steem blockchain that offers multiple payment options. Next to Steem and SBD, you can choose different cryptocurrencies (including TRX), as well as Paypal.

Source
The Splinterlands Fundition campaign is very basic and digital-only. If you want the physical stuff, you still need to buy through the Kickstarter site.
The Fundition package costs $45 and you will get:
a starter pack
20 booster packs
access to achieved (digital) stretch goals*
a chance to receive extra cards in one of the 14 airdrops that will follow the release of Untamed. (You won't be eligible if you buy packs through the Splinterlands site anymore, since the first 100 000 packs have been sold.)


*So far, 1 digital stretch goal has been reached: the neutral legendary card: Chain Golem
This card will only be made available through the Kickstarter/Fundition campaign.

Source
For both campaigns, you can overpledge to get more booster packs and unlock your Chain Golems.
Since the Fundition campaign is $45, you need to pledge an extra $40 to get a max level chain Golem (standard foil). You will also get 20 extra booster packs.
You can take it a step further, and pledge $205.
$45 tier over pledged to 205 = 1 starter pack, 100 boosters + 10 bonus boosters + max chain golem + level 2 gold chain golem + whatever else gets released that's digital only.
One hell of a deal, if you ask me.
Hmm... guess I'll be selling some more cards in the days to come! :0)
---
Please note this is not investment advice. Always do your own research and never forget: don't invest what you can't afford to lose!
---
Get In Now!
Link To The Kickstarter Campaign
Link To The Fundition Campaign
See You On The Battlefield!!
Don't have a Steemmonsters / Splinterlands account yet?
Create one by clicking the banner below:
Source


DISCLAIMER: This post contains affiliate links.

Graphic created with The Logo Creator Software
Subscribe To RSS Feed | Subscribe To Newsletter