The Splinterlands game has reached another milestone: earlier today, all beta booster packs sold out. There are alternate ways to get in the game, though, while we're waiting for the Untamed-series to be released.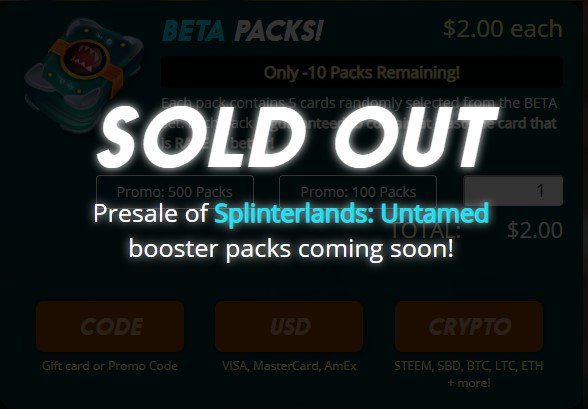 Source
Official Beta Booster Packs Are Gone
Splinterlands (AKA Steemmonsters) is for sure the most popular game on the Steem blockchain. This digital card game offers awesome (earning) opportunities for collectors, traders ánd players.
The booster packs, which contain 5 cards each, are a great way to expand your card collection.
Once the initial 300.000 Alpha booster packs sold out a little over a year ago, the beta series was released. Earlier today, the last of the 900.000 Beta booster packs were sold.
Despite this crypto bear market, the game is going strong.
Next up: the Untamed series, which will be released as part of the Kickstarter campaign pretty soon.
Untamed cards won't be available immediately, though. The pre-sale will contain tokens only - it will take a couple of weeks before these tokens will be redeemable for cards.


How To Get In The Game, Then?
Don't worry. The fact that the official beta booster packs are gone doesn't mean you can't start playing Splinterlands today - with or without buying your own Starter set.
If you want to have your own account, you need to get a Starter Pack, which will give you access to all features of the game. You can get a starter pack here.
Once you have your Starter Pack, there are multiple ways to start collecting, battling and earning, even now the official Beta booster packs have sold out.
1. Beta Booster Packs On Steem-Engine
There are still plenty of Beta booster packs offered for sale on Steem-Engine, the internal exchange on the Steem blockchain.
2. Market
All Alpha and Beta cards can be purchased individually on the Peakmonsters market or the in-game market.
3. Peakmonsters Rental Market
You can start playing, even if you don't want to buy any extra cards, aside from your Starter pack. You can find an extensive rental market on Peakmonsters, where you can simply rent the cards you need for a set number of days.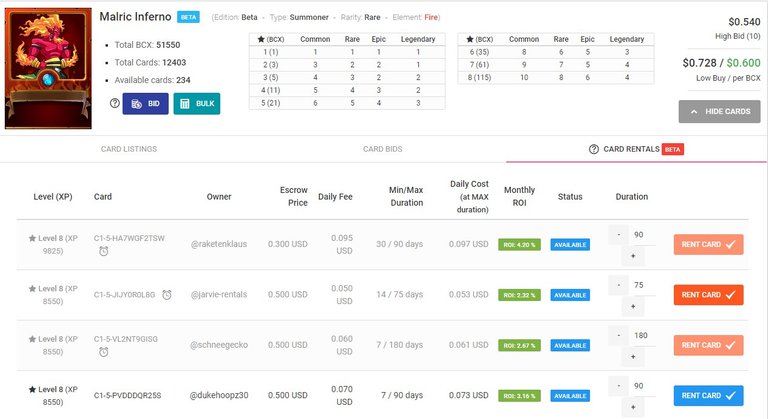 Source
4. Delegated Cards/Accounts
It's even possible to start playing without getting your own Starter pack. You can apply for a delegated account, without having to pay anything. When you play a delegated account, rewards are split between the player and the card owner, according to a predetermined percentage.
You can apply for a delegated account in the Otterworks Discord channel or in our Team Possible Discord channel.


You see... there's no reason to hold back. There are plenty of ways to get involved in the game, even now the beta booster packs have sold out.
Untamed Coming Soon!
Meanwhile, keep an eye out for the upcoming Kickstarter campaign, which will offer a pre-sale of the new Untamed series.
I can't wait!!
Don't have a Steemmonsters / Splinterlands account yet?
Create one by clicking the banner below:
Source


DISCLAIMER: This post contains affiliate links.

Graphic created with The Logo Creator Software
Subscribe To RSS Feed | Subscribe To Newsletter