My decision to buy another 100 Steemmonsters beta packs paid off. 5 legendary summoners in no more than 52 packs... What are the odds??!!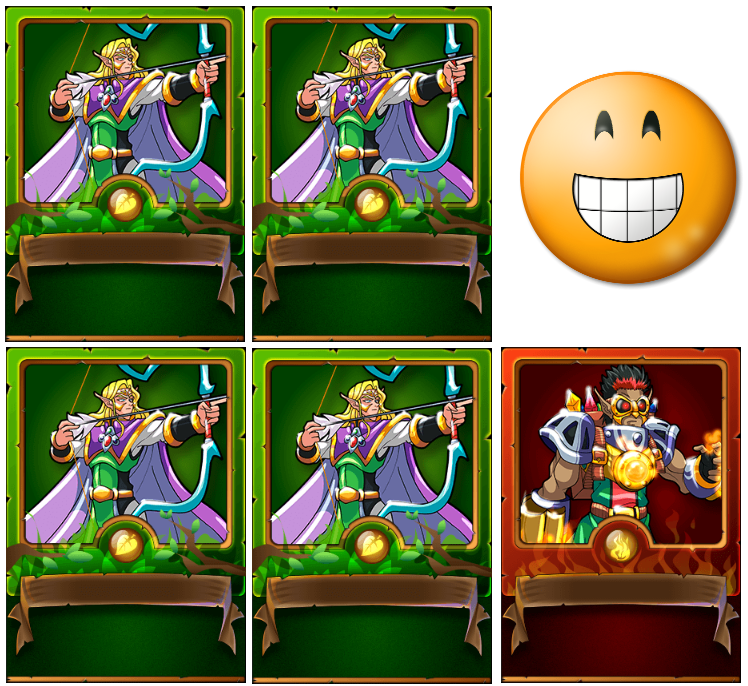 Source 1 - Source 2
FOMO
No matter how aware I am of artificially created FOMO, I still fell victim. It had been creeping up on me since a week or two, up until yesterday, when I simply couldn't resist anymore. I finally gave in and purchased 100 Steemmonsters beta tokens on Steem-Engine.
I think the Legendary and Alchemy potion are way too expensive to use on reward cards, but I had seen their power before, and decided I would go that little extra mile and purchase the DEC I was short to buy them.
I actually managed to fool myself when I planned to no open all packs at once - maybe save some tokens for later - but the @steemmonsters / Splinterlands gods had other plans in store.
After opening the first 30 packs, I was completely lost. I hád to know what the other packs would give me.

One Card To Rule Them All!!!!
First pack I opened had a Hydra in it. It must have been a sign. 😎
In the next 19 packs, I found some common gold foils, a gold foil Malric Inferno and Peaceful Giant and no less than 2 Death Legendary 'Lord Of Darkness'-cards. Good, but not great... yet.
When I opened pack 21, there he was.... my beloved Prince Rennyn. I love that card almost as much as I love Valnamor.

Source
I did buy myself a level 3 when it was still priced under 10 bucks, and over the months I treated myself to 2 level 1 cards, but maxing it was simply too expensive. So ever since card delegations were released, I've been leasing a level 4. Not cheap either... but I'm simply not good enough to do without him. Lol, I can't even get into top 50 wíth the legendary summoners... let alone without them. 😂
So... back to the pack opening... pack 21: Prince Rennyn. I was over the moon!
I guess I don't have to tell you how crazy things got when I opened pack 28 and found this:

Source
Another Prince Rennyn!
I jumped for joy and shared my excitement in our Team Possible Discord channel. All of a sudden, having my own maxed one came into the picture. I already had a level 3 and 2 singles. With the two I pulled, I was only 2 cards away...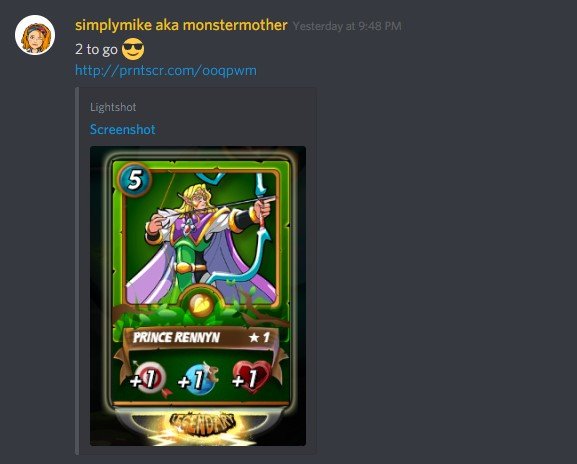 Only 3 packs and 4 minutes later, the impossible happened....

Pack 31:

Source
Insane!!!!
3 Prince Rennyns in 32 packs. It felt like I was dreaming and could wake up any time.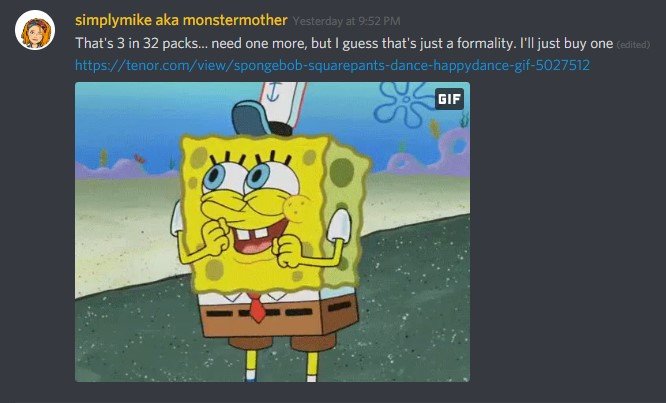 But - believe it or not - the party wasn't over yet...
I have no idea what I did to deserve such a truckload of luck. I must have been a saint in a previous life, I guess... 😉
Pack 51:

Source
Yeah, baby!!!
There was number 4! No need to go out there and pay another $36 to have my owned maxed Prince Rennyn! I got it... I f***ing got it!!!!
What are the odds?
I remember buying 100 packs a couple of months ago, because I had seen a comment by @aggroed in the Mav's House Discord room in which he stated that you should get at least 1 legendary summoner in - ... I forgot the exact number - something like 75 packs.
Now I got 4 in only 51 packs!! WoOt WoOt!!!
And then...
...wait for it....
...wait for it....
Tadaaa!
The next pack (pack 52):

Source
A Plado Emberstorm as a cherry on the cake.
I could hardly believe it. 5 legendary summoners in just 52 packs. The Steemmonsters gods were really on my side...

More
Of course, nothing can beat the 5 legendary summoners - but next to those, I got some more swéét cards.
2 x LOD
2 x Hydra
3 Gold foil summoners, which I needed badly: Malric Inferno, Zintar Mortalis and Tyrus Palladium
2 x my favorite Neutral card, Magi Sphinx
Some cool Neutral (and other) gold foils
And maybe even more important: almost enough summoners, commons, rares and epics to set up the level 3/4 account I've been meaning to set up for a while, so it can be delegated to my fellow Team Possible members. However, I do need some more legendaries before I can make that happen.
Who knows... maybe in the next set of packs... 😉
I do need to wait a bit, though - after this insane pull, my expectations are up way too high! I mean... I can't expect to pull 5 legendary summoners every 50 packs, right?!
Bottom line is that my investment paid off... big time!

Stay Tuned
I'm thinking about running another delegation contest so I can share a bit of my luck with others by offering some free delegations for the next season.
But before I do so, I need to handle a couple of things, like announce the winner for my garden contest, which is way overdue.
All I can say is: Stay Tuned!!!

Steemmonsters Tips & Info
[VIDEO] Steemmonsters 101
- A Steemmonsters introduction video with links to the best beginners' tutorials.
Steemmonsters - Sneak & Snipe 101
- A post that explains how the Sneak and Snipe-abilities work.


SteemMonsters Tip: Leveling Up With Cards In Cooldown
- A tutorial that shows you how to use the serial numbers of the Steemmonsters cards to make cards that are in cooldown playable again.
Don't have a Steemmonsters account yet?
Create one by clicking the banner below:
Source

DISCLAIMER: This post contains affiliate links

Graphic created with The Logo Creator Software
Subscribe To RSS Feed | Subscribe To Newsletter