Season 2 comes to an end for me. This is way more than the second season for most steemmonster players but I have only played 2 seasons as I was away from steem for a brief while.
How many seasons have you played? I am wishing I was around for a few more seasons. I would have been able to earn my self way more these awesome rewards cards that are given out to us Splinterlands players.

Let's get on to the rewards that I was able to get this season.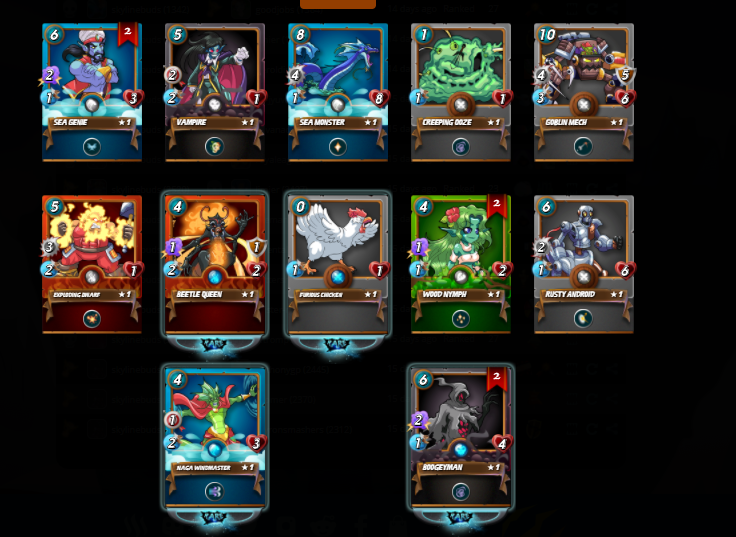 As you can see I was able to get my self 4 rares and I thought that was a pretty good grab for only getting 15 cards from being in the silver league.


The best card IMO that I was able to get was the FURIOUS CHICKEN
This card being a 0 mana and a neutral card it is able to go in almost any deck as long as you got 1 card slot in your deck available. I rented this card a couple of weeks back and trust me when I say it does come in handy a lot.
The second rare that I think I may end up using with my red summoner a few times is the rare BEETLE QUEEN that cost 4 mana and has 1 armour and 2 health.

In the end, I am alright with the rewards I was able to get from this season. What are your best reward cards from this past season?
I am going to do a little give away at the end of this post with you leaving me your favourite reward card you got this season and I will do a random generator to pick the winner.
I am gonna give away a small amount of 100 DEC to the random winner.
How to enter
Leave a comment with favourite reward from this season
Resteem this post for more people to enter