Hello guys! I welcome you to my giveaway using steemfortune.
Every participant has a chance to win this steemmonsters card (lvl1):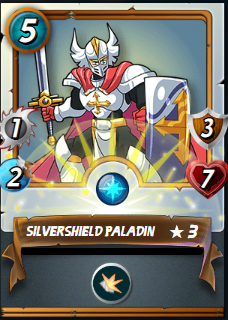 SILVERSHIELD PALADIN
How to enter the giveaway:
Simply add a small comment why you want to win this card or leave an upvote. Upvotes, resteems and follows are highly appreciated, but not necessary. I will collect all participants using my tool steemfortune.
Tag a friend
If you tag a buddy within the comment section and you are the winner, your friend will win the card aswell!
What is Steemfortune?
It's a random picker that takes in the data from a post or the people you add to it manually and calculate a winner based on that.
https://snackaholic.github.io/steemfortune/en/
This is the website where you can use it to run your own contests and aware people based on your posts resteems, upvotes, or comments.
What is Steemmonsters?
If you do not yet know what Steemmonsters is, I recommend you to read the official introduction post here. You wont regret ;) If you decide to join in, feel free to use my referral code.
When will the giveaway take place?
Within 7 days after this post I will use the tool to determine the winner. The winner must provide the account name to receive the gift within 3 days. Otherwise the card will be raffled again.
---
Thanks for reading & good luck everybody!