How I Cock Blocked My Way into the Finals
It has been 12 moons since I first ventured into the Splinterlands and I have enjoyed my time here greatly. This amazing game continues to get better all the time. I have enjoyed the recent addition of new reward cards as new cards makes play more challenging and entertaining. I will show you how I used the easiest to use card very effectively. This card is so easy to use it doesn't cost any mana!
I was fortunate enough to make my way into the finals in the All the Pointy Things Gold League Steemmonsters tournament last night. I took runner up to @bji1203. Congratulations to @bji1203 on a well played tournament and congratulations to all my fellow players as we are all winners when we play this great game.
I'd like to share the battle which won my way into the finals. The rules were Healed Out and Keep Your Distance with the smallest mana cap of 15. My instincts were to snipe and I assumed my opponent would have the same plan. With such a small mana cap this meant there would be nobody attacking my tank. So I cleverly placed the newly released Furious Chicken in the front, putting the Lord Arianthus in the second position to take all the snipe damage. This move was the difference maker in this battle and is how I cock blocked my way into the finals.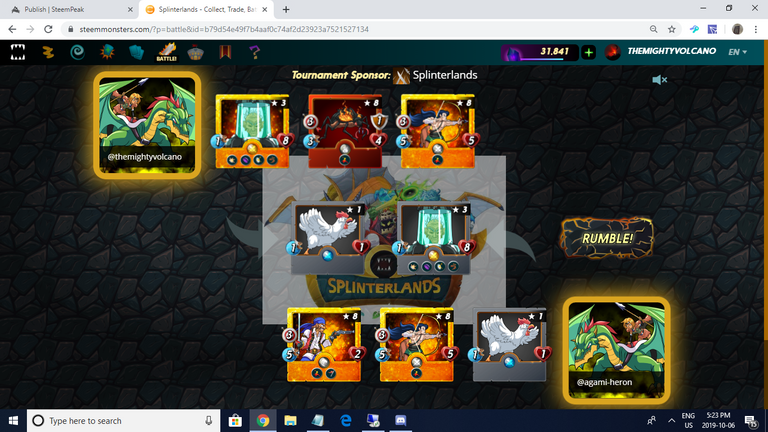 Here is a link to the replay if you want to watch this battle play out.
https://steemmonsters.com?p=battle&id=b79d54e49f7b4aaf0c74af2d23923a7521527134&ref=themightyvolcano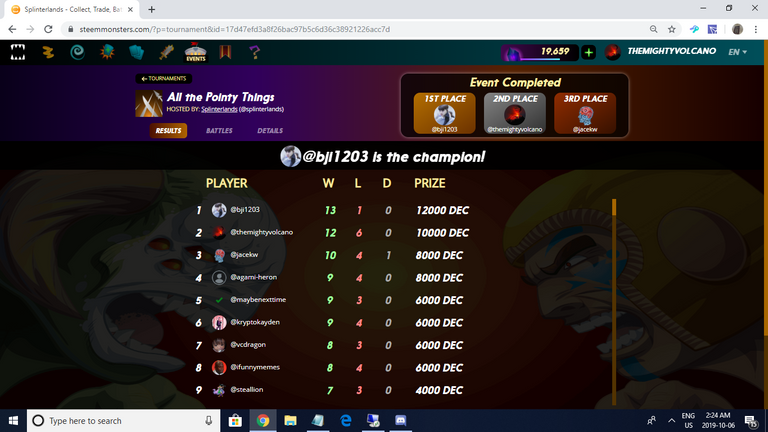 I have used the Furious Chicken more than any of the other new reward cards, simply because it can be effectively used even at level 1. It's interesting to note that had my Furious Chicken been level 3, I would not have been able to use it in this battle since melee monsters could not be used. The Furious Chicken is a must have for everyone since it doesn't cost any mana.
I look forward to the addition of more cards and the challenges they will bring with them. With Beta packs running out soon, we have the Untamed Series right around the corner. I am amazed by what Steemmonsters has become in the year since I began playing and I am excited to dream of what the future of this great game will be.
Thanks for reading. See you on the battlefield.
---
---