Instant 7000 DEC profit, Thanks to MonsterMarket
So, As usual today I was visiting market to adjust my shop lising and also list some more cards on market. Suddenly I found a gems, what is it ?? A max Gold foil Chain Golem at 40$/BCX.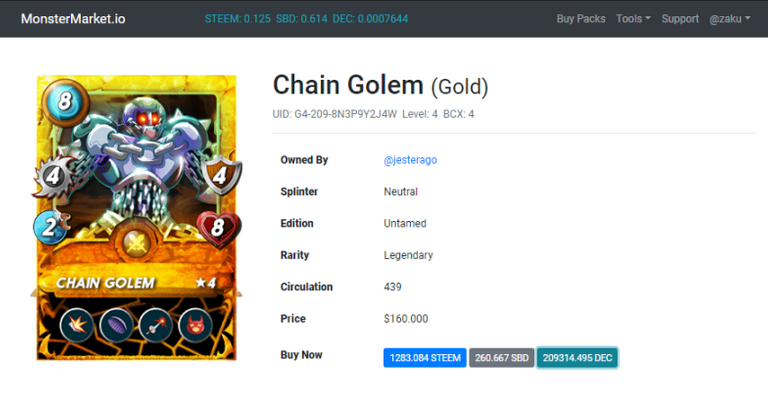 As you can see the price of that card 209314 DEC. Which is 686 DEC lower than burn amount, I don't know why the seller (@jesterago) placed at lower than burn rate. Maybe he don't know about the 5% extra bonus for max burn. Many sm users don't know that there is 5% extra bonus of max level burn.
Now comes to the point, after purchase and burn I will get 686 profit, but why I am saying 7000 DEC profit ??
how ???
Some of you already know about MonsterMarket, MonsterMarket offering 3% instant cashback on cards purchase and 2% instant cashback on packs purchase. Steem/SBD cashbacks given into Steem Wallet and DEC cashbacks given into Steem-engine walllet ( not in-game wallet). Beside that MonsterMarket have two amazing tools : 1. cost-estimator & 2. Pack openings analyze.
From this 2 tools, I like 2nd one most. As you know I am sharing my packs opening results regularly on my blog. By using that tool I can know what is the price of those cards I am getting from packs, how much worth of cards I got from those packs etc etc.
Ohhh maybe you are still curious about 7000 DEC profit ?? ok let me clear that.. As i said above MonsterMarket offering 3% cashback. So I bought that cards using DEC, which is 209314 DEC in return I got 6279.435 DEC instant cashback from MonsterMarket.
So 6279 DEC from MonsterMarket + 686 DEC from burn = 6965 DEC ~ 7000 DEC profit from this deal. Thanks to MonsterMarket for providing this amazing fast service and delicious cashbacks.
I am not going to burn that card until I need DEC badly, So if anyone want to buy that card for 212000 DEC, then I will sell that max CHAIN GOLEM to him/her. Do you want to save this MAX CHAIN GOLEM from Fire ??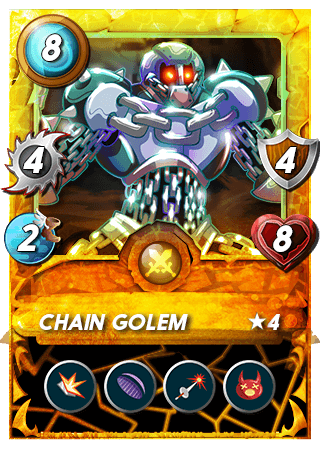 If you are interested to buy this MAX CHAIN GOLEM for 212000 DEC, comment on this post and contact with me on Discord : zaku#1944
---
---