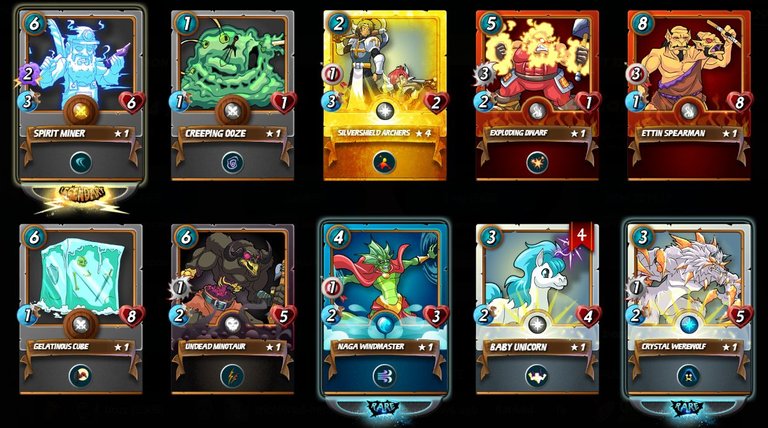 ---
I am just now getting around to sharing the cards that I got from my end of season rewards at the beginning of this week. The truth is, there were only a handful that were actually worth sharing, and I also have just had a lot of stuff to say which led to me pushing this post back.
My daily quest rewards have also been pretty horrible. I am struggling to get out of the Silver Tier and I am afraid that with the holidays coming it is going to be even harder. I don't know about you guys but I am really looking forward to the mobile app being available.
Mobile App
Call me lazy, but it is such a pain in the butt for me to pull out my Chromebook or go down to my desktop in the basement and sit there struggling to win my five (or three) matches for the daily quest.
It is going to be so refreshing to be able to just sit on the couch next to my wife and swear at my phone as I lose yet another fight that I totally should have won.
As you can see above, one of my pulls is the legendary Spirit Miner and then I got a gold foil Silvershield Archers. I was pretty excited about those two cards. Everything else was just average at best...
Selling Alphas
I have been toying around with the idea of selling some of my Alpha cards. I don't have a ton of them and none of them are above level 3, but I think I could get close to $50 USD for the lot of them. Right now that can buy a lot of STEEM if I wanted to power it up. Much more than if I wait and the price goes up.
I am still on the fence about doing this. I just am not sure if now is the right time to sell. Please give me your opinion or advice if you have any insight on this.
Delegating to Herons
I am still throwing this idea around too. My win/loss record is proof that there are countless other people out there who are more skilled at Splinterlands than I am. It would be really awesome to tap into that knowledge and have them play my deck for me while I sit back and collect (share) the rewards.
Here is my biggest fear though... It is my understanding that whatever cards you get from your daily rewards they just burn into DEC. What if they pull that legendary gold foil that I can sell for hundreds of dollars and it gets converted to DEC? Did I just cost @mrsbozz a new pair of diamond earrings?
Is the likelihood of that happening worth the potential benefit of earning a crap ton of DEC? I just don't know. I have a fairly decent deck with most of my summoners being level 6 or so. I have no doubt that someone who understands the strategy better than me could probably easily reach the diamond league with my deck if not possibly higher.
Is it a risk I should take? I look forward to your input on this as well. I know some of you have delegated out your decks. Was the fear of losing a "big" card worth it?
Perhaps things will change with the mobile client. Maybe I will be able to play more casually than I have in the past and reaching those higher tiers won't be quite so difficult.
I look forward to your honest unadulterated opinions on all of this!
---
---