Hello Splinterlands friends,
have you already downloaded the brand new Splinterlands App for Android devices ?? For those who still do not know it from yesterday 23/11 the Dapps is available from the stories and this is really great news.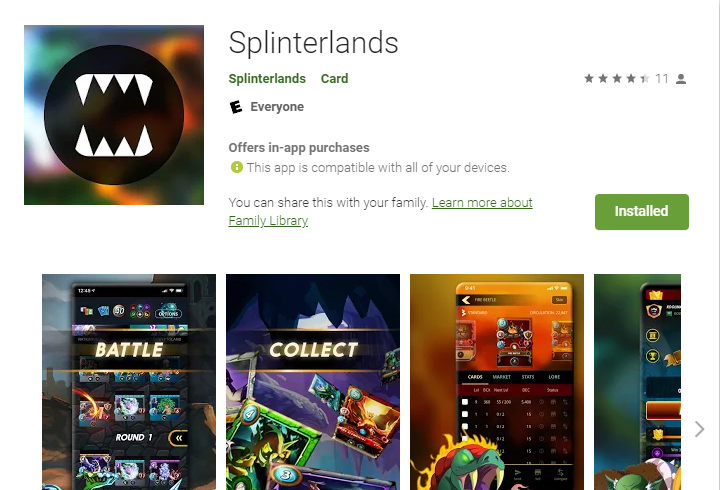 Find the direct download link Here
_Currently the release has been confirmed only for Android devices while it should soon be released for IoS as well.
What does the release of Splinterlands on PlayStore and Applestore mean?
One small step for man, one big step for Splinterlands!
The advent of mobile devices is characterizing the videogames market, which has always been dominated by consoles. But the way to play, or rather the game tool is changing because with a smartphone you can play anywhere, as long as there is a connection, and at any time, you only need a smartphone and an internet connection, WiFi or mobile.
All this is also transformed into an evolution of the mobile phone, initially born for calls and messages but now it has become a small console for all lovers of the sector. Therefore, having a downloadable game for mobile devices is a very useful tool to gain a slice of the videogames market that really earns many billions of dollars.
Having said that, I downloaded the App and tested it a bit, graphically quite similar to the WebApp but much faster and more comfortable to use. Furthermore, one click is enough to start the game while with the web app I still needed to open the browser or I often closed it by mistake or I reloaded the page by mistake while I went up and down to choose my cards 😂😂
Okay, I'll be a little careless but there is no doubt that these small inconveniences will no longer exist with the App available. Furthermore, the App is also very light and only takes up just over 50 MB, while I usually download games that weigh hundreds of MB of data, slowing down the device, especially if it is not of the latest generation and you do not have a lot of RAM.
This new rise in the markets will bring many new users curious to find out about the crypto world and projects such as Dapps and when they observe that Splinterlands is the first most used Dapps Game, they will immediately go and look for it in the Stores. It is really great news and I am really excited for this beautiful route! As always, a big applause to the team that works tirelessly to bring Splinterlands to the success it deserves
Thank you for taking the time to read this post
If you have not yet signed up for Splinterlands, I invite you to try. You can use my referreal link
ITA
Ciao amici di Splinterlands,
avete già scaricato la nuovissima App di Splinterlands per i dispositivi Android?? Per chi ancora non lo sappia da ieri 23/11 la Dapps è disponibile dallo storie e questa è davvero una gran bella notizia.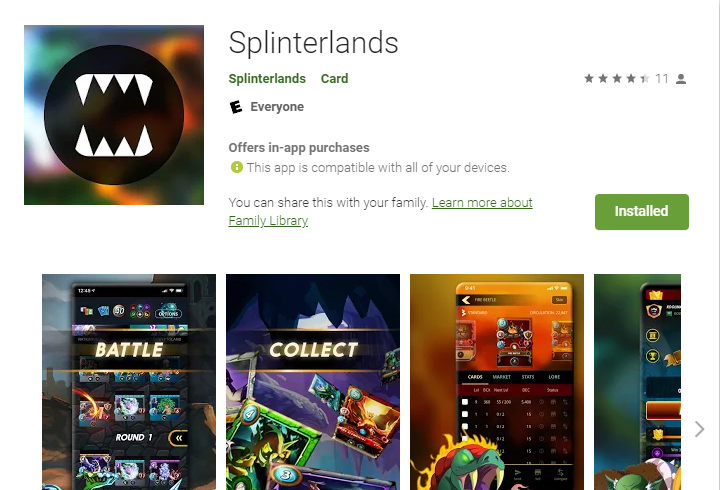 Trovate il link diretto al download Qui
Attualmente il rilascio è stato confermato solo per i dispositivi Android mentre a breve dovrebbe verrà rilasciato anche per IoS.
Cosa significa il rilascio di Splinterlands su PlayStore e Applestore?
Un piccolo passo per l'uomo, un grande passo per Splinterlands!
L'avvento dei dispositivi mobili sta caratterizzando il mercato dei videogames, da sempre dominato dalle console. Ma il modo di giocare, o meglio lo strumento di gioco sta cambiando perché con uno smartphone puoi giocare in qualsiasi luogo, purché vi sia una connessione, e a qualsiasi ora, occorre vere solo uno smartphone appunto ed una connessione ad internet, WiFi o mobile.
Tutto ciò si trasforma anche in una evoluzione del cellulare, nato inizialmente per chiamate e messaggi ma oramai diventata una piccola console per tutti gli amanti del settore. Avere quindi un gioco scaricabile per dispositivi mobili è uno strumento molto utile per guadagnare una fetta di mercato del settore videogames che frutta davvero tanti miliardi di dollari.
Detto ciò, ho scaricato l'App e l'ho testata un po', graficamente abbastanza simile alla WebApp ma molto più veloce e comoda da utilizzare. Inoltre basta un click per avviare il gioco mentre con la web app avevo necessità comunque di aprire il browser o spesso lo chiudevo per errore oppure ricaricavo la pagina per errore mentre andavo su e giù per scegliere le mie carte 😂😂
Va bene, sarò un po' sbadato io ma è indubbio che che l'App disponibile questi piccoli inconvenienti non ci saranno più. Inoltre l'App è anche molto leggera ed occupa solo poco più di 50 MB, mentre sono solito scaricare giochi che pesano centinaia di MB di dati, rallentando il dispositivo, soprattutto se non è di ultima generazione e non hai molta RAM.
Questa nuova risalita dei mercati porterà tanti nuovi utenti curiosi di informarsi sul mondo crypto e sui progetti come le Dapps e quando osserveranno che Splinterlands è la prima Dapps Game più utilizzata, andranno subito a cercarla sugli Stores. È davvero una gran bella notizia e sono davvero emozionato per questo bellissimo percorso! Come sempre un grande plauso al team che lavora incessantemente per portare Splinterlands verso il successo che merita
Thank you for taking the time to read this post
If you have not yet signed up for Splinterlands, I invite you to try. You can use my referreal link