Today I had a look at how things have been doing on Steem Monsters, in general and for myself.
If you are a fan of the game, I'm pretty sure you know this image: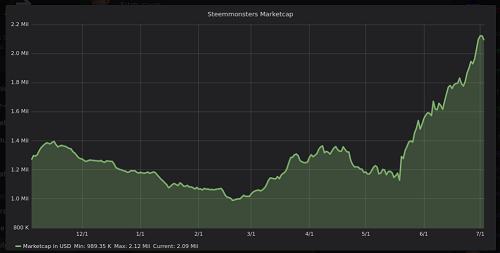 That's the evolution of Steem Monsters' market cap.
Following the translation of the game to Chinese and Korean, and the introduction of DEC earlier, we can see the effects. Wow!
The market cap of Steem Monsters is up by roughly 35% in June and almost doubled since it started to soar in May.
The value of my card collection rose by almost 28% in June. That's pretty cool, considering I wasn't the most active or one of the best players in the game! Mostly I increased the value of my assets as a collector, but also as a gamer, just not the most involved one.
And I haven't included above the DEC or SPT rewards. Those are just a bonus. Anyway, I plan to use my DEC to improve my collection, not to sell it.
I'm pretty happy about what I've discovered about the evolution of the market value of my collection. Keep it up Steem Monsters!
To be perfectly happy, when STEEM moon...? :)