Hello Splinterland warriors!
How are you all guys hope you will be blessed and fine i am here again with a new post of daily splinterlands gaming post in which i am going to explain a new legendary dragon splinter monster along with today's quest rewards with you guys..
DRAGON JUMPER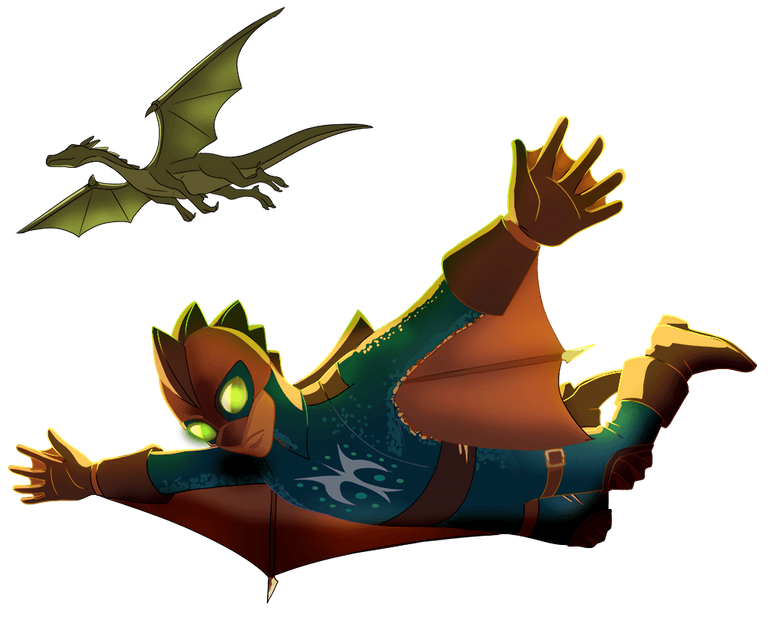 Dragonjumpers are not Dragons themselves. That would be foolish for the Gloridax, with the high rate of failure and death in this particular profession. These soldiers are trained to literally jump off of Dragons' backs and into battle zones. Thin, leather webbing worn between their limbs slows the fall of the Dragonjumper just enough for them to survive the landing (usually).Splinterlands
It is good when you own all the cards of splinterlands either from alpha/Beta edition or from the untamed edition even if it is a single BCX still you will feeling a lucky and especially the legendary monsters. Almost, from the untamed edition i owned many legendary monsters and summoners like Youdin Zaku, Lama, Mimosa nightshade, and the kitty along with many legenday cards like Dragon Jumper, Dark haon and Kron the Undying but only few are remaining like The Chain Golem and some from the dice edition soon i will own them also if not then i will buy from the market to own atleast one BCX or two of all the legendary cards.. However, the dragon jumper is my favorite monster that i am using in the dragon summoner with daria dragon Scale where it gets one melee attack with opportunity to find the opportunity to kill a monster with lowest health..

ABILITIES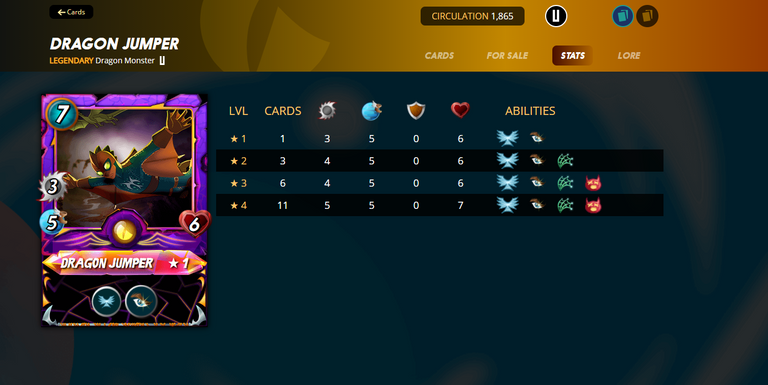 When it comes to abilities then you will love it the abilities of this monster while there is a ruleset of earthquake so you can use this monster to get a benefit of flying with opportunity at level 1. There are 11 BCX needed to make it max level to unlok its all abilities but if you can not afford it then you can use it at level 1 otherwise the level 3 abilities would be awesome like when you are using it in earthquake ruleset and you have a level 3 dragon jumper then you can rule over the opponent by taking the opportunity of flying ability which will not take any damage and will apply the snare ability on your enemy monster to remove the flying ability from that monster and also will have a chance to stun that monster so it will not attack on your friendly monster so all these abilites are rocking to kill your opponent easily and quickly with dragon jumper...

QUEST REWARDS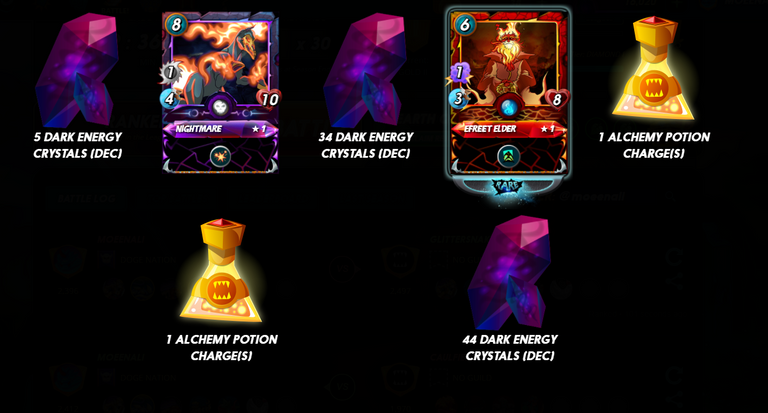 Today's quest was with the earth splinter and i retrieved the quest too late the reason is that my laptop is not working and i was trying to connect it with internet but there is an issue in my laptop so i asked my bro to give me your gaming laptop in which i log in my account and started the quest too late but still it was easy because of the earth splinter so i completed it and claimed the quest rewards that you can see above which include two cards the one is rare efreet elder and the other one is nightmare from the death family along with some dec tokens and two potion charges...
However, this post takes lot of time because of the new keyboard so i am on my brother laptop and can not typing with fast and quickly but still just completed the post to make it able to post it in a community because when the post is short i am not going to post in a community because of the low quality.. This is enough for today see you tomorrow hope my lappy will working today to claim my hive rewards waiting for it curiously lol because i just log in with posting key...


All images are from the Splinterlands website

If you are new to this game then signup here to play the game click here for signup
---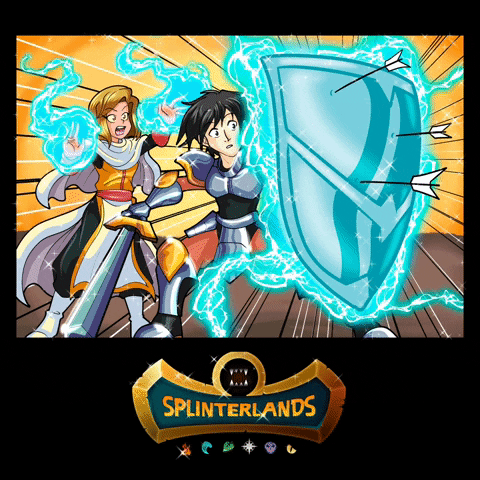 ---
Thanks For visiting my Blog
Best Regards @moeenali