Ich "gönne" mir ja freitags immer einen Kartenpack - ich weiß, da bin ich so richtig spendabel ;) Die meisten der Karten, die ich brauche, kaufe ich nach und nach auf dem Markt, aber das bisschen Glücksspiel mit dem Inhalt der Packs gefällt mir. Außerdem verbraucht es nicht nur die Potions, sondern ist auch eine schnelle, einfache Möglichkeit über Paypal "richtiges" Geld in Krypto-irgendwas umzuwandeln. Letzte Woche hatte ich nicht daran gedacht, also gab es diese Woche gleich zwei Packs. Doppelte Vorfreude!
---
My habit is to buy one pack every week - not much, I know ;) Mostly I buy the cards I need on the market, but I like the suspense involved with buying a pack. And not only uses it up my potions, but buying credits via PayPal is an easy way to get fiat into crypto. I didn't buy a pack last week, so today I decided to get two packs. Double the fun!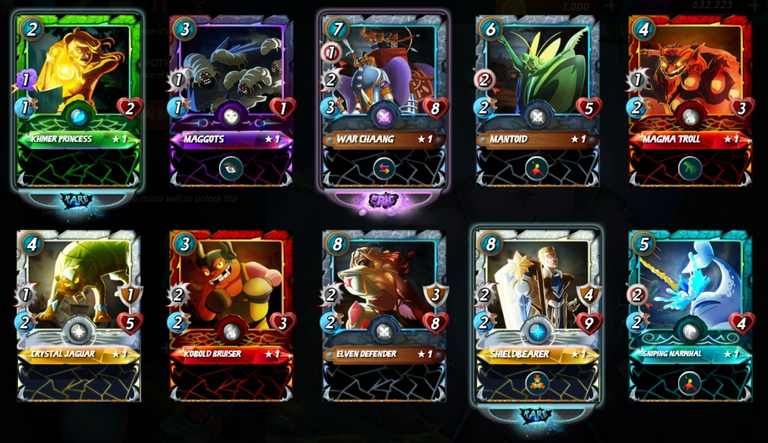 Es geht - der Wert der Karten mit insgesamt 1,23 $ entspricht ungefähr dem Durchschnitt von 60 Cent pro Pack. Und einige der Karten kann ich sogar gebrauchen, nicht alle meine Karten sind auf ihrem höchsten sinnvollen Wert. Dann starte ich jetzt meine Daily Quest, damit will ich aber niemanden langweilen ;)
Not bad - the worth of both pack's cards with $1.23 is about average for a pack. And some of the card I do need - I don't have all my cards to their highest needed level. Now I'm off to make my daily quest - I won't bore you with writing about that!
---

DACH-Community Discord - für alle deutschsprachigen Nutzer


Du hast keinen Hive-Account? Hier ist der schnellste und einfachste Weg dorthin!
You're not on Hive? Here you'll find the best and most fast way to enter this world :)
---