20K on an active day! 👍
I haven't hit 20K inactivity in a while but I'm glad I achieved that today. I took a long walk as I am volunteering to deliver community news letters. I also moved around while I was watching the Democratic debates.
I'm especially interested in Andrew Yang who is a tech entrepreneur. I'm into tech and I have my own programming business. He is also a proponent of universal basic income. He wants to give every person in America $1,000 a month. At first it sounds like a bad idea that would encourage people to be lazy but I've been looking into the UBI issue since I found out about it here on Steemit three years ago. There are some good arguments to be made for it. You can find them on the @mannacurrency blog here. And if you want to experience universal basic income you can sign up with mannabase and get free tokens every single week.
https://www.mannabase.com/?ref=d8nehnu84s
I also spent my second day on Prospectors which is an EOS game. You try to find gold in a world that you can walk around. You can also find other resources like stone, wood and other things which you can combine into tools which then help you extract these resources quicker. I'm finding it to be slow going but interesting.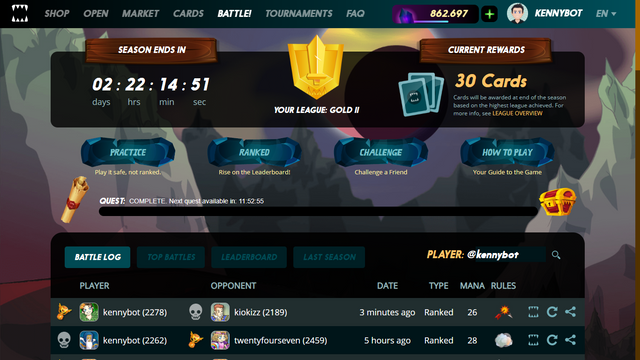 This is where I am at in my #steemmonsters gaming today!
I played @steemmonsters as well and I have a goal to earned 1000 DEC each day. I'm at 862 right now but I'll be awake for another few hours. I think that playing games like Prospectors and Steem Monsters can actually the form of universal basic income because anybody can do it and you can sell the tokens you earn in the game for Bitcoin which you can then sell for cash.
I hope you all had a great day and tomorrow is Friday so hang in there! ❤👍❤


20018

Daily Activity, House Chores, Walking