The current #steemmonsters season ends in just a few hours and I just made it to the Diamond League! 😃👍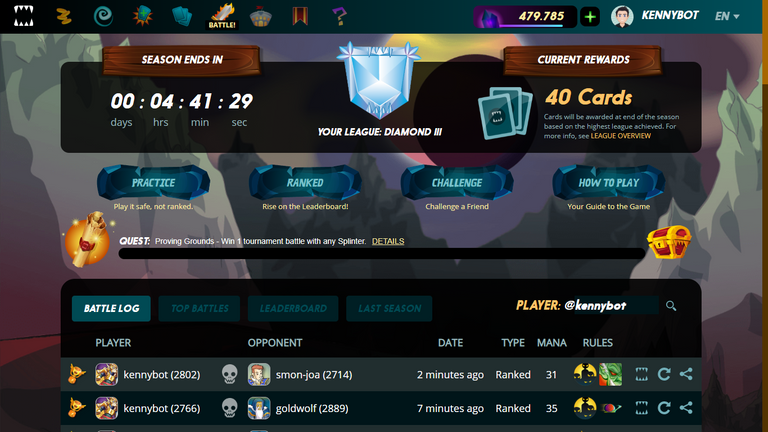 This may be the first time I made it to Diamond or at least the first time in the last year or so. I'm so happy because now I will be getting 40 cards at the end of the season in less than 3 hours!
I think I've figured out how to play the new untamed cards and the new rule sets that have come into the game recently. I'm looking forward to whatever is next and I'm also looking forward to the people that brought us steemmonsters and steem-engine bringing us NFTs!
Daily Activity
For my activity, I just got over the minimum and I got it by taking a walk. Once again it was very warm outside for this time of year. There is a full moon or nearly full moon up there but it's been cloudy the last few days so I have not seen it.
Bitcoin and STEEM are UP!
Also, for those who may have missed it, Bitcoin and STEEM, as well as EOS and Ethereum, have had a nice UP Day! STEEM is over 14 cents again, and Bitcoin is around $8700. They all peaked a few hours ago but after taking a pause, maybe they will go UP again tomorrow and maybe 2020 will be a Big Crypto year!
Watch the prices at https://coinmarketcap.com/
Come back to my blog tomorrow!
I hope you all had a great day today! ❤👍❤


5769