Newbies Task 6 - Blockchain Games and my experience playing Splinterlands game
Greetings to all and sundry on this great platform, I am here once again to write and submit my entry to the fifth task of the newbies initiative which was led by @ksam. It was about Blockchain games and I would be providing my answers to the questions asked under this task, so stay tuned with me as I begin with my task.
---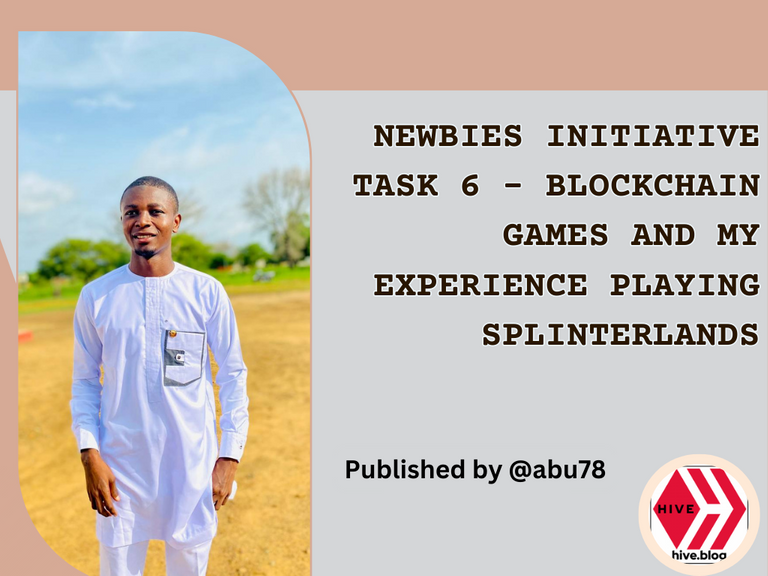 I designed this image using canva
---
What makes blockchain games different?
---
Before I tackle this question, let's look at what blockchain games are in the first place. Blockchain games refer to games that are linked to a specific blockchain platform. They are developed and played on that blockchain network and are different from the normal games that we do play daily on our PCs and other consoles. Blockchain games are known to be different from other games, and include the following:
First of all, blockchain games grant users the ability to play and earn cryptocurrencies from the platform. One thing that differentiates blockchain games from normal games is the fact that they have currencies available on their platform which they use in awarding players for accomplishing certain tasks or missions on the platform. I am a gamer and I love playing games a lot, although I wasn't playing blockchain games until I joined Hive and realized there are a lot of blockchain games revolving around the platform. I must say thanks to the Hive platform for enlightening me about blockchain games. These cryptocurrencies that players or users earn from the platform can be traded for fiat or into their local currency as cash.
In addition, another difference is that blockchain games grant users the ability to earn NFTs. Yes, NFTs can be earned by playing blockchain games and we know as these are all digital assets, and the game is also a digital game, they tend to reward players with them for completing missions and also for reaching certain achievements on the game.
List 4 games on the hive ecosystem and include their in-game currencies.
---
As stated earlier, the hive blockchain platform has a lot of blockchain games resolving on it and for the purpose of this assignment, I would mention four of them.
First of all, I cannot leave my personal and loving game behind and that is Splinterlands. Splinterlands is a game that took me about two months before learning to understand how the game works. I took my time to understand it before purchasing the spell book of the game. It was my first card game on the blockchain network and I do enjoy it most. Currently, I have reached the bronze level and I am trying to leave that level and enter into the silver level and possibly upgrade next level. This game comes with different currencies and they include; SPS, Chaos Legion, and DEC.
Muterra is also a fighting game where players fight and kill monsters on the platform. Its currency is MUT.
Rising Star is another blockchain game that can be played on the hive platform. It is a music game that rewards users with its currency after they accomplish certain tasks in the game. Its currency is Starbit and Starpro.
Lastly, WOO game is a Wrestlemania game which is also developed on hive blockchain by the Booker Man and it also awards its users for playing the game. The currency is WOO token.
Are NFTs important? If yes, what do you think are their use cases in Blockchain Games?
---
Yes, blockchain games are very important and useful in blockchain games. They are assets that can be traded between two players playing the same game and also can be traded for fiat currency or cash. NFTs can be used in purchasing certain collectibles in the game so as to upgrade your player or advance to the next stage of the game.
Practical Experience
---
Finally, I would be showing you guys my experience in playing the Splinterlands game. As I mentioned earlier, this is a card strategy game, where users need to select cards based on the mana given. You have to make sure your selected cards do not exceed the mana provided. First of all, you select a summoner after which you then select six additional monsters to attack.
You decide as a player how to arrange the monsters and you need to know the strategy for doing all this. Monsters have specific characteristics and abilities which you need to know before schooling them. Also, there are rules for each game so you have to check the combat rule when playing to know how and what to go about it before selecting monsters or summoners.
---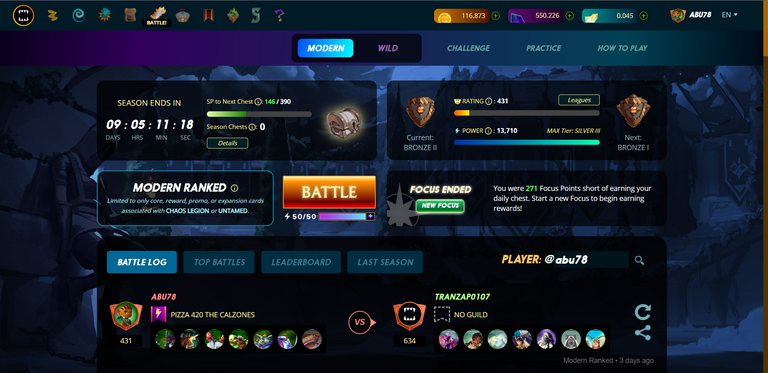 ---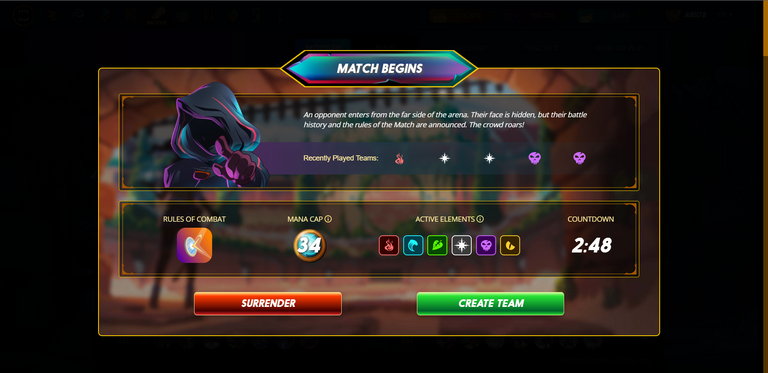 ---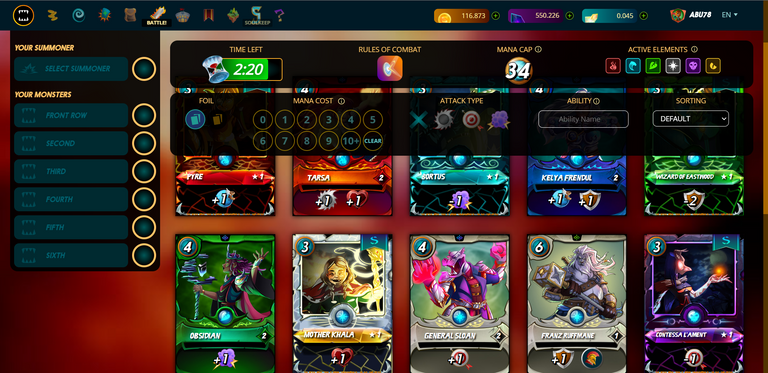 ---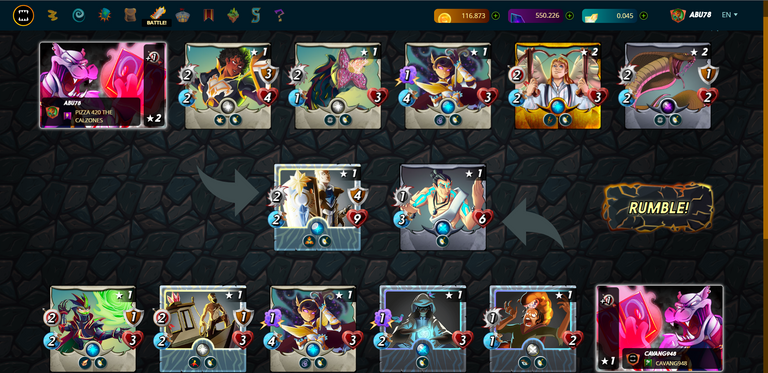 ---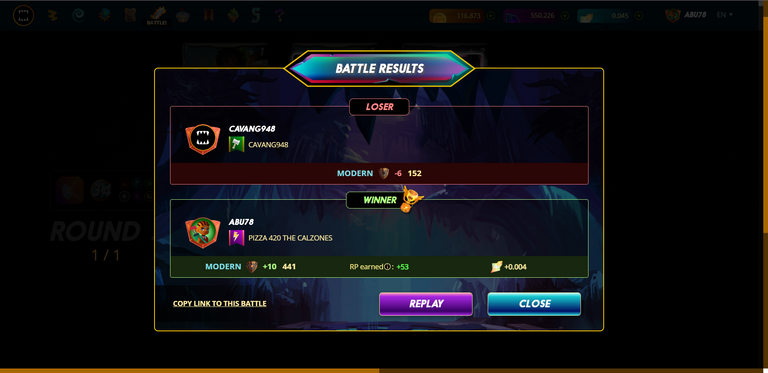 ---
I won the battle as we can see in the screenshot shown above. To watch how the battle was, you can check it out at this link here.
---
Thank you all for your time and attention in going through my post, I would like to thank our leader @moremoney28 for his support and guidance. See you again next week for another episode. Thank you all.
---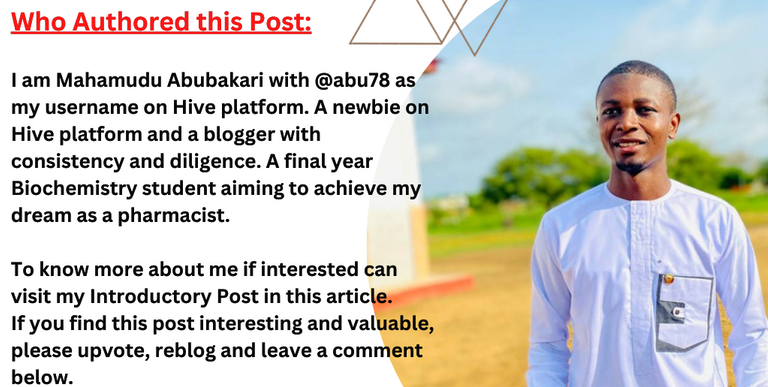 I designed this image using canva
---
---