How will the new reward cards affect the economy?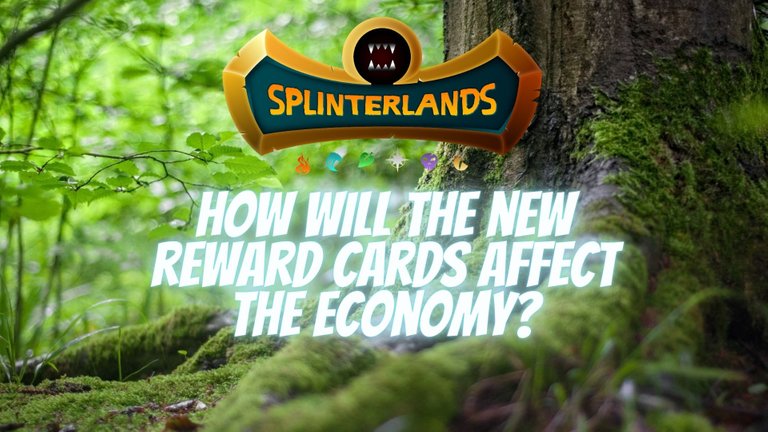 We have been waiting very long for them but finally there are here and starting from next monday new reward cards will be available for everybody that finishes a daily quest or within the season rewards. The chances to get a reward card will be 50% for every chest.
What does that mean for the Splinterlands economy
At the moment, new players can only increase their accounts by either buying cards from the market with quite high prices. Or they can rent these cards from existing owners.
With the new reward cards, the new players will actually be able to win these cards. They now can upgrade these cards by blending them or they can even rent these cards out to others.
The new players can now actively rent out cards as well!
I believe that this will have an effect on the rental market. Probably prices will gradually go down since there will be more affordable cards available. This will especally be the truth for cards that aren't really special. At the same time the market prices of these cards will not increase anymore I believe.
But this won't be true for all cards!
What about the special cards?
There are plenty of special cards in the Splinterlands game like the Furious Chicken with the 0 Mana or Brownie that gives swiftness to the whole team for 1 Mana. Then of course the legendary cards or the gold cards. All these cards have a limited supply and I believe these cards will still go up in value.
The summoners
In most of the series of reward cards so far there was only 1 or 2 summoners. I don't know how many there will be now but probably there won't be many of them and it won't be possible to have upgraded summoners thanks to reward cards. This mean that people will still need to buy or rent summoners at high prices to level up their whole deck.
I think that on the contrary, the reward cards will have a positive effect on the price of summoners. Since new players can now upgrade the reward cards that they get, they will want to be able to play them and for that they need to develop their summoners!
What about SPS?
The new reward cards will not have a different effect that the DEC that was distributed before. Therefore I don't think that we will see a big influence of these reward cards on the daily airdrops.
Well I'm pretty excited for these reward cards. It's so nice when in every reward chest you have this little chance to get a Gold Foil or even a Gold Foil Legendary Card....
Image source: www.canva.com
---
Let's connect ! You can find me on these platforms:
---
---