Splinterlands - Arkemis The Bear Promo Card [PT-BR/ENG]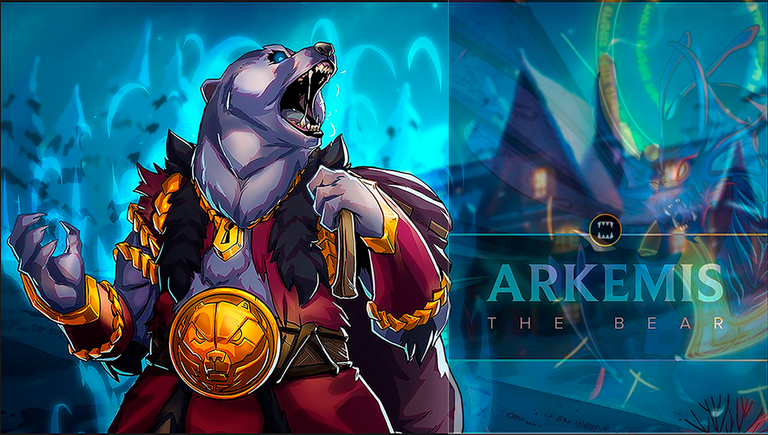 ---
[PT-BR]
---
Olá mestres do melhor jogo de cartas da blockchain,
Vim hoje aqui trazer para vocês informações sobre a nova carta promocional que foi lançado a poucos dias, esta carta é uma carta de promoção de Natal.
Esta carta veio como uma carta complementar para cada pack comprado no marketplace do jogo, ou seja, para cada pack da coleção Chaos Legion comprado por exemplo, automaticamente já ganhará 1 carta promocional , se comprou 100 packs ganhará 100 cartas promocionais.
E melhor ainda, há chance de ganhar ela dourada.
A carta promocional da qual estou falando é Arkemis The Bear.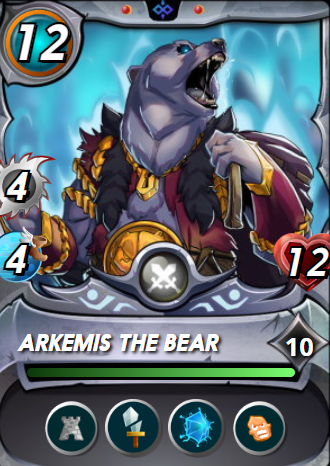 ---
Analisando habilidades e Level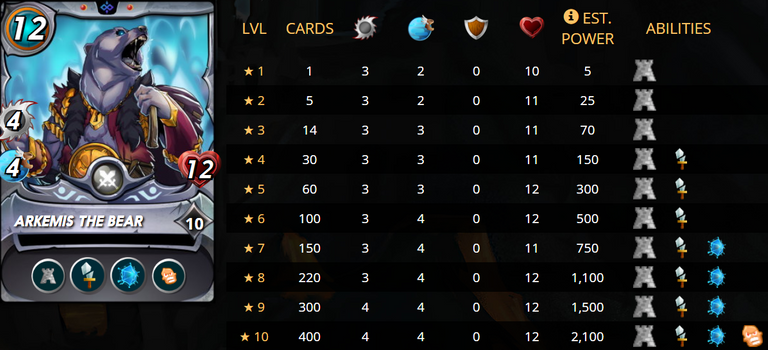 Level
Icon
Habilidade
Descrição
1

)
Protect
Da 2 de escudo para todas as cartas amigas
4

)
Halving
Ao acertar um ataque em uma carta adversária diminui o ataque da carta pela metade arredondado pra cima
7

)
Forcefield
Se receber dano de uma carta com 5+ de ataque receberá apenas 1 de dano
10

)
Enrage
Se receber dano aumenta o ataque físico e a speed em 1.5X arredondado pra cima
Esta carta promocional é uma carta carta defensiva excepcional, a começar pelo level 1 que ela já vem com protect garantindo assim mais defesa para o time e além disso já no nivel 4 ela ainda ganha a habilidade halving que ajuda a diminuir o ataque da carta inimiga atingida pelo ataca dela pela metade.
Só as 2 habilidades acima já valeriam a carta em sim e ao meu ver já tornaria ela uma carta excelente mas o conjunto num todo e os atributos dela mesmo que com 12 de mana fazem esta carta ser uma carta indispensável para quem quer competir em batalhas de mana alta.
Eu particularmente achei esta carta muito forte e assim que saiu já procurei maximizar a mesma.
---
Mercado
---
No momento em que estou criando este artigo a versão normal desta carta no marktplace esta saindo apenas por $0,15 por cópia, já sua versão Gold Foil está saindo por $3,69.
Lembrando que quem comprar pack no marktplace do jogo ganhara uma carta dessa por pack sem pagar nada a mais.


---
Análise da carta
---
Esta carta em si combina muito bem com quase todo tipo de time desde que seja batalha de mana alta, mas de relance já vi alguns times no qual ela se enquadra melhor e com mais frequência.
Com o novo summoner Possibilus por exemplo, que da as habilidades de atacar na segunda posição e Trump para dar um ataque na proxima carta caso a carta atacante derrote uma carta inimiga, eu achei que ele comba demais com este summoner, ainda mais jogando com o Arkemis como segundo da na linha de ataque, assim o Arkemis da mais escudo pro time e diminui o ataque da carta que o adversário colocar na frente, já que ele ataca da segunda posição. E ainda pra fortalecer mais o time a Medaali pra recuperar vida e escudo da carta da primeira posição que tem contra ataque.

Eu também penso que está carta se da muito bem em regras que todas as cartas ganham ataque Oportunity ou Snake.
---
Batalhas
---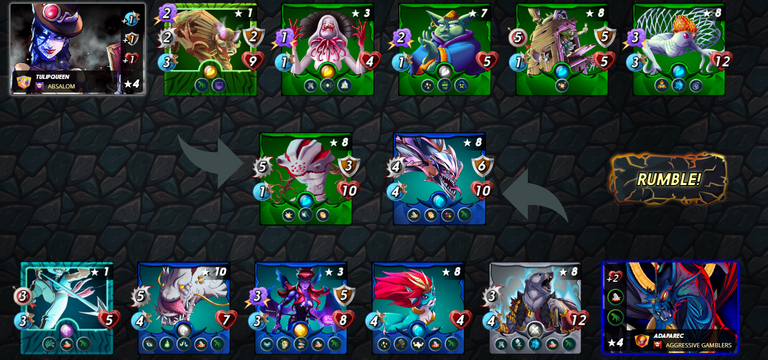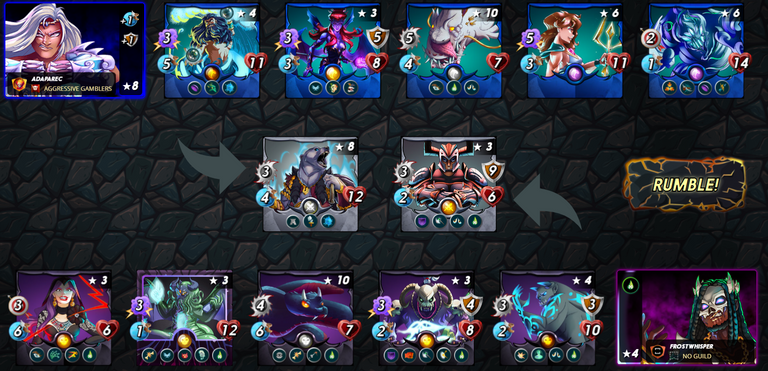 Na primeira batalha coloquei basicamente a formação que citei mais acima, Possibilus para dar a habilidade de atacar na segunda posição e atacar novamente além de +2 de Health, na frente Diemonshark que já tem um escudo bom e tem chance de contra atacar contra ataque meele, Arkemis na segunda posição que pode atacar devido a habilidade reach herdade do possibilus, Merdaali para ficar curando e recuperando escudo do time, Deeplurker que diminui em 1 ataque físico e ainda ataca carta com menor Health dos inimigos, otimo combinação com o possibilus
Na segunda batalha tentei utilizar Arkmis na frente como tank, embora não seja o ideal eu estava apenas testado, enquanto a carta Wave Brood puxava os ataques pra ela com a habilidade taunt, e assim as outras cartas podiam atacar livremente.
---
Considerações Finais
As 2 primeiras habilidades da carta Arkemis, que são Protect e Halving são habilidades muito poderosas e juntas na mesma carta tornou esta carta uma carta essencial para quem quer jogar ligas competitivas.
è uma carta que não pode faltar no deck de quem joga atualmente splinterlands ainda mais no valor que ela está.
Enfim, espero que tenham gostado dessa análise.
Obrigado e até uma próxima.
---
[ENG]
---
Hello masters of the best blockchain card game,
I came here today to bring you information about the new promotional card that was released a few days ago, this card is a Christmas promotion card.
This card came as a complementary card for each pack purchased in the game's marketplace, that is, for each pack of the Chaos Legion collection purchased for example, you will automatically win 1 promotional card, if you bought 100 packs you will win 100 promotional cards.
And even better, there's a chance to win it in gold foil.
The promo card I'm talking about is Arkemis The Bear.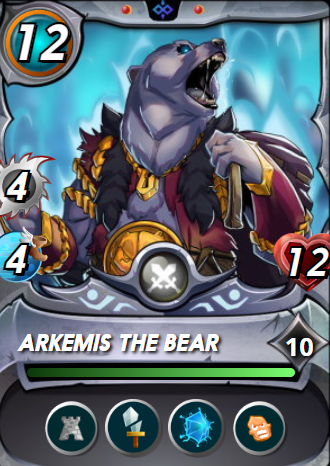 ---
Analyzing Abities and Level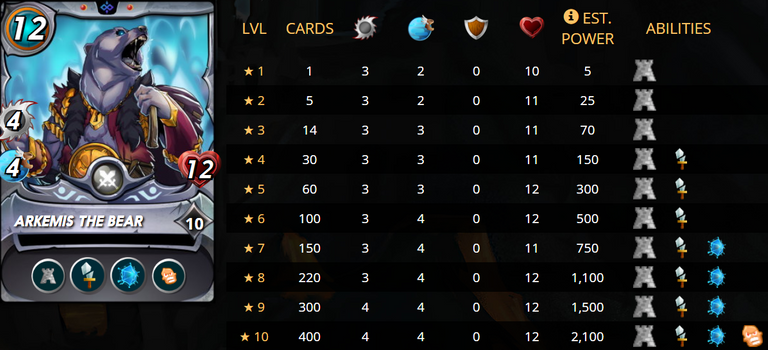 Level
Icon
Ability
Description
1

)
Protect
Gives 2 shield to all friendly cards
4

)
Halving
Hitting an attack on an opposing card decreases the card's ATK by half, rounded up.
7

)
Forcefield
If you take damage from a card with 5+ attack, you only take 1 damage
10

)
Enrage
If your card take damage, increase physical attack and speed by 1.5X rounded up
This promotional card is an exceptional defensive card, starting at level 1 it already comes with protect thus guaranteeing more defense for the team and in addition already at level 4 it still gains the halving ability that helps decrease the ATK of the enemy card hit by her attack by half.
Only the 2 skills above would be worth the card in itself and in my opinion it would already make it an excellent card but the set as a whole and its attributes even with 12 mana make this card an indispensable card for anyone who wants to compete in battles of high mana.
I particularly found this card very strong and as soon as it came out I tried to maximize it.
---
Market
---
At the time I'm writing this article, the normal version of this letter on marktplace is selling for just $0.15 per copy, while its Gold Foil version is selling for $3.69.
Remembering that whoever buys a pack in the game's marketplace will win one of these cards per pack without paying anything extra.


---
Card analysis
---
This card itself goes very well with almost any type of team as long as it's a high mana battle, but at a glance I've seen some teams where it fits better and more often.
With the new summoner Possibilus for example, which gives the ability to attack in the second position and Trump to attack the next card if the attacking card defeats an enemy card, I thought he combo too much with this summoner, even more playing with Arkemis as the second in the line of attack, so Arkemis gives more shield to the team and decreases the attack of the card that the opponent puts in front, since he attacks from the second position. And to further strengthen the team Medaali to recover life and shield from the card in the first position that has counterattack.

I also think this card does very well in rules where all cards gain Opportunity or Snake attack.
---
Battles
---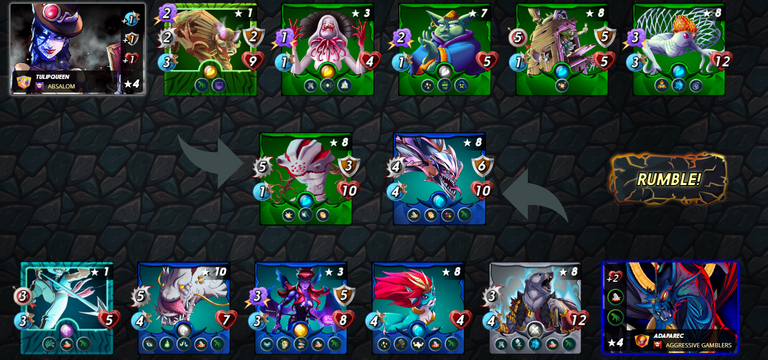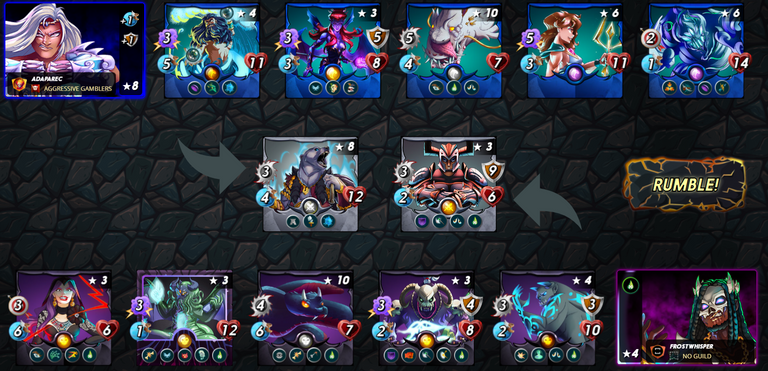 In the first battle I basically put the formation I mentioned above, Possibilus to give the ability to attack in the second position and attack again in addition to +2 Health, in front Diemonshark which already has a good shield and has a chance to counterattack against meele's attack, Arkemis in the second position that can attack due to the reach ability inherited from possibilus, Merdaali to keep healing and recovering the team's shield, Deeplurker which decreases by 1 physical attack and still attacks card with lower Health of the enemies, great combination with the possibilus.
In the second battle I tried to use Arkmis up front as a tank, although it's not ideal I was just tested, while the Wave Brood card pulled attacks towards her with the taunt ability, and so the other cards could attack freely.
---
Final considerations
The first 2 abilities of the Arkemis card, which are Protect and Halving are very powerful abilities and together on the same card made this card an essential card for anyone who wants to play competitive leagues.
It's a card that can't be missing from the deck of anyone who currently plays splinterlands even more at the value it is.
Anyway, I hope you enjoyed this review.
Thank you and see you next time.
Hive:
@adaparec
https://splinterlands.com?ref=adaparec
#Splinterlands
#Play2earn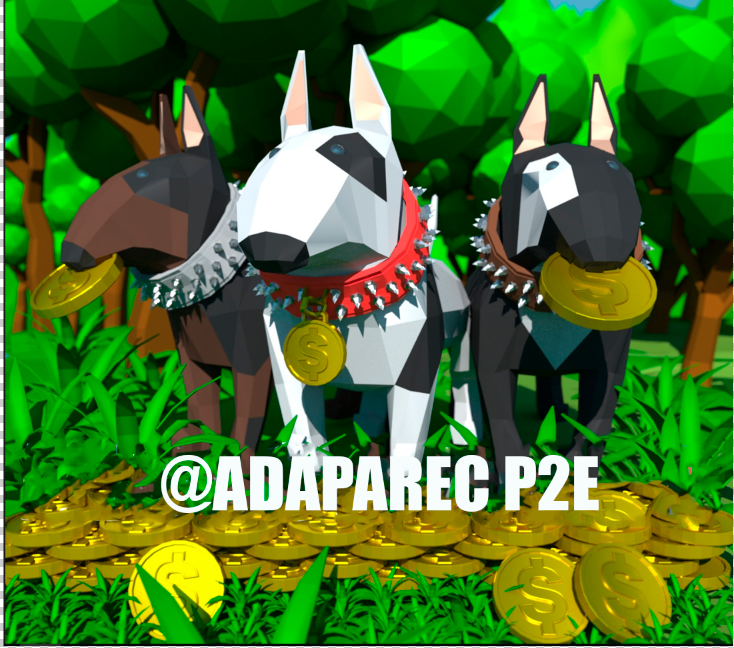 ---
---