(ID/EN) Cruel Sethropod - Splinterlands Weekly Battle Challenge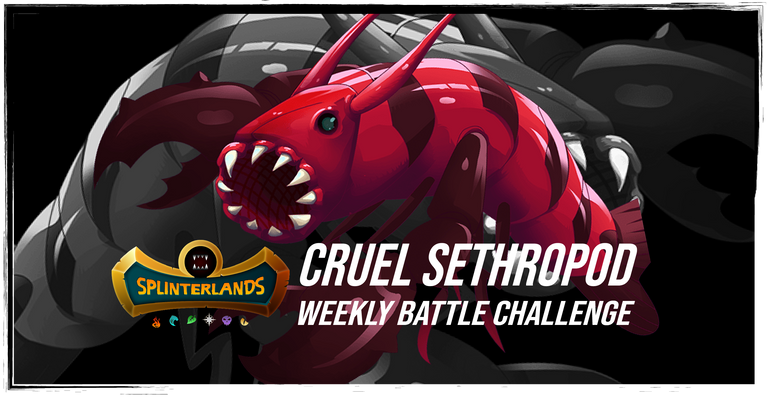 Sailors tell many tales of the dangers of the Cruel Sethropods. Armed with strong pincers and teeth as sharp as spears, they attack anything that gets within range. It is nearly impossible to remove a Cruel Sethropod once it has latched on, and many a sailor has the scars to show where they ventured too close.




Cruel Sethropod is one of the common cards found in the Chaos Legion Pack and is also part of the Starter Card that we can get right away when we first create a Splinterlands account, so you can try it right away without needing to buy a pack or rental.

This card is part of the Water Splinter and has a Melee attack type.

Cruel Sethropod has absolutely no Ability embedded in its stats.

Cruel Sethropod adalah salah satu kartu Common yang terdapat di Chaos Legion Pack dan juga menjadi bagian dari Starter Card yang bisa kita langsung dapatkan ketika pertama kali nya membuat akun Splinterlands.


Kartu ini merupakan bagian dari Water Splinter dan memiliki tipe serangan Melee.


Cruel Sethropod sama sekali tidak memiliki Ability yang menyemat dalam stats nya.





Like other cards in Splinterlands, Cruel Sethropod also has 2 types of cards. Regular and Gold Foil.

Regular cards will start from level 1 to level 10 for the maximum level.

Meanwhile, Gold Foil Cards can be obtained starting from level 3. The maximum level is the same as Regular, which is at level 10.

Regular and Gold Foil cards have absolutely no difference in terms of stats for each level.

One of the more values ​​of Gold Foil is in terms of the power attached to the card. Where we can see from the 'Power Comparison' graph above that with the same level as the Regular card, the Gold Foil almost has 2 times more power than the Regular card.

Seperti kartu-kartu lainnya yang terdapat di Splinterlands, Cruel Sethropod pun  memiliki 2 tipe kartu. Regular dan Gold Foil.


Kartu Regular akan dimulai dari level 1 sampai dengan level 10 untuk level maksimalnya.


Sedangkan untuk Kartu Gold Foil bisa didapatkan mulai dari level 3. Untuk level maksimalnya sama dengan Regular, yaitu di level 10.


Kartu Regular dan Gold Foil sama sekali tidak memiliki perbedaan dari segi stats untuk di setiap level nya.


Salah satu nilai lebih dari Gold Foil terdapat di segi power yang melekat pada kartu tersebut. Dimana bisa kita lihat dari grafik 'Power Comparison' diatas bahwa dengan level yang sama dengan kartu Regular, maka Gold Foil hampir memiliki 2 kali lipat power lebih banyak daripada kartu yang Regular.



The Cruel Sethropod is found in the Starter Cards section of our Inventory from the start.

However, if you want to experiment or add to your Collection Power with cards with a higher level, these cards can be easily found in the Rental Market at a fairly cheap price.

For example, a Regular Foil card with Level 1 can cost between 0.10DEC and 16.28DEC per day.

As for the Gold Foil card, we can rent it from level 3 with 0.67DEC and 64.20DEC for the daily rate.

Cruel Sethropod terdapat dalam bagian Starter Cards yang terdapat di dalam Inventory kita semenjak awal.


Namun apabila kita ingin mencoba eksperimen ataupun menambah Collection Power dengan kartu-kartu dengan level lebih tinggi, kartu ini dapat dengan mudah ditemukan di Rental Market dengan harga yang cukup murah.


Sebagai contoh, kartu Regular Foil dengan Level 1 bisa kira rental mulai dari 0.10DEC dan 16.28DEC per hari nya.


Sedangkan untuk kartu Gold Foil bisa kita rental mulai dari level 3 dengan 0.67DEC dan 64.20DEC untuk tarif per hari nya.


And if you feel comfortable with this card, you can buy it starting from 0.08USD for Level 1 Regular Foil and 32.47USD for level 10.

As for Gold Foil, the best price offered in Markets is in the range of 2.38USD for Level 3 to Level 6 which is in the range of 22.92USD.

Another alternative to get it is to open the Chaos Legion Pack in the Shop and Hive Engine.

Dan apabila kamu sudah merasa cocok dengan kartu ini, kamu bisa membeli nya mulai dari 0.08USD untuk Level 1 Regular Foil dan 32.47USD untuk level 10.


Sedangkan untuk Gold Foil, harga terbaik yang ditawarkan di Markets berada di kisaran 2.38USD untuk Level 3 sampai dengan Level 6 yang berada di kisaran 22.92USD.


Alternatif lain untuk mendapatkannya yaitu dengan membuka Chaos Legion Pack yang berada di in-game Shop dan Hive Engine.





This battle will run in the Bronze league with Manacap 26 with all elements usable in battle.

As for the Ruleset used is Standard, the ruleset where we can unleash all the potential abilities of monsters without the slightest limitation other than the debuffs generated from the abilities of the opposing monsters.

Battle kali ini akan berjalan di liga Bronze dengan Manacap 26 dengan semua elemen dapat digunakan di dalam battle.


Sedangkan untuk Ruleset yang dipakai adalah Standard, ruleset dimana kita dapat mengeluarkan seluruh potensi kemampuan monster tanpa sedikitpun limitasi selain debuff yang dihasilkan dari kemampuan monster-monster lawan.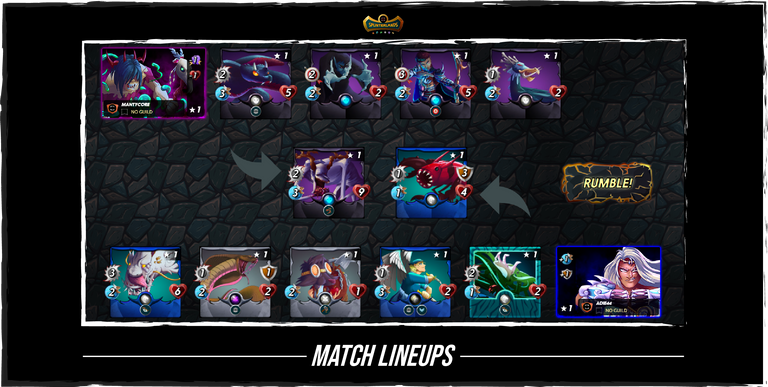 In this battle, I used a combination of monsters from Water and Neutral Splinter.

Kelya Frendul with Buff +1 Shield and +1 Speed ​​from Water Splinter is the summoner's choice. I really need the 2 abilities he has because this time he brings the majority of monsters with poor Health and Speed.

The focus of the attack will be towards the enemy's Backline, this is because I brought 2 combinations of monsters that have Sneak and Opportunity abilities.

I purposely brought 2 monsters for Sneak and Opportunity, this is because the damage effect generated from each monster is not too big. So I decided to pair them so that the resulting damage weight was more effective.

Di Battle kali ini, saya menggunakan kombinasi monster-monster dari Water dan Neutral Splinter.


Kelya Frendul dengan Buff +1 Shield dan +1 Speed dari Water Splinter menjadi pilihan summoner. Saya sangat membutuhkan 2 kemampuan yang dia miliki dikarenakan kali ini membawa mayoritas monster dengan Health dan Speed yang kurang baik.


Fokus serangan akan menuju Backline musuh, ini dikarenakan saya membawa 2 kombinasi monster yang memiliki kemampuan Sneak dan Opportunity.


Saya sengaja membawa 2 monster untuk Sneak dan Opportunity, ini dikarenakan efek damage yang dihasilkan dari setiap monster tidak terlalu besar. Maka saya memutuskan untuk memasangkan mereka agar bobot damage yang dihasilkan lebih efektif.




Kelya Frendul is one of the best summoners that Water Splinter has.

With his 2 abilities, he gives a Buff effect to our lineup from 2 sides, defense (Shield) and attack (Speed).

Speed ​​Buff will have a very significant effect if we bring monsters with low Speed ​​and minimize failed attacks.

While the Shield will provide more protection if we bring monsters with low Health.

Kelya Frendul merupakan salah satu summoner terbaik yang dimiliki oleh Water Splinter.


Dengan 2 Ability yang dimilikinya, ia memberikan efek Buff kepada lineup kita dari 2 sisi, pertahanan (Shield) dan penyerangan (Speed).


Buff Speed akan memberikan efek yang sangat signifikan apabila kita membawa monster-monster dengan Speed rendah dan meminimalisir serangan yang gagal.


Sedangkan Shield akan memberikan perlindungan lebih apabila kita membawa monster-monster dengan Health yang kecil.



Cruel Sethropod is the Tanker's choice this time. This is because with the 3 Mana needed to bring it into battle, we get a pretty good basic stats defense.

Cruel Sethropod will be fully supported by Kelya Frendul and Scavo Hierling in this battle from a defense standpoint.

Cruel Sethropod menjadi pilihan Tanker kali ini. Ini dikarenakan dengan 3 Mana yang dibutuhkan untuk membawanya kedalam pertempuran, kita mendapatkan basic stats pertahanan yang cukup baik.


Cruel Sethropod akan di support penuh oleh Kelya Frendul dan Scavo Hierling di pertempuran kali ini dari segi pertahanan.



Feasting Seaweed will be a backup for defense if the main Tanker, Cruel Sethropod cannot survive at the beginning of the battle.

Another task of Feasting Seaweed this time is to fully support Deeplurkers who both have Opportunity abilities.

Feasting Seaweed akan menjadi backup untuk pertahanan apabila Tanker utama, Cruel Sethropod tidak bisa bertahan diawal pertempuran.


Tugas lain dari Feasting Seaweed kali ini adalah mengsupport penuh Deeplurker yang sama-sama memiliki kemampuan Opportunity.



Pelacor Bandit will be Uraeus' attack partner in this battle. Where they both have Sneak abilities that focus on attacking the last line of defense from the enemy.

Another task is as a protector of Scavo Hierling from enemy attacks, so that Scavo Hierling can maximally repair Shield to our lineup without experiencing interference during the battle.

Pelacor Bandit akan menjadi partner serangan Uraeus di pertempuran kali ini. Dimana mereka sama-sama memiliki kemampuan Sneak yang fokus menyerang garis pertahanan terakhir dari musuh.


Tugas lainnya adalah sebagai pelindung dari Scavo Hierling dari serangan musuh, sehingga Scavo Hierling bisa maksimal melakukan Repair Shield kepada lineup kita tanpa mengalami gangguan selama battle berlangsung.



Scavo Hierling probably won't have any significant effect in terms of attack.

However, because in this battle I used Kelya Frendul as a summoner who gave Shield to every monster brought, then the role of Scavo Hierling will be very crucial here. With his Repair Shield ability, his role in defense in this battle will be very crucial.

He will continue to repair our Shield monsters who suffer damage in this battle constantly.

Scavo Hierling mungkin tidak akan memberikan efek berarti dari segi penyerangan.


Namun karena pada battle kali ini saya menggunakan Kelya Frendul sebagai summoner yang memberikan Shield kepada setiap monster yang dibawa, maka peran Scavo Hierling akan sangat krusial disini. Dengan kemampuan Repair Shield yang dia miliki, maka perannya dalam pertahanan di battle kali ini akanlah sangat krusial.


Dia akan terus memberikan Repair kepada Shield monster kita yang menderita damage di battle kali ini secara konstan. 



Uraeus will go hand in hand with the Pelacor Bandit in this battle.

In attack stats, Uraeus may not be very effective.

But when they are combined with monsters with the same Ability, the effect will be very significant. This is why I combined him with Pelacor Bitch who also has the Sneak ability to be dropped into this battle.

Uraeus akan bahu membahu bersama dengan Pelacor Bandit di battle kali ini. 


Secara stat serangan, Uraeus mungkin tidak terlalu efektif.


Namun bila mereka dikombinasikan dengan monster-monster dengan Ability yang sama, efek yang dihasilkan akan sangatlah signifikan. Inilah mengapa saya mengkombinasikan dia dengan Pelacor Bandit yang juga memiliki kemampuan Sneak untuk diterjunkan kedalam battle kali ini.



Deeplurker is my choice as a damage dealer for this battle. With 3 Attack stats that he has, of course he will be very fast to eliminate enemies that get in his way.

There's a reason why I put it at the finish line of defense compared to the other monsters I brought this time.

In terms of defense, he is very strong with his 6 Health. This is still coupled with support from Kelya Frendul who gives Buff +1 Shield and also +1 Speed ​​to minimize failed attacks.

In this battle he will get support from the Feasting Seaweed who both have the Opportunity ability.

Deeplurker adalah pilihan saya sebagai damage dealer untuk battle kali ini. Dengan 3 Attack stat yang dia miliki, tentunya dia akan sangat cepat untuk mengeliminasi musuh yang menghalanginya.


Ada sebuah alasan mengapa saya menempatkannya di garis akhir pertahanan dibandingkan dengan monster-monster lain yang saya bawa kali ini.


Dari segi pertahanan, dia sangatlah kuat dengan 6 Health yang dimilikinya. Ini masih ditambah dengan support dari Kelya Frendul yang memberikan Buff +1 Shield dan juga +1 Speed untuk meminimalisir serangan yang gagal.


Pada battle kali ini dia akan mendapat support dari Feasting Seaweed yang sama-sama memiliki kemampuan Opportunity.




Cruel Sethropod Battle Link


The strategy this time worked out perfectly. Where the Buff effect produced by Kelya Frendul several times saves our monsters from death, this is because the enemy brings a monster with Thorns ability which gives a counter effect to our monsters who mostly use Melee Attack.

Cruel Sethropod is our monster who has felt the ability of Kelya Frendul and Scavo Hierling the most, where he received a recharge Shield several times because he suffered enormous damage so he could last until the final rounds of this battle and prevent the enemy from breaking into the defensive line.

The function of the Sneak and Opportunity duo is also very pronounced, where the combination of the four of them can bother and eliminate opposing monsters very quickly.

Scavo Hierling with her Repair ability several times saved Cruel Sethropod's position from death by regenerating her Shield. This has a big impact on the course of the battle where the enemy has difficulty penetrating our defenses so that our backline lineup can freely carry out attacks without getting significant interference from enemies who focus on attacking the frontliner.

Strategi kali ini berjalan dengan sangat sempurna. Dimana efek Buff yang dihasilkan oleh Kelya Frendul beberapa kali menyelamatkan monster-monster kita dari kematian, ini dikarenakan musuh membawa monster dengan kemampuan Thorns yang memberikan efek counter kepada monster-monster kita yang mayoritas menggunakan Melee Attack.


Cruel Sethropod menjadi monster kita yang paling merasakan kemampuan dari Kelya Frendul dan Scavo Hierling, dimana dia beberapa kali mendapatkan recharge Shield karena menderita damage yang sangat besar sehingga dapat bertahan sampai ronde-ronde akhir battle kali ini dan mencegah musuh menerobos masuk kedalam garis pertahanan.


Fungsi dari duo Sneak dan Opportunity pun sangat terasa, dimana kombinasi dari mereka berempat sanggup menrepotkan dan mengeliminasi monster-monster lawan dengan sangat cepat.


Scavo Hierling dengan kemampuan Repair nya beberapa kali menyelamatkan posisi Cruel Sethropod dari kematian dengan meregenerasi Shield nya. Ini sangat berdampak besar dalam jalannya pertempuran dimana musuh kesulitan untuk menembus pertahanan kita sehingga backline lineup kita bisa dengan leluasa melakukan serangan tanpa mendapatkan gangguan berarti dari musuh-musuh yang fokus terhadap serangan kepada frontliner.




The Cruel Sethropod may not be a popular choice of Water Splinter for use in combat. But actually he has a pretty good ability if we look at the Stats he has.

However with 3 Mana required to bring him into battle, he will be very useful if the battle has very small manacaps. This was because with only 3 Mana, he could have a great effect because his stats were very good.

One of the drawbacks of the Cruel Sethropod is that it doesn't have any abilities even if we upgrade it to the maximum level. This of course is a minus for him, because the majority of Tankers owned by other monsters always have at least 1 Ability which gives more value in terms of defense or attack.

Cruel Sethropod mungkin bukan sebuah pilihan populer dari Water Splinter untuk digunakan di dalam pertarungan. Namun sebenarnya dia memiliki kemampuan yang cukup baik apabila kita melihat Stats yang dimilikinya.


Namun dengan 3 Mana yang diperlukan untuk membawanya kedalam battle, dia akan sangat berguna apabila battle memiliki manacap yang sangat kecil. Ini dikarenakan dengan hanya 3 Mana, dia bisa memberikan efek yang besar dikarenakan stat yang dimilikinya sangat lah baik.


Salah satu kekurangan dari Cruel Sethropod adalah tidak memiliki Ability apapun bahkan jika kita mengupgrade nya sampai dengan level maksimal. Ini tentu nya menjadi nilai minus untuk dirinya, dikarenakan mayoritas Tanker yang dimiliki monster-monster lain minimal selalu memiliki 1 buah Ability yang memberikan nilai lebih dari segi pertahanan ataupun penyerangan.



That's all my explanation about the Cruel Sethropod and if you are interested in these amazing game communities, you can join from the link below.


https://splinterlands.com?ref=adie44
THANK YOU


Credits :
---
---