(ID/EN) - Scavo Firebolt - Splinterlands Weekly Battle Challenge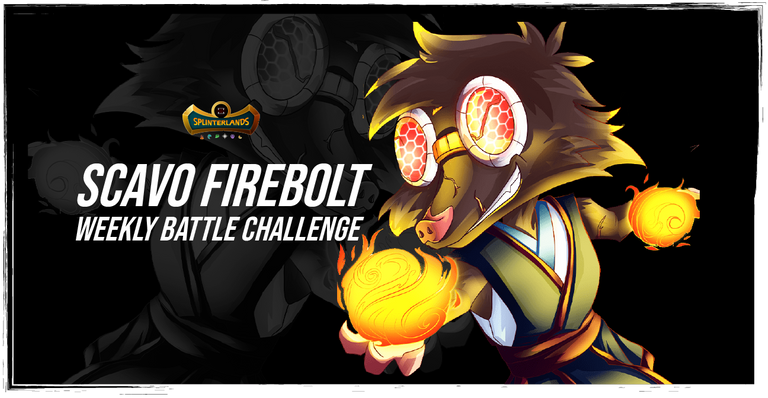 Living within the Realm of Silence, the mole-like race of Scavo were affected by the toxic gas from the Mountain of Ash. They became highly intelligent and worked diligently to protect their home from the blight. Scavo Firebolts were particularly changed by their proximity to the magma, developing the ability to summon and launch bolts of fire from their palms. They defend their home by launching these fire bolts from great distances. Approaching enemies don't even realize the danger until fire begins to rain from above. Those that are incapacitated are especially vulnerable.





Scavo Firebolt is one of the Rare cards contained in the Chaos Legion Pack and is also part of the Starter Card that we can immediately get when we first create a Splinterlands account.
At level 1, Scavo Fireblot has no Ability.
The only ability we can get from Scavo Firebolt, Knock Out can be obtained if we upgrade it to level 6.
Scavo Firebolt will not get any additional abilities in later levels.
Scavo Firebolt is a part of Fire Splinter with Ranged Attack ability.

Scavo Firebolt adalah salah satu kartu Rare yang terdapat di Chaos Legion Pack dan juga menjadi bagian dari Starter Card yang bisa kita langsung dapatkan ketika pertama kali nya membuat akun Splinterlands.


Di level 1, Scavo Fireblot tidak memiliki Ability. 


Ability satu-satunya yang bisa kita dapatkan dari Scavo Firebolt, Knock Out bisa didapatkan bila kita mengupgrade nya sampai dengan level 6.


Scavo Firebolt tidak akan mendapatkan tambahan Ability lagi di level-level selanjutnya.


Scavo Firebolt adalah bagian dari Fire Splinter dengan kemampuan Ranged Attack.




Scavo Firebolt is available in 2 card types. Regular and Gold Foil.

In terms of Stats & Abilities, there is no difference between Regular and Gold Foil at all.

The significant difference is in the Power of the card. Where Gold Foil is far superior to Regular Foil and will be very useful if we need Collection Power and a higher percentage of win bonuses in a battle.

Power is needed so that we can claim prizes in the levels that we achieve during the season.

Scavo Firebolt tersedia dalam 2 tipe kartu. Regular dan Gold Foil.


Secara Stats & Abilities nya, untuk Regular dan Gold Foil tidak memiliki perbedaan sama sekali.


Perbedaan signifikan berada di Power kartu tersebut. Dimana Gold Foil unggul sangat jauh dari Regular Foil dan akan sangat berguna bila kita membutuhkan Collection Power dan persentase bonus kemenangan yang lebih besar dalam sebuah pertempuran.


Power dibutuhkan agar kita bisa mengklaim hadiah di level-level yang kita raih selama season berlangsung.




Scavo Firebolt Level 1 Regular Foil can be obtained from the start when we create a Splinterlands account. This is because he is part of the Starter Card that is provided since the first time we create an account in Splinterlands.

But if we just want to add Power from our account, we can rent Scavo Firebolt starting from 0.10DEC for level 1 and 14.95DEC for the maximum level for cards with Regular Foil.

For Gold Foil, Supply Runner starts from level 2. And the price for rent starts from 2.03DEC to 35.00DEC at level 7 (maximum card available in markets when this blog was created).

The rental price above is for 1 day and the price is fluctuating.

Scavo Firebolt Level 1 Regular Foil sudah bisa didapatkan sejak dari awal kita membuat akun Splinterlands. Ini karena dia adalah bagian dari Starter Card yang memang disediakan sejak pertama kali kita membuat akun di Splinterlands.


Namun bila kita ingin sekedar menambahkan Power dari akun kita, Scavo Firebolt bisa kita rent mulai dari 0.10DEC untuk level 1 dan 14.95DEC untuk level maksimalnya untuk kartu dengan Regular Foil.


Untuk Gold Foil, Supply Runner dimulai dari level 2. Dan harga untuk rent nya dimulai dari 2.03DEC sampai dengan 35.00DEC di level 7 (kartu maksimal yang tersedia di markets ketika blog ini dibuat).


Harga rent diatas adalah untuk per 1 hari dan harga bersifat fluktuatif.


Apart from rent. We can also buy this card at Markets which is available in-game or through peakmonsters and monstermarket.

When this blog was created, the cheapest Cards that could be bought for Regular Foil were at 0.14USD for level 1 and 17.00 USD for level 8.

And for Gold Foil, level 2 is around 2.88USD and the highest level on the market is level 4 which is around 13.98USD.

Selain dengan rent. Kita pun bisa membeli kartu ini di Markets yang tersedia di in game ataupun melalui peakmonsters dan monstermarket.


Ketika blog ini dibuat, Kartu termurah yang bisa dibeli untuk Regular Foil berada di angka 0.14USD untuk level 1 dan 17.00 USD untuk level 8.


Dan untuk Gold Foil, Untuk level 2 berada di kisaran 2.88USD dan untuk level tertinggi yang ada di pasaran adalah level 4 yang berada di kisaran 13.98USD.





This battle will run in the Bronze league with Manacap 27 and all elements can be used in battle.

As for the Ruleset used is Standard, the ruleset where we can unleash all the potential abilities of monsters without the slightest limitation other than the debuffs generated from the abilities of the opposing monsters.

Battle kali ini akan berjalan di liga Bronze dengan Manacap 27 dan semua elemen dapat digunakan di dalam battle.


Sedangkan untuk Ruleset yang dipakai adalah Standard, ruleset dimana kita dapat mengeluarkan seluruh potensi kemampuan monster tanpa sedikitpun limitasi selain debuff yang dihasilkan dari kemampuan monster-monster lawan.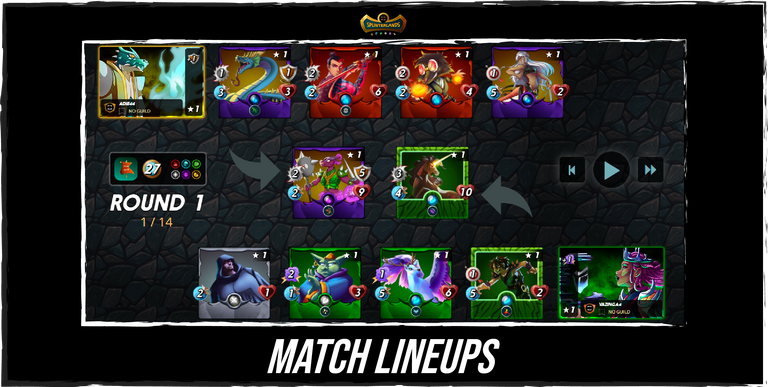 Today's battle, I used a combination of monsters from Dragon and Fire Splinter.

The choice of Summoner goes to the Drake of Arnak who has the Shield ability in order to protect the monsters in the back row of our deck.

Different from the previous battle, this time I will focus on attacking the enemy Frontline who acts as a Tanker and leave the Tenyii Striker to attack from the enemy's Backline side.

And on the enemy side, I will meet an opponent who uses an Earth Splinter with Obsidian as the summoner he uses.

By focusing the attack on the enemy's front line of defense, I expect to finish off enemies with high Health as quickly as possible and weaken their defenses.

Battle hari ini, saya menggunakan kombinasi monster-monster dari Dragon dan Fire Splinter.


Pilihan Summoner jatuh kepada Drake of Arnak yang memiliki kemampuan Shield dengan tujuan melindungi monster-monster di barisan terbelakang dari deck kita.


Berbeda dari pertarungan sebelumnya, kali ini saya akan mengfokuskan serangan terhadap Frontline musuh yang berperan sebagai Tanker dan meninggalkan Tenyii Striker untuk menyerang dari sisi Backline musuh.


Dan di sisi musuh, saya akan bertemu dengan lawan yang menggunakan Earth Splinter dengan Obsidian sebagai summoner yang dia gunakan.


Dengan fokus serangan menuju garis terdepan pertahanan musuh, saya harapkan bisa menghabisi musuh dengan Health tinggi secepat mungkin dan melemahkan pertahanan mereka.





Drake of Arnak is my Summoner choice on this occasion. With his Ability Shield, I hope he can provide more protection to all the monsters in the deck that we carry.

With 4 Mana and Dragon Elements at his disposal, I think he will be worth using in this battle.

Drake of Arnak adalah pilihan Summoner saya pada kesempatan kali ini. Dengan Ability Shield nya, saya harapkan dia bisa memberikan perlindungan lebih kepada seluruh monster-monster di deck yang kita bawa.


Dengan 4 Mana dan Dragon Element yang dia miliki, saya rasa dia akan sangat worth untuk digunakan di pertempuran kali ini.



Djinn Chwala, representative of Dragon Splinter. He will act as a Tanker as well as a Damager in this battle.

The ability between Attack and Defense that Djinn Chwala has is very balanced making him the best choice for the Tanker position.

And with his Ability Thorns which will be triggered when he is attacked by Melee Attack, it is a plus to bring him into battle. Because he will passively attack his opponent back.

Djinn Chwala, perwakilan dari Dragon Splinter. Dia akan berperan sebagai Tanker dan juga Damager di pertempuran kali ini.


Kemampuan antara Attack dan Defense yang dimiliki Djinn Chwala sangatlah seimbang membuat nya menjadi pilihan terbaik untuk posisi Tanker.


Dan dengan Ability Thorns nya yang akan terpicu bila dia diserang oleh Melee Attack menjadi nilai lebih untuk membawanya kedalam pertempuran. Karena secara pasif dia akan menyerang balik lawannya. 



One of the factors I brought the Twilight Basilisk is its very good speed with 3 Speed ​​and also its Ability, Reach which can reach enemies from Post 2 even though it only has Melee Attack abilities.

He will act as a Support from Djinn Chwala to help attack opponents who are in the front sector.

Salah satu faktor saya membawa Twilight Basilisk adalah kecepatannya yang sangat baik dengan 3 Speed dan juga Ability yang dimilikinya, Reach yang dapat menjangkau musuh dari Pos 2 walaupun ia hanya memiliki kemampuan Melee Attack.


Dia akan berperan sebagai Support dari Djinn Chwala untuk membantu menyerang lawan yang berada di sektor terdepan.



My focus on the battle this time is as fast as possible to finish off the opposing monsters in the front row. But still we can't ignore the opposing monsters that are in the back sector. That's why I brought the Tenyii Striker who has the Sneak ability to finish off enemies in the rear sector so that the enemy's defense will be a little shaky.

With Health 6 he has, he will also act as the last bastion if the monsters in front of him have been eliminated.

Fokus saya pada pertempuran kali ini memang secepat mungkin untuk menghabisi monster lawan di barisan terdepan. Namun tetap kita tidak bisa mengabaikan monster-monster lawan yang berada di sektor belakang. Maka dari itu saya membawa Tenyii Striker yang memiliki kemampuan Sneak untuk menghabisi musuh-musuh yang berada di sektor belakang sehingga pertahanan musuh akan menjadi sedikit goyah.


Dengan Health 6 yang dimilikinya, dia pun akan berperan sebagai benteng pertahanan terakhir apabila monster-monster di depannya sudah tereliminasi.



Scavo Firebolt, in this battle he will be the support of Djinn Chwala by attacking from the back sector to the opposing monsters who are in the front row.

Together with the Assassin Dragon, he will launch a Ranged attack and try to eliminate the enemy as quickly as possible.

Scavo Firebolt, pada battle kali ini dia akan menjadi support dari Djinn Chwala dengan melakukan serangan dari sektor belakang kepada monster=monster lawan yang berada di baris terdepan.


Bersama dengan Naga Assassin, dia akan melancarkan serangan Ranged dan mencoba mengeliminasi musuh dengan secepat-cepatnya.



Dragon Assassin is the last bastion of our deck in this battle.

The reason I prefer to place the Assassin Dragon at the very end compared to the Scavo Firebolt is the speed factor. With 5 Speed, it is certain that he will give an attack at the beginning of the round before the opposing monsters try to attack him.

Together with Scavo Firebolt who has Ranged Attack, he will work together to attack the enemy in the front row and help the task of Djinn Chwala.

Naga Assassin adalah benteng pertahanan terakhir dari deck kita di pertempuran kali ini.


Alasan saya lebih memilih menempatkan Naga Assassin di posisi paling akhir dibandingkan dengan Scavo Firebolt adalah faktor kecepatannya. Dengan 5 Speed yang dimiliki, sudah dipastikan dia akan memberikan serangan di awal-awal ronde sebelum monster-monster lawan berusaha menyerangnya.


Bersama-sama dengan Scavo Firebolt yang memiliki Ranged Attack, dia akan bekerjasama untuk melakukan serangan kepada musuh di barisan terdepan dan membantu tugas dari Djinn Chwala.




SCAVO FIREBOLT's Battle Link



The strategy works well even though it's not perfect in this fight.

The monsters that I focused on attacking the front line of the opponent's defense did their job very well.

Tenyii Striker assigned to kill the enemy monsters in the back row is a bit overwhelmed here because he always eats the bait that protects the Healer on the opponent's deck. This results in the attacks being carried out a little bit hampered because the position of the opponent who is in the front row always gets extra Health in the early rounds of the fight.

Despite being able to win this battle in the end, Djinn Chwala and Twilight Basilisk cannot continue the fight because they have to leave the arena at the end of the round.

Strategi berjalan dengan baik walaupun tidak sempurna pada pertarungan kali ini.


Monster-monster yang saya fokuskan untuk menyerang barisan terdepan pertahanan lawan melakukan tugas nya dengan sangat baik.


Tenyii Striker yang ditugaskan untuk menghabisi monster=monster musuh di barisan belakang agak kewalahan disini karena selalu memakan umpan yang melindungi Healer di deck lawan. Ini berakibat serangan-serangan yang dilakukan menjadi sedikit agak terhambat karena posisi lawan yang berada di barisan terdepan selalu mendapatkan ekstra Health di ronde awal pertarungan.


Walau pada akhirnya bisa memenangkan pertarungan ini, namun Djinn Chwala dan Twilight Basilisk tidak dapat melanjutkan pertarungan karena harus meninggalkan arena di akhir-akhir ronde.




Scavo Firebolt may not be a popular choice of Fire Splinter to use in combat. But actually he has a pretty good ability if we look at the Stats he has. With his Health 4 and Attack 2, he actually has potential as an alternative Support.

I feel that if Scavo Firebolt becomes one of the monsters in Life Splinter, then its ability will be very useful and will be used more in battle. This is because there is a Summoner Life that has the ability to Buff Ranged Attack and also a Starter Card Life that uses a lot of Ranged Attack.

I might use Scavo only as an alternative to monsters if Ruleset really supports it. But under normal conditions, there were still many other monsters to choose from compared to him.

Scavo Firebolt mungkin bukan sebuah pilihan populer dari Fire Splinter untuk digunakan di dalam pertarungan. Namun sebenarnya dia memiliki kemampuan yang cukup baik apabila kita melihat Stats yang dimilikinya. Dengan Health 4 dan Attack 2 yang dimilikinya, ia sebenarnya memiliki potensi sebagai alternatif Support.


Saya merasa bila Scavo Firebolt menjadi salah satu monster di Life Splinter, maka kemampuannya akan akan sangat berguna dan akan lebih banyak digunakan di dalam pertempuran. Ini dikarenakan adanya Summoner Life yang memiliki kemampuan Buff Ranged Attack dan juga Starter Card Life yang banyak menggunakan Ranged Attack.


Scavo mungkin akan saya gunakan hanya sebagai alternatif monster apabila Ruleset benar-benar sangat mendukung. Namun dalam kondisi normal, masih banyak pilihan monster lainnya dibandingkan dengan dirinya.  



That's all my explanation about the Scavo Firebolt and if you are interested in these amazing game communities, you can join from the link below.


https://splinterlands.com?ref=adie44
THANK YOU


Credits :
---
---