(ID/EN) Splinterlands : Gargoya Scrapper - Battle Challenge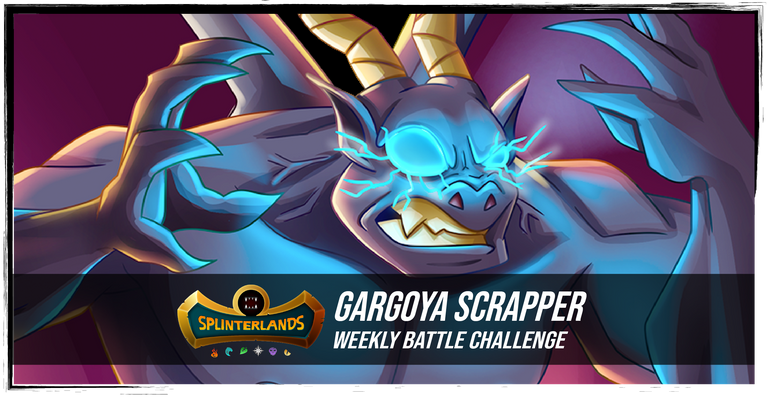 Gargoya Scrapper is one of the common cards found in the Chaos Legion Pack and is also part of the Starter Card that we can get immediately when we first create a Splinterlands account.

This card is part of the Life Splinter and has a Melee type of attack.

Gargoya Scrapper will get 1 Ability if we upgrade it to the third level, namely Void which has the effect of reducing damage from the opponent's Magic attack.

Gargoya Scrapper adalah salah satu kartu Common yang terdapat di Chaos Legion Pack dan juga menjadi bagian dari Starter Card yang bisa kita langsung dapatkan ketika pertama kali nya membuat akun Splinterlands.


Kartu ini merupakan bagian dari Life Splinter dan memiliki tipe serangan Melee.


Gargoya Scrapper akan mendapatkan 1 Ability apabila kita mengupgrade nya sampai dengan level ketiga, yaitu Void yang mempunyai efek mengurangi efek damage dari serangan Magic lawan.





Gargoya Scrapper is available in 2 editions: Regular Foil and Gold Foil.

Regular Foil Cards start at Level 1 with a max level of 10.

Gold Foil Card starts from Level 3 and the maximum level is also at Level 10.

In terms of attack and defense stats, these 2 editions have absolutely no difference.

The most obvious difference is from the Power side, Gold Foil cards are very superior when compared to Regular Foil cards.

The power difference between Regular and Gold is very significant, it can be seen in the table above. Where the Power owned by the Gold Foil card has an average of 2x the Power compared to the Regular card.

Gargoya Scrapper tersedia dalam 2 edisi : Regular Foil dan Gold Foil.


Kartu Regular Foil dimulai dari Level 1 dengan level maksimal nya di 10.


Kartu Gold Foil dimulai dari Level 3 dan level maksimalnya juga berada di Level 10.


Secara Stat Attack dan Defense, 2 edisi ini sama sekali tidak memiliki perbedaan.


Perbedaan paling kentara adalah dari sisi Power, kartu Gold Foil sangat unggul apabila dibandingkan dengan kartu Regular Foil. 


Perbedaan Power antara Regular dan Gold sangatlah signifikan, ini bisa terlihat di tabel diatas. Dimana Power yang dimiliki oleh kartu Gold Foil rata-rata memiliki 2x lipat Power dibandingkan dengan kartu Regular nya.



Gargoya Scrapper is in the Starter Cards section of our Inventory from the start.

However, if you want to experiment or add to your Collection Power with cards with a higher level, these cards can be easily found in the Rental Market at a fairly economical price.

We can rent Regular Foil Cards starting from 0.10DEC for Level 1 and 5.44DEC Level 10 for the price per day.

As for the Gold Foil card, we can get it starting from 0.17 to 19.58DEC for the maximum level.

Gargoya Scrapper terdapat dalam bagian Starter Cards yang terdapat di dalam Inventory kita semenjak awal.


Namun apabila kita ingin mencoba eksperimen ataupun menambah Collection Power dengan kartu-kartu dengan level lebih tinggi, kartu ini dapat dengan mudah ditemukan di Rental Market dengan harga yang cukup ekonomis.


Kartu Regular Foil bisa kita rental mulai dari 0.10DEC untuk Level 1 dan 5.44DEC Level 10 untuk harga per hari nya.


Sedangkan untuk kartu Gold Foil bisa kita dapatkan mulai dari 0.17 sampai dengan 19.58DEC untuk level maksimalnya.


And if you want to have a Gargoya Scrapper, if you are lucky you can get it from the Chaos Legion Pack which can be purchased at a price of 4.00USD which contains 5 cards, with a guarantee of 1 Rare card.

In addition, Gargoya Scrappers can be purchased individually at the Market available in-game or from the 3rd party web.

The lowest price for Regular Foil cards can be obtained from 0.05USD to 16.80USD for the maximum level.

Meanwhile, Gold Foil cards can be obtained starting from 0.68USD for level 3 and 10.39USD for cards with level 7 with 1750 Power.

Dan apabila kalian ingin memiliki Gargoya Scrapper, apabila kalian beruntung bisa mendapatkannya dari Chaos Legion Pack yang bisa dibeli dengan harga 4.00USD yang berisi 5 kartu, dengan jaminan 1 buah kartu Rare.


Selain itu Gargoya Scrapper bisa dibeli secara satuan di Market yang tersedia di in-game maupun dari 3rd party web.


Harga terendah untuk kartu Regular Foil bisa didapatkan mulai dari 0.05USD sampai dengan 16.80USD untuk di level maksimalnya.


Sedangkan untuk kartu Gold Foil bisa didapatkan mulai dari 0.68USD untuk level 3 dan 10.39USD untuk kartu dengan level 7 dengan 1750 Power.





Today's battle will be in the Bronze league with Manacap 22 with all Splinter elements usable in battle.

The rule used is Standard, where we can use all monster abilities without any handicaps.

Battle kali ini akan berjalan di liga Bronze dengan Manacap 22 dengan semua elemen Splinter dapat digunakan di dalam battle.


Ruleset yang digunakan adalah Standard, dimana kita bisa mempergunakan seluruh kemampuan monster tanpa adanya handicap.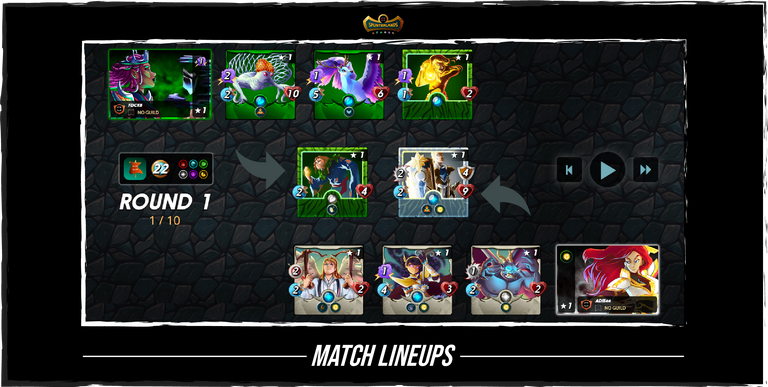 In this battle I will use cards from Life Splinter with Lorna Shine as the Summoner.

Meanwhile, the opposing party will use 100% Earth Splinter with a Magic Attack focus.

I will try to maximize the defense sector in this battle by relying on Lorna Shine who has the Divine Shield Ability.

Pada battle kali ini saya akan menggunakan kartu-kartu dari Life Splinter dengan Lorna Shine sebagai Summoner nya.


Sedangkan dari pihak lawan akan menggunakan 100% Earth Splinter dengan fokus Magic Attack.


Saya akan coba memaksimalkan sektor pertahanan di battle kali ini dengan bergantung kepada Lorna Shine yang memiliki Ability Divine Shield.





The summoner's choice fell to Lorna Shine because apart from only requiring 3 Mana, she also has the Ability Divine Shield which is very useful to provide extra protection for all the monsters that we bring into the battle this time.

Pilihan Summoner jatuh kepada Lorna Shine dikarenakan selain hanya membutuhkan 3 Mana, dia pun memiliki Ability Divine Shield yang sangat berguna untuk memberikan perlindungan ekstra untuk seluruh monster-monster yang kita bawa kedalam pertarungan kali ini.



Shielbearer is always a favorite choice when we consider using monsters from Life Splinter.

With his Ability Taunt, the focus of the enemy's attack will be total on him. However, with 9 Health and 4 Shields it has, it will make Shieldbearer very difficult to beat in several attacks.

In this battle he will get an additional Ability Divine Shield generated by Lorna Shine.

Shielbearer selalu menjadi pilihan favorit apabila kita mempertimbangakan untuk memakai monster-monster dari Life Splinter.


Dengan Ability Taunt nya, maka fokus serangan musuh akan total kepada dirinya. Namun dengan 9 Health dan 4 Shield yang dimilikinya akan menjadikan Shieldbearer sangat sulit ditaklukkan dalam beberapa kali serangan.


Pada pertempuran kali ini dia akan mendapatkan tambahan Ability Divine Shield yang dihasilkan oleh Lorna Shine.



Gargoya Scrapper will act as Support and also 2nd Tanker in this battle.

Even though his stats are not as good as Shieldbearer, with the Divine Shield Support from Lorna Shine he will get a significant boost in defense.

Gargoya Scrapper akan berperan sebagai Support dan juga 2nd Tanker di pertempuran kali ini.


Walau secara stat dia tidak sebaik Shieldbearer namun dengan Support Divine Shield dari Lorna Shine dia akan mendapatkan boost dari segi pertahanan secara signifikan.



Time Mage will be the next Support in this battle. His Slow Ability is something that I will rely on a lot in this battle where the opposing monsters will get a debuff speed which causes them to slow down and magnify their attacks to miss.

Time Mage akan menjadi Support selanjutnya di pertempuran kali ini. Ability Slow yang dimilikinya adalah sesuatu yang akan sangat saya andalkan dalam pertempuran kali ini dimana monster-monster lawan akan mendapatkan debuff speed yang mengakibatkan mereka menjadi lambat dan memperbesar serangan mereka menjadi meleset.



The Arbalest Bitch will be our Damage Dealer in this battle. With 2 Ranged Attack and Double Strike ability that he has, I expect him to give a pretty deadly attack to the monsters in the opponent's deck.

Pelacor Arbalest akan menjadi Damage Dealer kita di pertempuran kali ini. Dengan 2 Ranged Attack dan kemampuan Double Strike yang dia miliki, saya harapkan dia akan memberikan serangan yang cukup mematikan kepada monster-monster di deck lawan.




And to watch the fight in a complete and comfortable way. I present it with a video that you can see below:
Dan untuk menyaksikan jalannya pertarungan secara lengkap dan nyaman. Maka saya sajikan dengan video yang bisa kalian lihat dibawah ini :

BATTLE LINK HERE


The strategy is slightly off the mark from the initial calculation. This is because it turns out that the enemy brought a full Magic Attack which resulted in the Shield owned by our Tanker, the Shieldbearer being useless.

However, Lorna Shine's Ability in this battle slightly changed the course of the match, where the enemy's initial attacks had absolutely no effect on the monsters on the deck that we brought.

Even though the strategy didn't go well and lost some monsters in this battle, in the end we were still able to win this battle.

Strategi sedikit agak meleset dari perhitungan awal. Ini dikarenakan ternyata musuh membawa full Magic Attack yang berakibat Shield yang dimiliki oleh Tanker kita, Shieldbearer menjadi tidak berguna.


Namun Ability dari Lorna Shine pada battle kali ini sedikit merubah jalannya pertandingan, dimana serangan-serangan awal musuh menjadi sama sekali tidak memiliki efek kepada monster-monster di deck yang kita bawa.


Walau strategi tidak berjalan dengan baik dan kehilangan beberapa monster di battle kali ini, namun pada akhirnya kita masih mampu untuk memenangkan pertempuran kali ini.




Honestly, I'm not a fan of Gargoya Scrapper. However, if forced to use it as a monster to be included in the deck, its function will always be a support that protects the Damage Dealer or as a 2nd Tank to delay the enemy so as not to directly attack the monsters that we project to survive until the end of the fight.

Jujur, saya bukan penggemar dari Gargoya Scrapper. Namun apabila terpaksa harus menggunakannya sebagai monster untuk dimasukkan kedalam deck, fungsinya tetap selalu menjadi support yang melindungi Damage Dealer ataupun sebagai 2nd Tank untuk mendelay musuh agar tidak langsung menyerang menuju monster-monster yang kita proyeksikan untuk bertahan sampai dengan akhir pertarungan.



That's all my explanation about the Gargoya Scrapper and if you are interested in these amazing game communities, you can join from the link below.


https://splinterlands.com?ref=adie44
THANK YOU


Credits :
---
---