(ID/EN) Splinterlands : Silent Sha-vi - Battle Challenge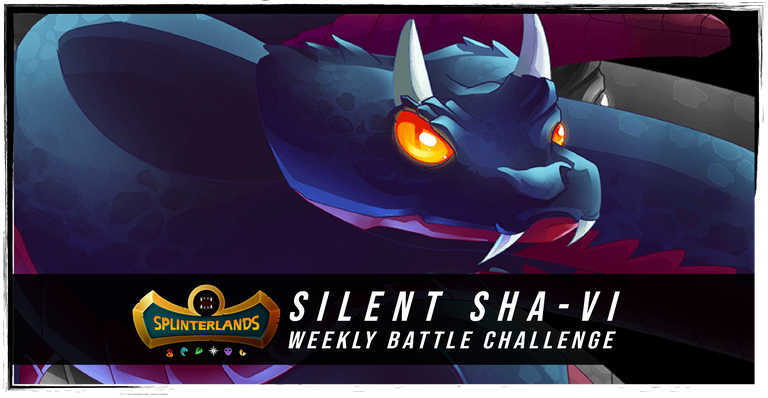 Silent Sha-vi is one of the common cards found in the Chaos Legion Pack and is also part of the Starter Card that we can get immediately when we first create a Splinterlands account.
This card is part of the Death Splinter and has a Melee type of attack.
Silent Sha-vi from the start already has the Ability, namely Sneak. And at the sixth level he gets another additional Ability, namely Cripple. While at the maximum level, he will again get 1 additional Ability, Piercing. So in total he will have 3 abilities if we upgrade it to level 10.

Silent Sha-vi adalah salah satu kartu Common yang terdapat di Chaos Legion Pack dan juga menjadi bagian dari Starter Card yang bisa kita langsung dapatkan ketika pertama kali nya membuat akun Splinterlands.


Kartu ini merupakan bagian dari Death Splinter dan memiliki tipe serangan Melee.


Silent Sha-vi sejak dari awal sudah memiliki Ability, yaitu Sneak. Dan di level keenam dia mendapatkan tambahan Ability lagi yaitu Cripple. Sedangkan di level maksimalnya lagi-lagi dia akan mendapatkan 1 buah tambahan Ability, Piercing. Sehingga secara total dia akan mempunyai 3 buah Ability apabila kita mengupgrade nya sampai dengan level 10.




Silent Sha-vi is available in 2 editions: Regular Foil and Gold Foil.

Regular Foil Cards start at Level 1 with a max level of 10.

Gold Foil Card starts at Level 3 and the max level is also at Level 10.

In terms of attack and defense stats, these 2 editions have absolutely no difference.

The only difference is in the Power the card has.

Silent Sha-vi tersedia dalam 2 edisi : Regular Foil dan Gold Foil.


Kartu Regular Foil dimulai dari Level 1 dengan level maksimal nya di 10.


Kartu Gold Foil dimulai dari Level 3 dan level maksimalnya juga berada di Level 10.


Secara Stat Attack dan Defense, 2 edisi ini sama sekali tidak memiliki perbedaan.


Satu-satunya perbedaan ada di Power yang dimiliki kartu tersebut.


Cards with Gold Foil are absolutely superior in terms of Power. Where the difference in Power ranges from 70-120% when compared to cards with Regular Foil.

Power is needed to get the maximum rewards obtained after winning a battle.

In addition, another advantage of Gold Foil is that it provides a significant percentage bonus for every battle that includes the card in a battle.

Kartu dengan Gold Foil secara mutlak sangat unggul dari segi Power. Dimana perbedaan Power nya berkisar antara 70-120% apabila dibandingkan dengan kartu dengan Regular Foil.


Power sangatlah dibutuhkan untuk mendapatkan rewards maksimal yang didapatkan setelah memenangkan sebuah battle.


Selain itu, keunggulan lain dari Gold Foil adalah memberikan bonus persentase yang signifikan untuk setiap battle yang menyertakan kartu tersebut ke dalam sebuah battle.



The Regular Silent Sha-vi card is already in the starter deck that we got from the start when we created a Splinterlands account.

However, if you want to experiment or add to your Collection Power with cards with a higher level, these cards can be easily found in the Rental Market at a fairly economical price.

Regular Foil Cards can be rented starting from 2.00DEC for Level 1 and 184.16DEC Level 10 for the price per day.

As for the Gold Foil card, we can get it from 0.23 to 100.99DEC for the maximum level.

Kartu Regular Silent Sha-vi sudah terdapat di starter deck yang kita dapatkan semenjak dari awal kita membuat akun Splinterlands.


Namun apabila kita ingin mencoba eksperimen ataupun menambah Collection Power dengan kartu-kartu dengan level lebih tinggi, kartu ini dapat dengan mudah ditemukan di Rental Market dengan harga yang cukup ekonomis.


Kartu Regular Foil bisa kita rental mulai dari 2.00DEC untuk Level 1 dan 184.16DEC Level 10 untuk harga per hari nya.


Sedangkan untuk kartu Gold Foil bisa kita dapatkan mulai dari 0.23 sampai dengan 100.99DEC untuk level maksimalnya.  

Apart from Rental, Silent Sha-vi can be obtained from the Chaos Legion Pack which can be purchased from the in-game Shop or Hive Engine.

In addition, Silent Sha-vi can be purchased individually at the Market available in-game or from 3rd party websites such as Peakmonsters, Monstermarkets and Card Auction.

The lowest price for Regular Foil cards can be obtained from 0.12USD to 45.20USD for the maximum level.

Meanwhile, Gold Foil cards can be obtained starting from 1.65USD for level 3 and 154.24USD for cards with level 10.

Selain dari Rental, Silent Sha-vi bisa didapatkan dari Chaos Legion Pack yang bisa dibeli dari in-game Shop maupun Hive Engine.


Selain itu Silent Sha-vi bisa dibeli secara satuan di Market yang tersedia di in-game maupun dari 3rd party web seperti Peakmonsters, Monstermarkets dan Card Auction.


Harga terendah untuk kartu Regular Foil bisa didapatkan mulai dari 0.12USD sampai dengan 45.20USD untuk di level maksimalnya.


Sedangkan untuk kartu Gold Foil bisa didapatkan mulai dari 1.65USD untuk level 3 dan 154.24USD untuk kartu dengan level 10.





Today's battle will run on Manacap 23 with all elements usable.

As for Ruleset, this time's battle will use Rule Super Sneak where all monsters with the ability to attack Melee will get an additional Ability Sneak so they can attack from the backline.

Battle kali ini akan berjalan di Manacap 23 dengan semua elemen dapat digunakan.


Sedangkan untuk Ruleset, battle kali ini akan menggunakan Rule Super Sneak yang dimana semua monster dengan kemampuan menyerang Melee akan mendapatkan tambahan Ability Sneak sehingga bisa menyerang dari backline.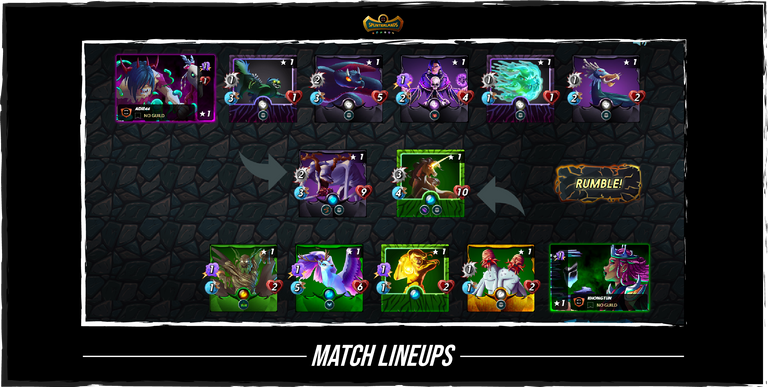 In today's battle, I will use monsters from Death Splinter with Thaddius Brood who is the summoner's choice.

On the other hand, they use Earth Splinter by using Obsidian as a Summoner and relying on Magic Attack as their main attack.

And to focus my attack this time I will focus on using monsters with Melee attacks. This is because the Ruleset used in this battle is Super Sneak which provides additional Sneak abilities to all Melee users.

Battle hari ini saya akan menggunakan monster-monster dari Death Splinter dengan Thaddius Brood yang menjadi pilihan summoner. 


Sedangkan dari sisi lawan, mereka menggunakan Earth Splinter dengan menggunakan Obsidian sebagai Summoner dan mengandalkan Magic Attack sebagai serangan utama nya.


Dan untuk fokus serangan saya kali ini saya akan fokus menggunakan monster-monster dengan serangan Melee. Ini dikarenakan Ruleset yang digunakan dalam battle kali ini adalah Super Sneak yang memberikan Ability tambahan Sneak kepada seluruh pengguna Melee.





Thaddius Brood is my summoner choice in this battle.

I will rely on the ability of DeBuff Health and Magic Attack which will be received by all opposing monsters to give advantage to the monsters that we bring to the deck.

Thaddius Brood menjadi pilihan Summoner saya pada battle kali ini.


Saya akan mengandalkan kemampuan DeBuff Health dan Magic Attack yang akan diterima oleh semua monster-monster lawan untuk memberikan keuntungan kepada monster-monster yang kita bawa kedalam deck.



My Cursed Winde is one of Death Splinter's Tanks with very balanced abilities.

His strength is in balance with his Stats where his Defense and Attack ratio is perfectly balanced.

In addition, with his Thorns Ability, he has the ability to counterattack against Melee enemies who attack him.

Cursed Windeku adalah salah satu Tank dari Death Splinter dengan kemampuan yang sangat seimbang.


Kekuatannya berada di seimbangnya Stats yang dia miliki dimana rasio Defense dan Attack nya sangatlah seimbang.


Selain itu dengan Ability Thorns nya, dia mempunyai kemampuan untuk melakukan serangan balik kepada musuh-musuh Melee yang menyerangnya.



Undead Badger will be a support from the defense side by becoming the 2nd Tank that withstands attacks so that our damagers do not receive attacks at the beginning of the battle.

In addition, from the attack side he will also help Silent Sha-vi to repay the damage to the opponent because it is helped by the Super Sneak Ruleset used in this battle.

Undead Badger akan menjadi support dari sisi pertahanan dengan menjadi 2nd Tank yang menahan serangan agar damager kita tidak menerima serangan di awal-awal battle.


Selain itu dari sisi penyerangan dia juga akan membantu Silent Sha-vi untuk mencicil damage kepada lawan karena terbantu Ruleset Super Sneak yang digunakan di battle kali ini.


Silent Sha-vi is Damager's choice this time. He is one of the monsters with the strongest Melee Attack in Death Splinter.

Coupled with the Super Sneak Ruleset, Silent Sha-vi's task will be very easy in this battle because he will get support from Melee monsters who also get the Ability Sneak.

Silent Sha-vi menjadi pilihan Damager kali ini. Dia merupakan salah satu monster dengan Melee Attack terkuat di Death Splinter.


Ditambah dengan Ruleset Super Sneak, tugas Silent Sha-vi akan menjadi sangat mudah di battle kali ini karena akan mendapatkan support dari monster-monster Melee yang juga mendapatkan Ability Sneak.



Revealer is one of the monsters in Death Splinter that was recently introduced by Splinterlands.

One of its advantages is that it gives Stun to the enemy it attacks with a very high success ratio, so Revealer quickly gained high popularity among Splinterlands players.

Revealer adalah salah satu monster di Death Splinter yang belum lama ini diperkenalkan oleh Splinterlands.


Salah satu keunggulannya adalah memberikan Stun kepada musuh yang diserang nya dengan rasio keberhasilan yang sangat tinggi, sehingga dengan cepat Revealer mendapatkan popularitas yang tinggi di kalangan para pemain Splinterlands.



Cursed will act as one of the strongholds of the backline.

In addition, he will also help Silent Sha-vi with his Sneak Attack to repay the damage to enemy monsters with the additional abilities obtained from the Ruleset used this time.

Cursed akan berperan sebagai salah satu benteng pertahanan dari backline.


Selain itu dia menjadi akan membantu Silent Sha-vi dengan Sneak Attack nya untuk mencicil damage kepada monster-monster lawan dengan kemampuan tambahan yang didapatkan dari Ruleset yang digunakan kali ini.



Carrion Shade becomes a monster in the ultimate defense. Apart from being a protector for our damager Silent Sha-vi, he will also help in terms of attack with the Ability Sneak obtained from Ruleset Super Sneak.

Carrion Shade menjadi monster di pertahanan paling akhir. Selain sebagai pelindung untuk  damager kita Silent Sha-vi, dia juga akan membantu dari segi serangan dengan Ability Sneak yang didapatkan dari Ruleset Super Sneak.




BATTLE LINK



The strategy does not work perfectly even though in the end it can win the battle.

One strategy that doesn't work is the Revealer's Stun ability which doesn't work even if the enemy uses a Unicorn Mustang so no attacks come in at all.

In terms of rules, in this battle my deck is very advantageous because I mostly carry Melee monsters so that I can maximize attacks.

One of the factors that allowed me to win the battle this time was because the enemy didn't bring a Healer-type monster. If they brought it into the deck, it was certain that the victory would be theirs.

Strategi tidak berjalan dengan sempurna walaupun pada akhirnya dapat memenangkan pertarungan.


Salah satu strategi yang tidak berjalan adalah kemampuan Stun dari Revealer yang tidak berhasil sekalipun dikarenakan musuh menggunakan Unicorn Mustang sehingga tidak ada serangan yang masuk sama sekali.


Dari segi Ruleset, di battle kali ini deck saya sangat diuntungkan karena saya mayoritas membawa Melee monster sehingga bisa memaksimalkan serangan.


Salah satu faktor yang membuat saya bisa memenangkan battle kali ini adalah karena musuh tidak membawa monster dengan tipe Healer. Apabila mereka membawanya kedalam deck, sudah dipastikan kemenangan akan menjadi milik mereka.




Silent Sha-vi is my favorite monster in Death Splinter. In addition to the balance of Stats Attack and Defense, he also has a Sneak ability that fits my playing style very well.

Its Sneak ability will be very dangerous if we pair it with other monsters who also have that ability.

When asked whether to regularly use Silent Sha-vi, I can say with 100% confidence. Because since the first level he has been very good in stats and also the mana used is not too big.

Silent Sha-vi adalah monster favorit saya di Death Splinter. Selain karena seimbangnya Stats Attack dan Defense, dia juga memiliki kemampuan Sneak yang sangat sesuai dengan tipikal bermain saya.


Kemampuan Sneak nya akan sangat berbahaya apabila kita memasangkannya dengan monster-monster lainnya yang juga memiliki kemampuan itu.


Bila ditanya apakah akan secara regular menggunakan Silent Sha-vi, saya bisa bilang dengan keyakinan 100%. Karena semenjak level pertama dia sudah sangat bagus secara stats dan juga mana yang digunakan tidak terlalu besar.



That's all my explanation about the Silent Sha-vi and if you are interested in these amazing game communities, you can join from the link below.


https://splinterlands.com?ref=adie44
THANK YOU


Credits :
---
---