Types of Blockchain Games - Mini Guide Series (1) from Akara9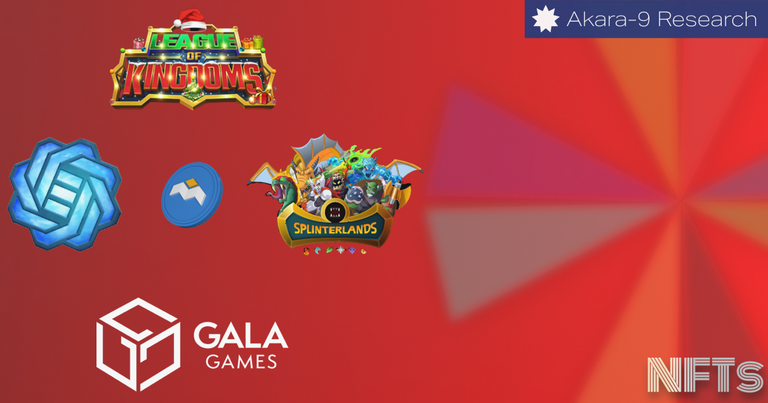 Finding Games is about the easiest thing any Gamer's plan can be on a fine Morning, whether he/she is searching on the Google Play Store, IOS Store, Steam, Or (Any other Regular Gaming Store that Exists). And even so, Finding Blockchain Games (which is our focus here) is also an easy task BUT, what you might not realize is that finding games that suits your playing style AND say, Investment Budget is where it starts to get difficult(just). The core idea of Blockchain games is that you Interact with properties of the game, and you(by whatever means) derive value/rewards that can be exchanged for real-world fiat(up to a level).
So what's my point? Leaving aside Games that suit your taste (RPG, Racing, Social Worlds, etc), let's focus on the Types of Blockchain Games that you can earn from, and their requirements to well, Earn!
Types of Blockchain Games
Blockchain games can be largely summed down(or is it up) into three Main Categories (I like to call it Tag, because I mean we are Gamers?).
If you're coming from any one of our Social Media Pages, you are already well versed within this subject (but more details to be shared below), and if not, consider Following Akara9research on all Socials (You'd be among the first to get Our Mini-Guide Releases)
Free 2 Play Games
These are Blockchain Games that DO NOT require cash Investment to PLAY and EARN, They are Limited in numbers but now On the Rise!
The first thing on your mind should be - How do these games Earn to be able to In turn pay their Players?. Well, there are always grey areas in life so let me explain; The word "require" is the exception, these games ALL have In-game Items, Assets - like Cards, Lands, and other NFTs, etc that players can buy with real money, but their mechanics are simply - You can earn your way up without spending money (right off the bat, say)
Further to the above, let me add the following points;
You may NOT earn with the same capacity as players buying buffs and other NFTs, Because, these players Must(should) get an Added Incentive for spending their Cash
You can Earn your way Up (Going forward, anytime you hear this phrase, keep an open mind, test that game out, only then you conclude) (a) But only to a certain level, OR (b) You path should be more difficult
What else can I say? The beautiful thing about this tag of Blockchain Games is that they would continue to be extremely beneficial to folks that do not have initial investment funds. Folks that are ready to compound as they work their way up, because that's the best & fastest way to get comfortable playing without feeling like you're just grinding.
Extra Notes; I would love to see more games like this. Not because I love free stuff but simply because - If the Gamefi space would revolutionize the world(as we both believe it would), everyone needs to have a place in it(regardless of financial prospects). Creating a sustainable economy would be the hardest task no doubt(but who said hard means impossible?). Did you?
Free 2 Play Games - Top 3 Selections
Gods Unchained
| ... | ... |
| --- | --- |
| | Gods Unchained; Free2Play Blockchain Game that is Actually Free2Play. Possibly the Best Play2Earn Economy Created to Date. Many have kept in Zero, And Brought out Thousands |
Gods Unchained is a Trading Card & Strategy Game that is built on the Ethereum Blockchain, MANY folks also compare it to Heartstone. This is currently the most Popular Game under the Tag Free2Play. And lots of people fancy it and derive pleasure from playing. In GodsUnchained, new players are allotted free cards and decks to start playing, In summary - there are 7 decks in total consisting of these Elements (Fire, War, Death, Light, Magic, Deception, Nature)
If you love Card Games, you would love God's Unchained, And if you don't Like Cards Games Very Much (At All)?, Maybe just give it a try and see what you think? It's free after all!
I know One post that can get you up to speed very fast with Gods Unchained, written by a dedicated gamer in the 1up Gaming community here on the Hive Blockchain, and would be leaving you to explore that.
Blankos Block Party
...
...
Blankos Looking Silly, with Sick Outfits, Whilst Having fun in a Block Party. How do you Manage to do Everything at ONCE, my little Digital Friend
Blankos Block Party is officially the first Triple-A Free2Play Game built on the EOS Blockchain. Most people would disagree with me in that, and while it's NOT a hard fact, it's a very decent opinion.
It's a well-known fact that a lot of Blockchain Games are poor in graphics & gameplay, but the masses of gamers seem not too concerned about the Graphic quality in Blockchain Games so why should The Devs?. In production are many Great Titles that promise true 3d world exploration and AAA quality, but to date - Blankos is truly the leader on that list.
So I talked about the Graphical Aspects of Blankos, but what about the Earnings?. Let me break it down;
In Blankos Block Party, there are two main types of in-game currency - Moola tokens and BB tokens - Which you can use to purchase accessories and other NFTs (Including Blankos Avatars) from the In-game store. Blankos is a social party game that combines Racing (read running) with Open world Party Game Creations, In other words, you aren't limited to One kind of game AND can explore different Game Creations in Block Parties Built by other players, SUPER!!
Come to think of it, there are no worthy articles I've come across giving a deep dive of Blankos Block Party so, you might want to take a leap of faith in this one, but don't worry, I would provide helpful links that can help you settle cooly with Blankos if you decide on this one.
League of Kingdoms
| ... | ... |
| --- | --- |
| | War, Alliances, Kingdom Power, Resources, Land Ownership - Finally, a COMPLETE way to feel fully In charge like the Ruler I AM. |
Think of Lords Mobile, then put it on top of a blockchain with play2earn features? That's League of Kingdoms for you. BUT there's added depth to this game and unique game features different from the mass of Blockchain Games around.
League of Kingdoms(Lok) is One Game you can enjoy without caring about your earnings. It gives players a Free2Play Economy with Kingdom strategy, great gameplay & graphics, animations, Alliances, Governance, etc.
The two main ways to earn are by Owning Lands And Crafting NFTs with more coming this year. As a Landlord(Land Owner) you receive an in-game token called Loka (recently launched on Binance) for all activities taking place on your lands such as Farming, Battles, etc.
We have a special guide that would get you started with League of Kingdoms, with everything you need to know in order to start your adventure as a Kingdom Ruler in 2022(Emperor, if you prefer). SO what are you waiting for?
FULL LIST OF FREE 2 PLAY BLOCKCHAIN GAMES - Akara9 Research
Explore Helpful Links;
Gods Unchained - Kickstart Blogpost
League of Kingdoms - Kickstart Blogpost
Popular Deck Collections(Gods Unchained)
BananaKingdom (LOK Alliance with Extra Earnings)
Pay to Earn Games
These are Blockchain Games that DO require cash investment to PLAY and EARN. They are almost similar to regular mobile games like Lords Mobile BUT players Own All their in-game assets
Naturally, Blockchain Games try to be evasive of this Tag because of let's say the following;
(a) it drives away the majority of players that can create awareness of such games and give it hype
(b) the core idea of Blockchain games is this, - do something normal games failed to do - In-game assets are owned by players AND gamers can earn from these Games.
The real deal with Pay 2 Earn Games is - Only folks with a very High Budget and Cash to Invest can Play these Games and In turn Earn from it, there's LITTLE or NO space for progression without buying the most advanced NFTs to propel your way up
Pay 2 Earn Games - Top Selections
The following are the Most Popular Games Tagged by Gamers as Pay2Earn
Gala Games
| ... | ... |
| --- | --- |
| | This is Townstar, One of Gala's Most Popular Games. Gala is a true Leader in Building Unique Games with Enjoyable Gameplay and Top Notch Graphics |
Gala is a Gaming Ecosystem that has a lot of Games ranging from Farming simulators to First Person Shooter Adventure. The Ecosystem Token is called Gala and you can use this to Purchase Many of the NFT collections that exist on their Marketplace.
Mobux Games
...
...
MOBOX - Land of Cutie Goodness, Dive in IF you Dare But Remember, Your Wallet goes along with your weak resistance to Cuteness
Mobox Games just like Gala has a Collection of Blockchain Games, built on the Ethereum Blockchain. Their games have very high quality and have a lot of cute characters. You can play their games on PC and on Mobile devices.
Extra Notes; These are games that I really don't have much experience with, I would consider playing them in the future but for one reason, In order to gather more information about them and compare the data with what my intuition + the internet noise says right now.
They have especially High quality(because I guess they receive considerable incentives for their hard work), In fact, Gala Games are the one Studios that has exactly my kind of games, they have everything from first-person shooters to exploration and adventure games.
FULL LIST OF PAY 2 EARN BLOCKCHAIN GAMES - Akara9 Research
Explore Helpful Links
Play 2 Earn Games
The most Popular tag for Blockchain Games we see today. These are Games with a focus on Users Playing rather than Paying and Both Low and High Budget players Can thrive in such Games
If you've been in the Blockchain Gaming Space for a while, you've no doubt heard of the term Play2Earn. And you probably also have a fair idea of what they are, otherwise, our Description Above should give you the main idea here.
Akara9Reserach is committed to providing you with the realistic details of whatever we have a say in (especially in the GameFi Space). That's why you get a Play2Earn description that's somewhat odd, I mean what's the big deal? But yeah, you just have to see the number of folks that are misinformed about these important details.
A lot of Blockchain Games stamp this tag onto themselves when in fact, they are far from being Play2Earn, It has to do with (following the rising tide) getting hype with the Tag. So, what are the Games that exist today that are really Play2Earn? Well there are a lot of them around, Let's begin with the most Populous of them;
Play 2 Earn Games - Top Selections
Axie Ininity;
...
...
Many People think Axies are cute, I think that they are pretty ugly creatures, and Yeah, scary as s**t
Axie Infinity is a Pet Breeding Game developed by Sky Mavis, a Vietnamese company that has been making games since 2017. Axie Infinity, their first Blockchain product has revolutionized the meaning of Blockchain Games and Introduced Play2Earn as a new Gamer Keyword.
A Game that went far and wild, broke insane records in the Blockchain Finance World, and has changed the lives of thousands.
Points to Consider; High Entry Fee of about 1000 Dollars. Purchase at Least Three Axie Pets to form a Team. Many Scholarship Program exists for those who wish to Play without the initial investment fund. Anyone can Literally Start with Zero Cash Investment and Earn. Earnings in SLP Tokens Daily for Both Scholars and Managers. Massive Community, with Regular Updates, that advances the Value the Ecosystem Produces. Artists, Writers, Players, Stakers, Managers can earn in their unique techniques. Great Focus on Creating a Thriving Community for all and the Future.
Splinterlands;
...
...
I like Splinterlands a lot, but I might Like the Monsters the most. It's VERY easy to get attached emotionally to them. What?? MONSTERS!!
Splinterlands is a Card Strategy Games, built on the Hive Blockchain. In Splinterlands you Battle against other Players in a Passive Card Gameplay Style where you choose amongst a Number of Summoners and Monsters at the start of every Battle. Every Monster belongs to 1 of 6 Elements controlled by Summoners.
Splinterlands has grown to be a Huge Ecosystem on Hive, with Many of its Players Regularly Blogging about it and sharing Battle Tactics, Cards/Packs Value Strategies, and Its In-game Token Market Value and Forecasts. Splinterlands is very special in that, You have a lot of ways to Earn - Aside from just actively Playing Daily!
Points to Consider: Currently stands at #1 in 24 Hrs Daily Active Users(DAU) Rankings by Dapp Radar in Entire Blockchain Games. Initial Investment of just $10. Very Possible to Scale as you Grow. Difficult, real Challenge, Great Gameplay. Accessible to ALL (Literally) because of Low Entry Cash. Daily Earnings, from more than one Source. Passive Income - Ongoing Airdrop and Staking Tokens. Artists, Writers, Active Community, etc. Great Focus on Creating a Thriving Community for All
FULL LIST OF PLAY 2 EARN BLOCKCHAIN GAMES - Akara9 Research
Explore Helpful Links
Axie Infinity - KickStart Blogpost
Splinterlands - KickStart Blogpost
Axie Infinity Vs Splinterlands
Axie Infinity - Guide on Staking
Splinterlands - Guide on Tournaments
Thanks for having an awesome read with me, I hope you enjoyed this collection of Games and learned a great deal about the Types of Blockchain Games that Exist today. This was a subject that I needed light shed upon myself because apart from understanding the types(let me say instinctively), it was very strenuous sourcing individually for those games that match up to my likings (Both Genre and Investment wise).
The Full List of Blockchain Games sorted with their corresponding Tags can be found on our Personal Site, Akara9 Research.

Akara9 Research - Bringing Play2Earn, Blockchain Gaming, and the Metaverse in a Gamified, Simplistic way to Gamers, Investors, and Developers.
Our Socials
---
---