Comparte tu Batalla AIMLESS - Splinterlands [ES/EN]

Muy buen día, esta es mi participación en BATTLE MAGE SECRETS Weekly Challenge!, esta vez toca usar AIMLESS.
Very good day, this is my participation in BATTLE MAGE SECRETS Weekly Challenge!, this time it's time to use AIMLESS.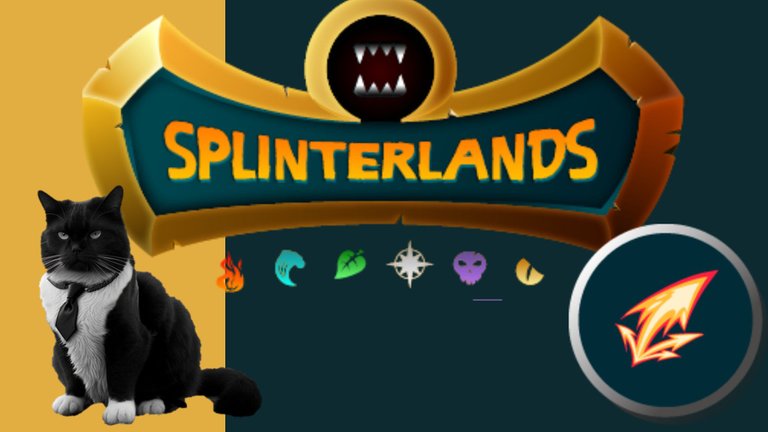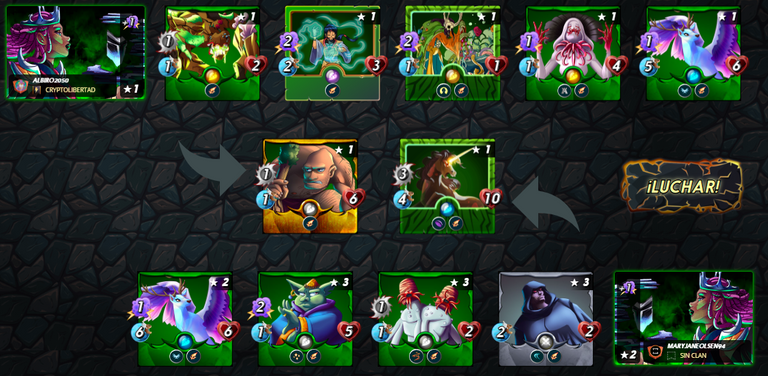 Como vemos, hoy nos enfrentamos con un rival con el mismo tipo de elemento y enfoque que yo. Por lo cual veremos, como el posicionamiento y la vida de nuestros tanques son lo más importantes en estos casos.
As we can see, today we are facing a rival with the same type of element and focus as me. For which we will see, how the positioning and life of our tanks are the most important in these cases.


Cuáles son nuestras ventajas:
Tenemos un buen enfoque al daño, así como control de tanques.
Un tanque cómodo, para el poder aprovechar el mana en más daño mágico.
Una resurrección disponible por si las cosas están algo malas.
Un pj que se podría considerar un tanque de emergencia en la última posición.
2 de armadura para todos nuestros pj, el cual nos ayudara con el tanque.
What are our advantages:
We have a good approach to damage, as well as tank control.
A comfortable tank, to be able to take advantage of the mana in more magic damage.
A resurrection available in case things are a little bad.
A pj that could be considered an emergency tank in the last position.
2 armor for all our pj, which will help us with the tank.


Cuáles son nuestras desventajas:
Tenemos un tanque con una buena cantidad de daño y salud, y que nuestro counter directo del tipo de mazo que usamos.
Tiene varios pjs de poca vida, los cuales retrasaran el ataque a los de última posición.
Los pj que usan tienen un daño considerable, así también que tienen un curandero, lo cual será el mayor problema, pues su curación con ese tanque es alta :(.
La condición de esta batalla es un inconveniente para nosotros, pues nuestros pjs principales tienen poca vida, así que podrían será atacados directamente por los pjs enemigos de daño mágico.
What are our disadvantages:
We have a tank with a good amount of damage and health, and that our direct counter to the type of deck we use.
He has several characters with low health, which will delay the attack of those in last position.
The characters they use have considerable damage, as well as having a healer, which will be the biggest problem, since their healing with that tank is high :(.
The condition of this battle is inconvenient for us, as our main characters have low health, so they could be directly attacked by the magic damage enemy characters.

Así quedaron nuestros pjs después de los bufos de invocador y de pjs en el campo.
Mucho daño de los dos lados de la mesa. Supongo que será duelo mano a mano con magia.
This is how our pjs looked after the summoner buffs and pjs in the field.
Lots of damage from both sides of the table. I guess it will be a one-on-one duel with magic.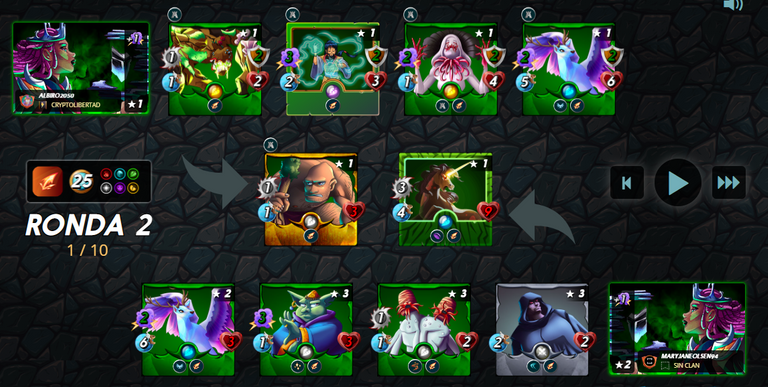 Pues se nos complicó la situación, atacaron directamente a nuestro druida y no podrá resucitar a nadie :(.
Perdimos una buena cantidad de daño, así que será muy difícil, y como vemos nuestro tanque está muy dañado, tengo pocas esperanzas.
Well, the situation got complicated, they directly attacked our druid and he won't be able to resurrect anyone :(.
We lost a good amount of damage, so it will be very difficult, and since we see our tank is heavily damaged, I have little hope.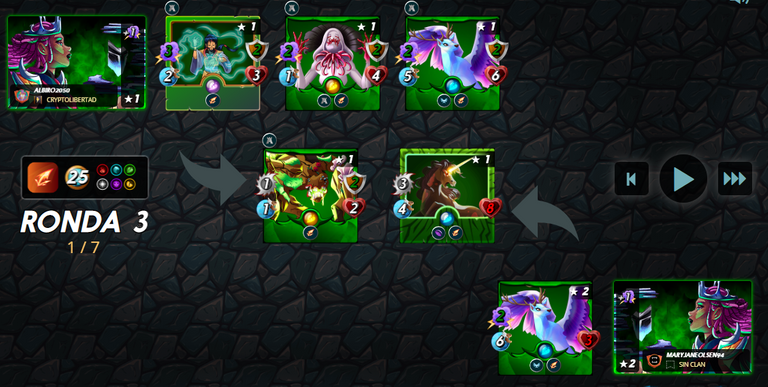 Gracias a la condición de batalla pudimos limpiar tranquilamente a los otros pj, aunque aun así será difícil, si el tanque logra avanzar.
Aunque es poco probable, diría que la victoria esta asegurada, tenemos ventaja de daño y pjs.
QuoteThanks to the battle condition we were able to calmly clean up the other characters, although it will still be difficult if the tank manages to advance.
Although it is unlikely, I would say that victory is assured, we have damage advantage and pjs.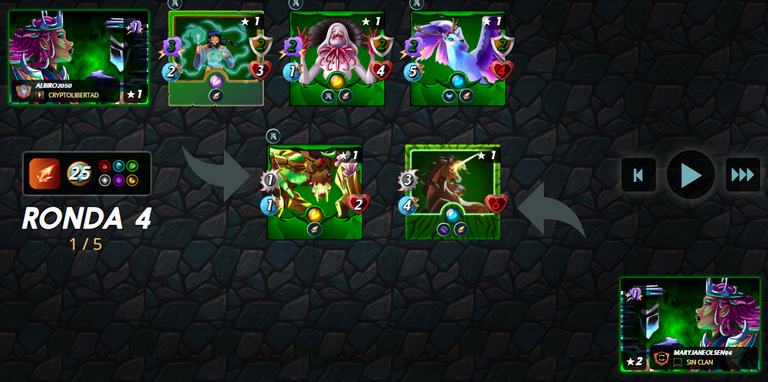 Solo queda el tanque, esta victoria esta lista, fue una batalla complicada.
Only the tank remains, this victory is ready, it was a complicated battle.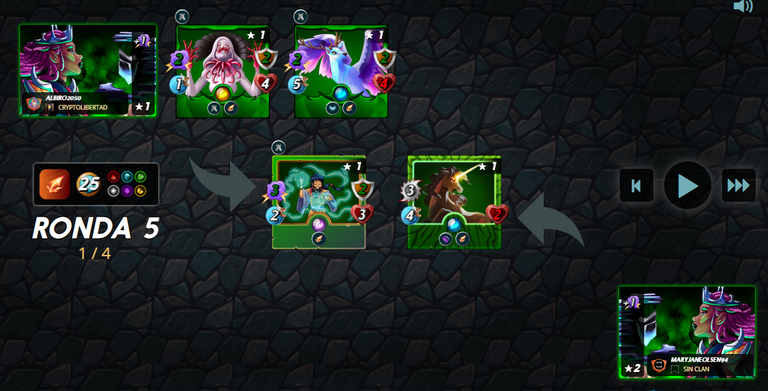 ._. Se llevó uno más consigo, pero la victoria esta asegurada.
._. He took one more with him, but victory is assured.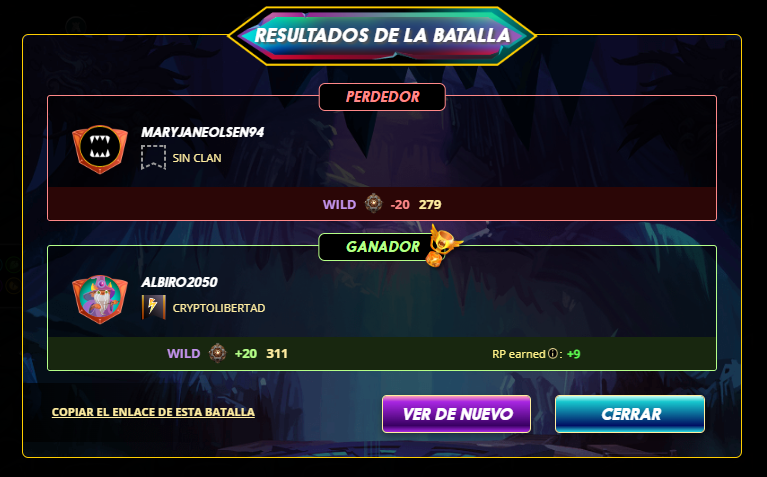 A pesar de que tenía un gran tanque, pudimos superarlo con tropas. Nuestro enemigo optó por cartas de alto coste, pero no tuvo maneras de diversificar el daño, pues la condición de batalla evitaba que me quedara sin tropas de daño.
Even though he had a big tank, we were able to outmaneuver him. Our enemy went for high-cost cards, but had no way to diversify the damage, as the battle condition prevented me from running out of damage troops.

TODAY'S ESSENTIAL LETTER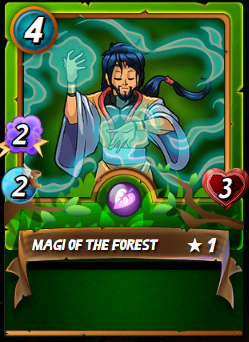 ---
Considero esta carta una muy buena para daño, no por su primer nivel, sino por sus niveles 2 y 3.
Nivel 2 obtiene +1 de salud.
Parece poco, pero esta ventaja de vida, puede salvarlo de muchos ataques, lo digo por experiencia.
Su costo como carta es muy equilibrada, pues es una carta que agregaría si o si, en mazos con alto mana.
Nivel 3 obtiene +1 de salud y +1 de daño.
Si esta carta de por sí era buena, al estar en este nivel, podría considerar que es un daño espectacular, aun si se enfrenta con tanques que tengan resistencia mágica. Así también que en mazos de bajo costo de mana, esta tranquilamente puede limpiar el lado enemigo.
Buena daño, buena salud, una carta muy equilibrada, sin duda es una carta que vale su costo.
I consider this card a very good one for damage, not because of its first level, but because of its levels 2 and 3.
Level 2 gains +1 Health.
It seems little, but this life advantage can save him from many attacks, I say it from experience.
Its cost as a card is very balanced, since it is a card that would add yes or yes, in decks with high mana.
Level 3 gains +1 Health and +1 Damage.
If this card itself was good, being at this level, you could consider it to be spectacular damage, even if you're up against tanks that have magic resist. Also, in low mana cost decks, this can easily clean up the enemy side.
Good damage, good health, a very balanced card, definitely a card worth its money.
---
Sin nada mas que decir, gracias por su atención, mucha suerte a todos y que un X10 llegue a sus vidas.
With nothing more to say, thank you for your attention, good luck to all and may an X10 come into your lives.

Todos elementos de las imágenes tomados de la página oficial splinterlands.com.. Los divisores tomados del Discord oficial de Splinterlands.
Para ver la batalla click aqui
---
All elements of the images taken from the official page splinterlands.com.. The dividers taken from Official Splinterlands Discord.
To see the battle click here

---
---