2022 Goals and Overdue Introduction Post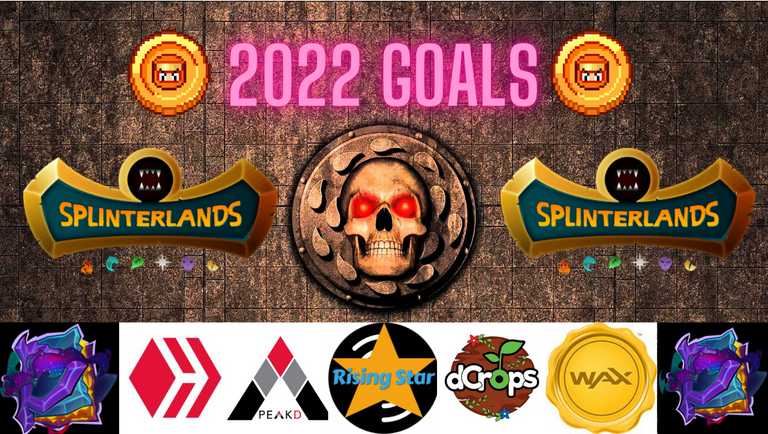 Introduction
I have been meaning to write an introduction post for a while now but I just ended up writing small pieces each day and delaying it. I also happened to be delaying my 2022 goals post so I figured I could combine the two.
By means of introduction, I go by the online handle of Allani545 and I am a Crypto enthusiast, gamer, and amateur blog writer from Australia.
I have been investing in the Crypto space since mid to late 2020 initially to diversify my stock portfolio. I subsequently joined the Play 2 Earn Crypto environment in May 2021 through the medium of Splinterlands and now I've expanded into quite a few Play 2 Earn games.
I have been gaming for most of my life and started in the early days with isometric role playing games like Baldur's Gate. In more recent times I have sunk a lot of time into games like The Witcher 3, Path of Exile, Halo and Age of Empires.
I actually started blogging a few years ago in 2015 doing Indie game reviews and highlights but I stopped after a few weeks. It was probably due to a multitude of reasons revolving around platform usability, post reach, content and design. I have since started again on Peakd with a reinvigorated approach.
Goals
So I have got quite a few goals for this year and some of them are quite ambitious but I am defining success by how far I get along the line to achieving them. I will break them down by project for ease of explanation.
Blog Writing on Peakd
Goal: Write one blog post each day
This goal commenced on the 12 Jan 2022 and so far so good. I am aiming for it to be a mix of content from: Splinterlands, Rising Star, NFT Spotlights, Book Reviews, Poetry Analysis, Travel and Brewery Reviews. I will keep expanding into different areas throughout the year.
Goal: Have 10,000 ONEUP and 10,000 Splintertalk (SPT) tokens
The purpose of building up to 10,000 of each of these tokens is largely for curation purposes. To expediate the process I currently have the small amount that I have of each delegated to the @oneup-cartel for curation rewards. I currently hold 28 ONEUP and 111 SPT.
Splinterlands
Goal: Build a competitive Gold Deck
Currently I have a deck that is fighting in Silver 1 quite comfortable and I have the majority of Chaos Legion Monsters and Summoners maxed to Silver Level.
Goal: Have 25,000 SPS staked
This is more of a reflection of the emphasis I believe SPS will have in upcoming aspects in the Splinterlands Universe. It also is the premise for the ongoing voucher airdrops which will likely have continued use cases in future releases. I am currently sitting at 12,008 SPS staked.
Rising Star
Goal: Become a Starbit Millionaire
For this goal I am looking to break into the Starbit Millionaire club that requires level 50 in game as well 1,000,000 Starbits held on the hive-engine. I am currently level 33 with 945 Starbits held on the hive-engine.
Goal: Break into the Top 100 players
This is to start earning some of the daily passive rewards offered by Rising Star for placing within the top 100 players each day. I currently rank 777 in top Rising Star players.
Dcrops
Goal: Hold 25 Land Cards and 100 Seed Cards
This goal is centred around being able to complete the seasonal quest each season. I am currently holding 4 Land cards and 20 Seed Cards.
Other Projects
I am also currently involved in a number of other projects but I haven't really made quantifiable goals for them. Those projects are: Bombcrypto, Mammoth Mythics, Faded Monsuta, Warsaken, The Adventurer's Guild and Blockchain RPG.
Goal: Hold 100 Cartel Tokens
This is more of a safety net goal. One Up Cartel is doing a lot of good work across a very broad and ever expanding Play 2 Earn crypto world. They have their fingers in a lot of pies and everyone involved is very motivated and committed. I am glad to be part of the cartel family and currently hold 10 Cartel Tokens.
---
---