Bought more SPS & staked Today during the Hive price uptrend
Seems like the first day of August has been pretty good for the HIVE token I ask the price has gone up significantly and this has certainly brought a smile to many faces. Bitcoin and ethereum are still doing the same way and there is no higher price moment but things have gone pretty well with hype token and I also tried my best to make the most out of this opportunity.
I have been accumulating splintershards (sps) tokens for a long and whenever I see a good buying opportunity, I have always tried to grab as many as tokens I can and today is another day when I got another chance to buy more tokens which is something making me happy. This pump is very good for me and seems like I'll be able to achieve my goal earlier than I think. I would like to mention that my goal is to have 100K SPS tokens by end of this year and I had achieved 52 key tokens one week before. Sps token is highly undervalued and This is why I am trying to accumulate as much as I can during this bearish market so that when the price grows I should not feel regret that I missed the opportunity to bag more tokens.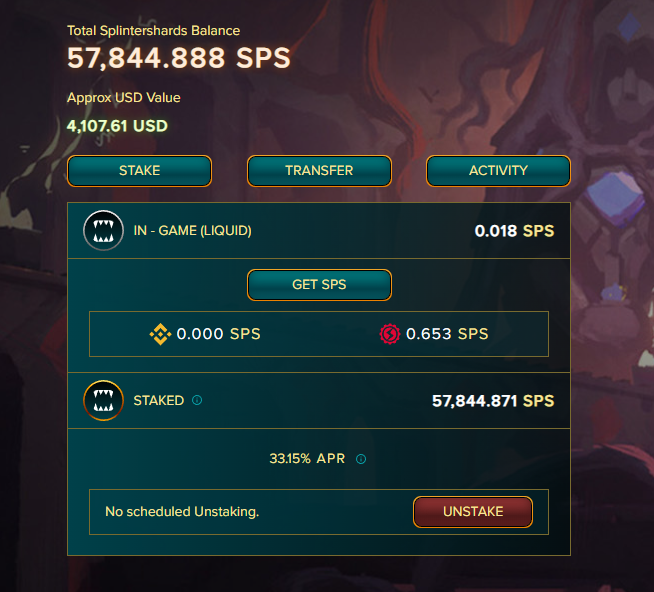 Today is a very good day and I'm very happy to share that I have got almost 58,000 tokens in my account and soon I'm going to make it 60K soon if the situation continues to be the same. I had some liquid hive in my wallet and also some in the hive-engine so I used all the balance available to me to buy the tokens and I got the price which is really very good and I don't think I'm ever going to get the same price again after a few weeks or months.
All the tokens that I have in my account are staked and the current APR is more than 33% which is also very good and I don't think anyone should miss the opportunity by keeping the tokens in liquid form. This way you are not earning anything however with locking you are able to earn a decent apr on the holding. Keeping the tokens in liquid form means you are losing interest on this and I highly recommend not to keep the tokens in liquid unless you are really not planning to sell off or for trading because it's always better to earn something rather than keeping the money unused and idle.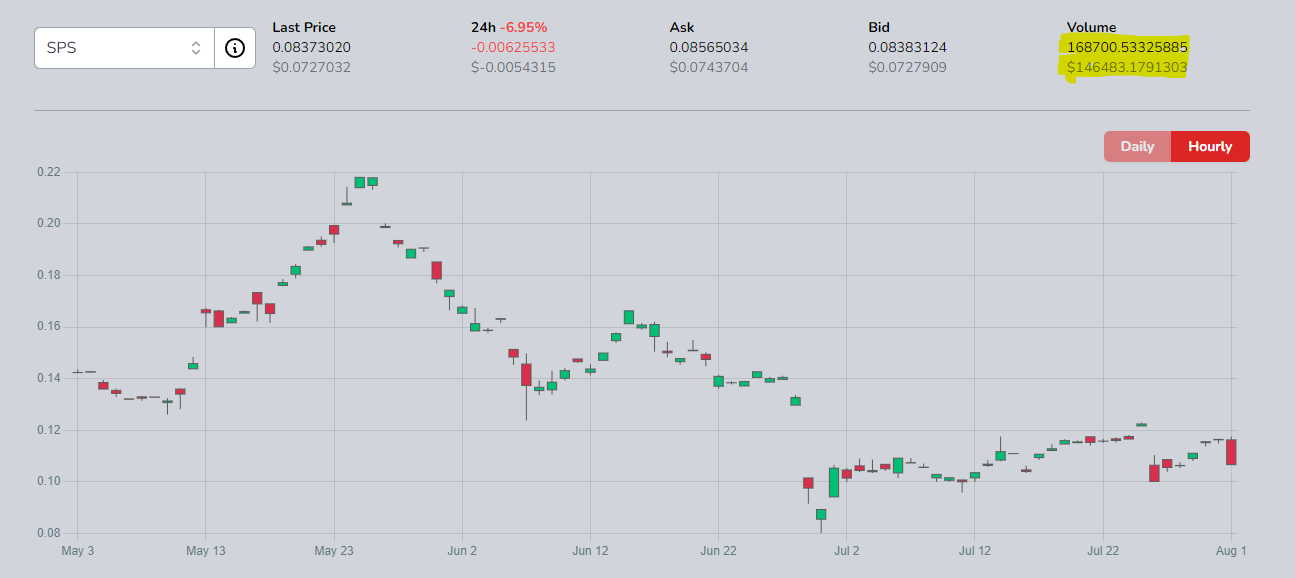 I have checked the overall trading volume in the hive-engine exchange and it seems like everyone in the community is trying to buy as much as they can because today's volume itself is almost 150 K U.S. dollars which is high for sure. I have never seen this kind of volume before and I believe the reason behind this increased volume is the price spike of hive tokens.
I have used all my liquid hive tokens to buy the tokens and I'm not sure if this price will pump even more but I am happy that I'm able to buy a good number of tokens. Even the voucher price is down because of the increased price so now is not a good time to convert the voucher to sps however I'm waiting for another opportunity when I can convert all my vouchers to sps whenever there is a good price spike until then I will continue to accumulate every day. I have decided that now onwards I will try to keep some liquid tokens so that in such opportunities I should be able to grab more tokens at the lower side so that it can help me have an even better token holding in my portfolio.
SPS is one after token that has given many opportunities to earn a passive income and even now the offered apr is very good so anyone who is considered this token to be part of the portfolio then I think it's a good idea to go for. I have also suggested one of my friends to buy the sps and mistake in the game account he does not have a job now but I will try to create him one account once he buys the tokens and this way I would be able to bring one more investor and a potential play to the splinterlands ecosystem. So how are you doing to make the most of this opportunity?
Thank you.
Posted Using LeoFinance Beta
---
---