Purchased 150 Chaos Legion Packs and got 15 Bonus Packs
Splinterland is such a fantastic game where everything is fun that including playing battles as well as accumulating more digital assets because all of it brings great returns in long run. I have been investing in cards and sps tokens for quite some time and I was planning to buy some packs on the marketplace for a few months but it was not happening and finally, today is the day when I made it happen. I have purchased 150 cows legion packs today and since I used my vouchers so I got 15 packs extra with my purchase. It's always great to get extra on the buy and I have a fantastic feeling that yes I got 165 bags for the price of 150 and the payment I have made is through DEC token.
I used to have more than 1,000,000 tokens in my account so I used some tokens from my account I also purchased more than 300 tokens from the market and same I used to buy the packs today and now with this purchase I have got 601 packs in total. The cost of 1 pack is $4 and with the easy, we can buy it for 4000 tokens but because these days the token price is low so we can get 4000 tokens for about 2.5 and this is a good option to go far and as of now it's like you are getting one pack for 4 hive tokens and not $4. I have a plan to buy 1000 packs but I'm still away from that milestone by 40% and hopefully, in the next few months, I should be able to do that. I could have done it earlier but The thing is I was accumulating more sps tokens and even now I will be doing the same but in between I thought of buying some packs so that I can be part of the upcoming AirDrop as the higher buy makes us eligible to get the AirDrop and it's always a great opportunity.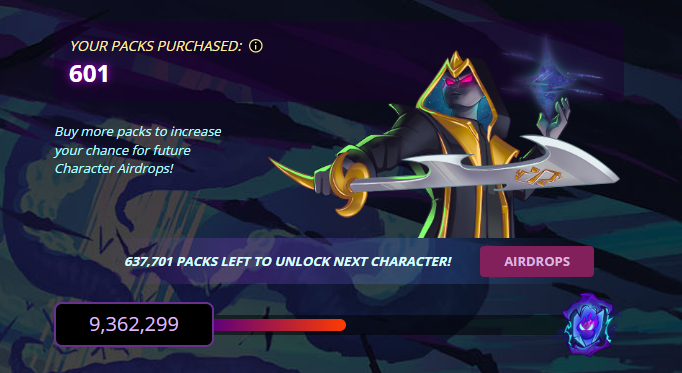 DEC price is quite low these days because people were holding the token because it was helping them get more sps every day but now that AirDrop is over and a lot of people are selling the token now at a low price which is a great opportunity to buy at low and buy the packs at the same time at a highly discounted price. So as of now, you can get a pack 2D easy token far about 40% discount which I think is not bad to go far and it is definitely a very cheap price looking at what we can get in terms of AirDrop and even prices spike if we keep on holding for the long term.

I know that a lot of people will still continue to sell their DEC tokens holding and I am trying to accumulate as many as I can in the coming days so that this will also help me buy more packs and that too at the discount price. It's all about grabbing the right opportunity at the right time and this is the time to grab the opportunity however there is no surety that how long it will continue but for now it is available so if you are planning to buy packs or something in the game through DC then it is the right time and even you can buy cards using BC token which I think is also a good idea because it is going to give you some discount for sure.
I am bullish on the game and because of this, I am trying to accumulate every digital asset that can add value to my game that including summoner cards and even monster cards which I am buying slowly because I also want to increase the collection power that can make me move to Diamond League. Currently, as per my collection power, I am in I can play maximum in diamond 3 league but I am planning to make it champion in the next few months and for that reason, I am investing in multiple cards from time to time. I believe it's not just me who is doing this because everyone who believed in the ecosystem and the game growth he's doing the same and I can see a lot of people buying various stuff in the game which is right because now is the best time to accumulate such stuff and enjoy the fun when the prices will grow over the period of time.
Thank you.
Posted Using LeoFinance Beta
---
---