Road to 100k SPS - Added 1k SPS to the Stake today
I have been trying to accumulate more SPS and all this is done for the goal that I have. My SPS goal is 100k and I am trying my best to grab as many as I can. Certain goals are very important for us and even more important to keep track of progress because setting up goals and losing progress is something not encouraged. The proper method is to set up the goal and keep track of the progress to ensure that we are adding towards the accomplishment. I usually try to follow the same methodology because there is no point in setting up a goal and not making it happen.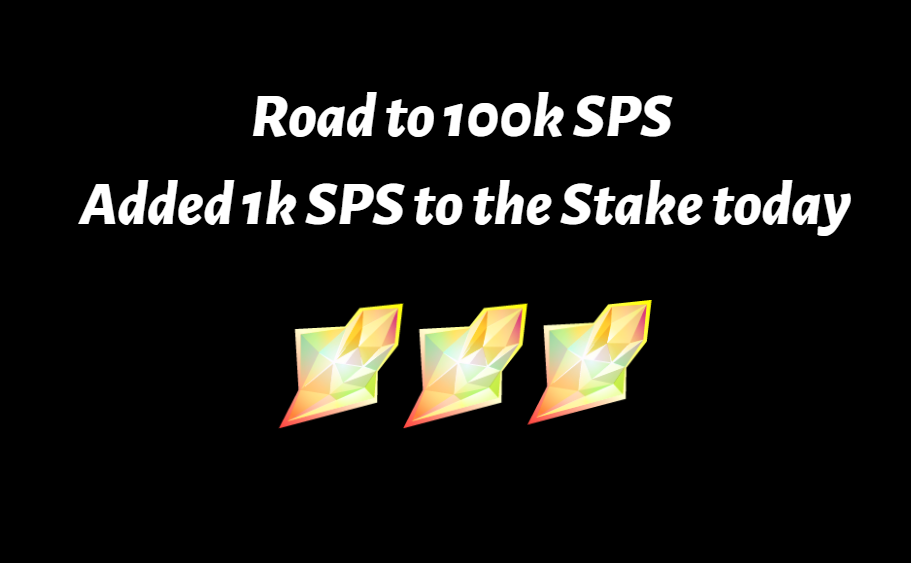 SPS is one of the coins that I am bullish on and I am trying to reach my goal at soon as possible. I have already discussed in my previous post that my goal is to have 100K SPS in total and I am trying to make it happen in the next few months. I have been working on the same since last year and with time, I have kept on increasing the goal because I want to make something big out of it. This is the same coin that was trading someday at the range of $1 proximately and now it is less than 3 cents then I don't see any reason to stop myself. If it has reached $1 Sunday then I am sure it will repeat the same moment and no matter how much time it takes because I am not in hurry.
Powered up 1k SPS
Today is a good day when I added 1000 SPS in total to my holding and now I have more than 92k SPS in total. The exact count is 92504 SPS and with these, I am less than 8k SPS to reach my goal. I keep on trying this kind of addition to my holding because I know the price is less and whenever I see some liquid funds available to me then I invest in SPS. I did buy 975 SPS from the market and claimed 25 within the game so altogether it is 1000 that has been added to the stake.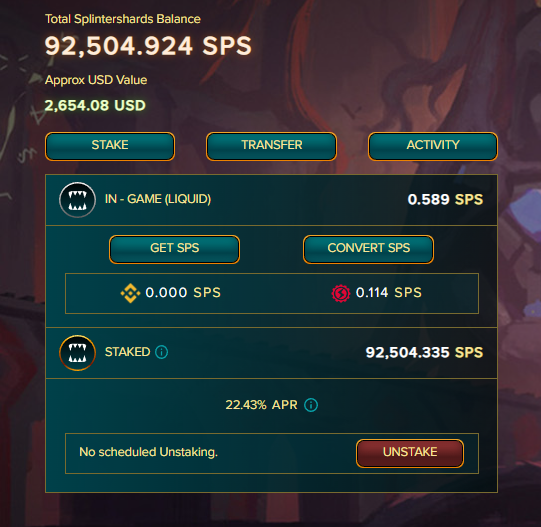 SPS is for the long term
SPS is the governance coin for the splinterlands game and I am trying to accumulate eat for the long term because multiple benefits are already provided and even more, will be coming down the line. The current apr is more than 22% on the holding which seems to have been stable for quite some time. It was reduced in the past but it has never gone below 20% which is a good thing for the people who are holding SPS in-game accounts. Certain pools can also pay better rewards than these but I feel more comfortable with holding my SPS in-game account. The recent card which was introduced only for the people who hold SPS in-game accounts was a good one and I got 89 cards in total. I play the game so holding all the cards because I am sure this will make my game better and also contribute to increasing the collection power so that I can move forward to diamond one league.
I am anticipating that in the next 2 months, I should be able to make it 100K SPS but that is not a hard stop for me because even after that I will continue to increase the holding. I have some other assets to buy in-game and these days I am not doing it because the Full focus is only on SPS but later on I will have to make some changes to the plan. There are some good cards that I want to buy and once I achieve the SPS milestone then I will think about those cards being part of my account. Even in that case, I will continue to accumulate whatever psi earn through the game and my holding. There is no plan for me to sell SPS soon because I believe it is going to be a great asset in long term for generating passive income.
Thank you
Posted Using LeoFinance Beta
---
---