Road to 30k GLX and Accumulation is the Strategy
GLS aka Genesis League Sports is another play-to-earn game by splinterlands. Gaming is better on the blockchain and it is also improving faster which I think will bring more adoption in the next bulletin cycle. I have seen how splinterlands grew during the time of the last bull run post-SPS launch. Every asset was grown significantly and even the card prices went up by 10X or more which I think is very good and I have seen it in the past. I expect that in the next bull run cycle, we are going to see the segment growing even more so now is the time to be part of some games with potential and hold their assets for the long term.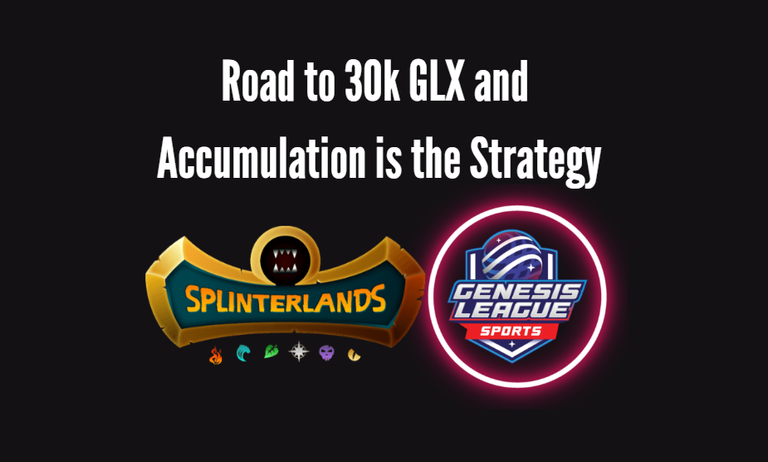 Genesis League is another game by splinterlands and it has its governance coin which is known as GLX. it's similar to SPS which is the governance coin for the splinterlands card game. There are certain additional benefits with governance coin because we can be part of the governance if we hold the token and this way we can also be part of the change that they suggest or propose. governance is an important mechanism of any project and token holders play an important role when any change is proposed in the game this way we can be part of governance as well and we have some additional benefits that we are getting while holding the tokens. Holding it surely rewarding and in the case of SPS can say that we have earned a great amount of tokens just because we were holding it for a long and when I followed the same strategy with my SPS balance.

GLX Balance
Here is my balance for Glax that I hold in my game account the current balance is more than 27K however the dollar value is less. this value is surely less and it is because of the market because a lot of people are selling the tokens even without realising that the game will be grown and then the same reflection can be seen on the token price as well. What I focus on is that the current APR is 63% and this way I can earn more tokens just by keeping it in the game account and taking it. it's a great way to increase the inventory and I follow the same strategy because I believe that later on the token price is going to be good. I can't say what the price is going to be for the Glx but it is surely going to be very good and this is the reason why I am trying to grab the current opportunity when my holding can earn an APR of 63% and this will continue to drop with increasing stake overall.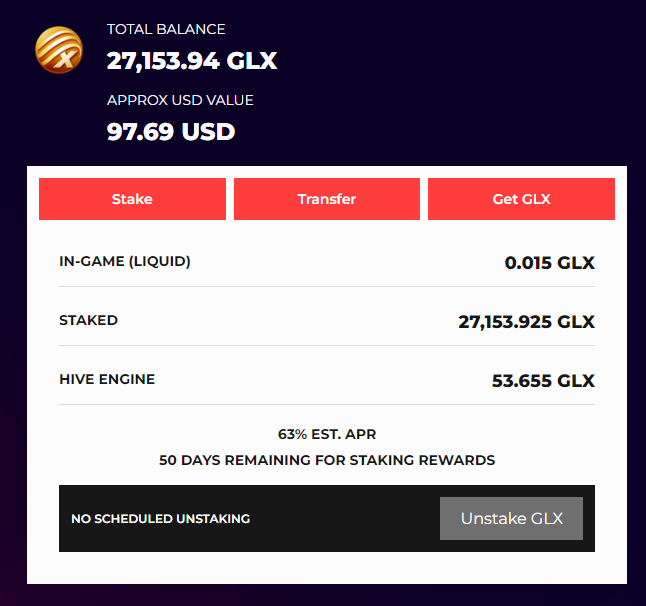 My current S P S holding is more than 120k and this helps me to earn a good number of G L X every day when I stake GLX also I earn an APR of 63% which is pretty good. There are multiple benefits for holding SPS in the game account including GLX as well as earning an APR of approximately 15% on S P S holding. this is a great opportunity for us to earn multiple components in the game but this will not last long because the air drops for G L X will be ending soon.
GLX Strategy
I have been accumulating all the tokens that are distributed as part of the airdrop to me and will continue to do the same whatever tokens I receive as part of the airdrop reward. I have no plan to sell this token and it is simply because the market price is very low however I expect that these token's utility will improve over some time. once the token gets a good utility in the game then surely we can expect a better price because that will also increase the demand for that. I will continue to accumulate all my tokens that I receive through the airdrop or through the holding reward and this way my holding for G L X will also continue to grow.

This is not financial advice but I still expect that the game will grow however it may take some time which is okay for me. It is the same as we are expecting the next bull run cycle and for that reason, we keep on investing in multiple coins now but again we are not sure that when the cycle will come. It's all part of the planning that we often do and I also follow the same that I invest in multiple projects and hold their assets with the hope that things will be much more valuable in the next bullral cycle so just wait for the right opportunity which may come come in next few years.
Thank you
Posted Using LeoFinance Alpha
---
---