Sea Wreck (Riftwatchers) Monster is Airdropped
Riftwatchers is the latest booster pack edition in the splinterlands game and this is a mini edition. When I say mini edition that means the supply is limited for this edition of packs and the total supply is 3 million whereas the airdrop is scheduled after the sale of 500K packs. In Chaos Legion, the supply was 15 million and every airdrop was scheduled after one million packs were sewed out. Now you can imagine the supply difference between the Rift Watcher and Chaos Legion. One has got 15 million in total whereas another is just 3 million so it is like the new edition is just twenty percent of what the older one was. Later the burning watch started for the Chaos Legion pack and because of that the supply exhausted faster which is why the airdrops were distributed earlier.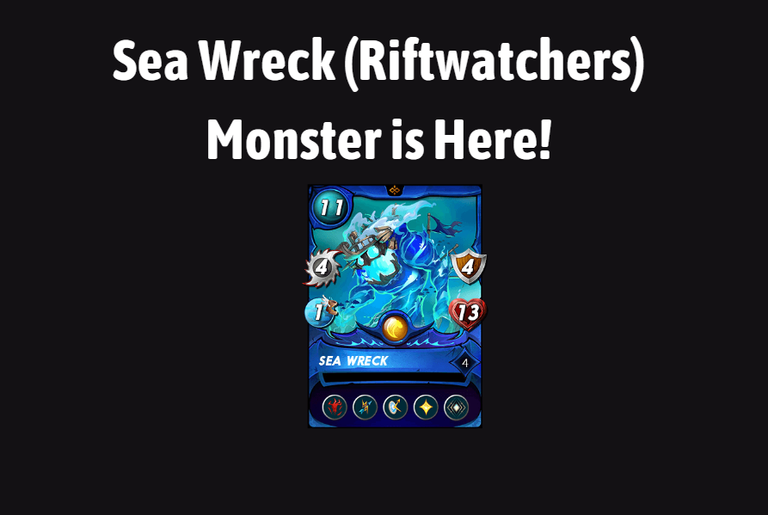 As of now, Riftwatcher is the only addition that is available for buy and that too the supply has gone off by 50% Here I mean to say that the 50% cards are already sold out so we are left with one point five million approximately. Now it is heading towards 2 million and once that is done then it will be just 1 million to be sold out. Each pack's cost price is five dollars but if we buy it through the DEC token then this can be discounted and should be around less than four dollars. I haven't done any calculations but for sure it is not going to be beyond four dollars if we purchase with DEC and of course, if we choose to pay for more than one hundred paaks then there will be an additional discount for us.

Sea Wreck is released
This is the car that has been released as part of the airdrop this week and I must tell you that such a powerful card we have got in the game now. This legendary monster card is a great addition for the higher mana battles because it will cost 11 mana to be in the battle but it comes with thirteen health which is also on the higher side. It has five abilities in total and gets two abilities on level one including the blood burst and return fire. Everything is good with this great card except for speed. I think it is good to have at least level two cards because there we will get 3 abilities and of course going to the higher is always good but on this level also this can be a pretty good monster in the game.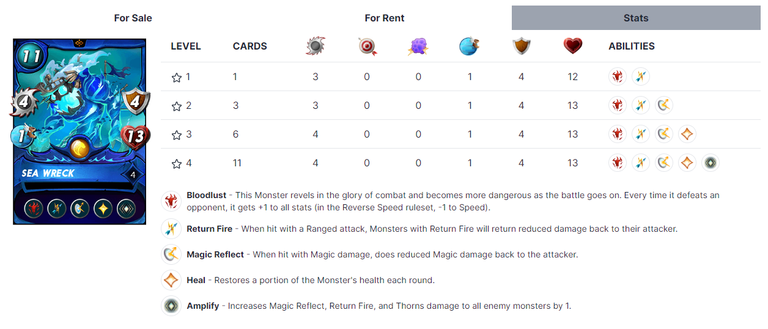 Price
I have also checked about the price for this card and currently, it is more than $18 in the market but I expect that this should be dropping in the next few weeks so if you are planning to buy and have time to wait then you should be able to get it somewhere around $15. It is listed in the market and maybe a lot of people would be buying but I have observed that any new card that is listed in the market gets a price drop in the next few weeks so probably I expect the same to happen with this card as well. Most of the cards are available with single BCX and the lowest price is 18.17 dollars as of now so if you are planning to buy three cards for level two then you would be required to spend $55 for this level two monster.

I'm not lucky enough to get this card because my card purchase is not good enough for me to make it eligible I'd prefer to buy it from the market but not now since the price is expected to go down. I will try to see if the price goes down further and whenever I see a better buying price then I will try to buy at least one BCX to have in the game account because even with level one it is getting two abilities which can be a good addition in the game.

Some new cards are really powerful and with Rift Watchers my collection is not so good because I did not buy many cards from this edition and I hardly opened any pack that I purchased. I purchased mostly cards from the Chaos Legion but now since we have another edition maybe in future I will be trying to buy more cards from this edition because the rebellion has not been announced yet. I'm not sure if we are going to have rebellion this year since we are left with just three and a half months for this year as of now. There are not many updates shared by the team about the rebellion packs and I think they should wait for some time because even the existing cards are not getting much attention and there seems to be limited demand in the market however supply is high.
Thank you
Posted Using LeoFinance Alpha
---
---