Strategies and Insights for Accumulating SPS Tokens in a Volatile Market
The market price for SPS seems stable at this price range and its hovering around $0.016-0.017 which is low. In the month of July, we had a change in the game when SPS was implemented as a requirement to get rewarded as per the reward multiplier. This was a good change because based on the SPS holding one can be part of the rewards multiplier and this can get him a better reward as compared to the person who is not holding any SPS. If you're not holding any SPS in your account then also you can play in the higher league but your multiplier will remain the same at one. The price for SPS increased nicely after this change was implemented in the game and because of that reason, I had to put a pause on my sps buying.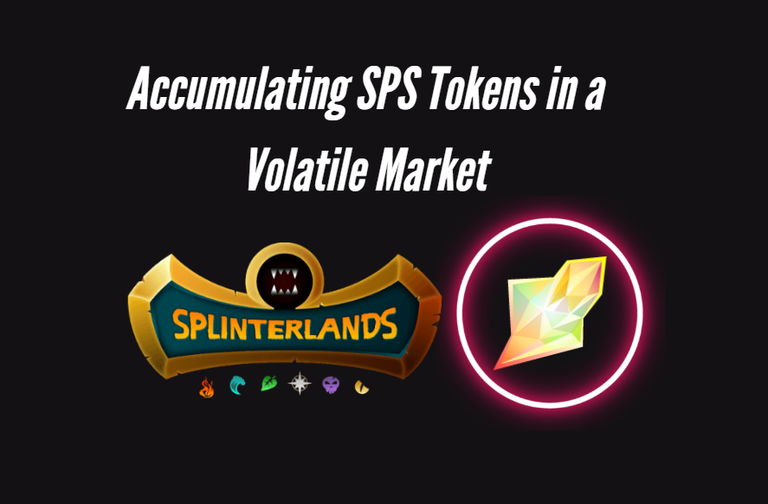 I have been buying SPS for a long time in different batches and from May to June I was able to buy almost 20K SPS in two months time. its been two months since the change implementation in the game and now it seems the price for an SPS token is going down which is good for me because I am waiting for that to happen. I expect the price to be around 0.15 dollars and as of now it's pretty close so I expect it is going to be there soon and this is the reason why I am gearing up for another buy. I'm not sure how much amount I am going to buy but I will be trying to bag a few thousand and power it up immediately whenever my order is filled.

Price in Hive-Engine
I will be buying sps from the hive engine because it is easier to use and there are no charges for transferring it back to the game account. if I buy the token from external exchanges then there is some charge which I need to pay when I transfer it back to the game account so this is the reason why I am trying to avoid this unnecessary charge. If we look at the below chart then you will notice that the price is in a downtrend and keeps on falling so I believe that soon it is going to touch the price mark which I expect it to be.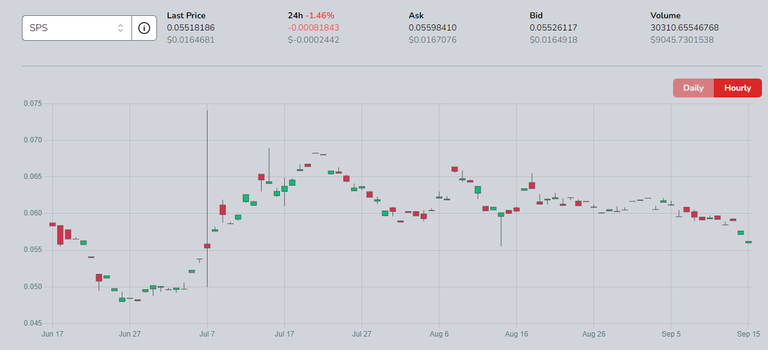 src
I also checked out the open orders for buy and sell and here also the downtrend pattern can be observed and I expect the price to be reaching towards .05 hive soon. This is going to be my buy price for SPS and since I'm not sure when it is going to happen so its good for me to place the order and wait for fulfilment.

I have placed my orders for 3000 sps split into two orders as per my price. if this price reaches then I think it is going to be a great price for me because this will match my order and I will also try to keep a close track on the price so if that happens then probably I'll be placing more or buying instantly from the market. When we place an order in the market for a different price then we have no clue when it is going to match but since it is going to be open order in the market is has the possibility to get fulfilled at any point in time.

SPS Holding
This is my SPS holding at the moment and it is more than 123K as of now but as I have already mentioned I am trying to have a bigger holding but at least 150K this year. I am on it and trying to scrap as much as I can from the market but as a buyer, I always prefer to buy it at the bottom and I expect that sps will go down further.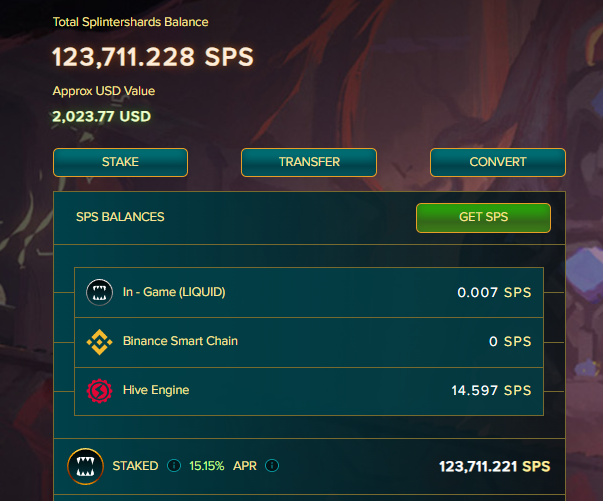 The reason why I want more SPS is that the current holding is good enough to keep me on the 12X reward multiplier in Gold League but if I want to go on the diamond league then this is not sufficient and for that, I would require more SPS. although I have the option to move forward and take it from the rental market but I believe it is always good to have it own and that too when we know that the prices are low in the market. At least in that way, I wouldn't have to worry about the rental and sometimes it is cancelled by the owner that is another problem so I do not want to be in that zone where I need to struggle with the rental most of the time. Another part is that I want to own because I want to invest in these tokens since it is highly undervalued and that too it is going to be for the long term.

Now it is time for me to pay more attention to the SPS price and see whenever there is an opportunity because I do not want to miss it and maybe I should be able to add a few thousand SPS this month if it touches my buying mark. Once again I would like to mention here that SPS is the highly valuable token in the game but in the market, it is undervalued so it can be a great investing opportunity provided you believe in the game and have a long-term goal.
Thank you
Posted Using LeoFinance Alpha
---
---