COMPARTIENDO MI BATALLA EN SPLINTERLANDS UTILIZANDO "RADIATED BRUTE" (Es/En) SHARING MY BATTLE IN SPLINTERLANDS USING "RADIATED BRUTE"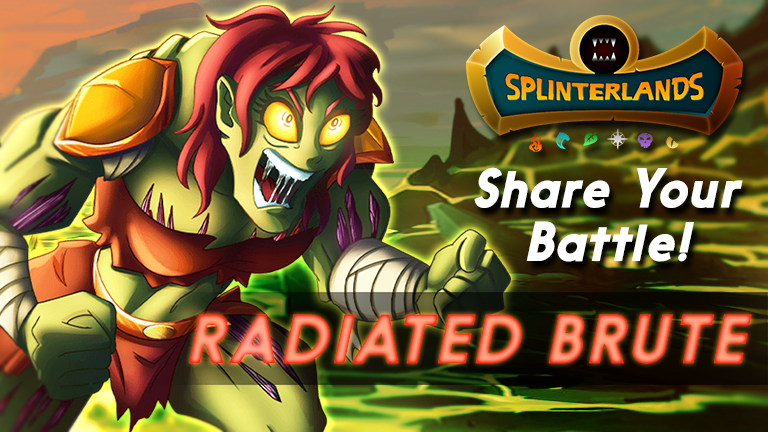 Imágenes y recursos obtenidos en @splinterlands
Images and resources obtained from @splinterlands
¡Hola amigos virtuales! Una vez más estoy con ustedes para compartir mi reciente batalla usando a "RADIATED BRUTE". Me gustan mucho estos desafíos semanales y cada vez les digo una razón más; y en esta ocasión les comento que soy un autor de dos libros autopublicados, mi primera obra fue un poemario y la segunda, un ensayo de geopolítica, pero hace mucho que no escribía, y estos retos semanales me están ayudando a volver a crear la disciplina que en este oficio de escritor es indispensable, ya que no debemos depender solamente de inspiración, sino que hay que tener constancia, y eso lo agradezco de estos retos.
Hello virtual friends! Once again I am with you to share my recent battle using "RADIATED BRUTE". I really like these weekly challenges and every time I tell them one more reason; and on this occasion I tell you that I am an author of two self-published books, my first work was a collection of poems and the second, an essay on geopolitics, but I haven't written for a long time, and these weekly challenges are helping me to recreate the discipline that in this profession of writer it is essential, since we must not only depend on inspiration, but we must have perseverance, and I am grateful for these challenges.

Veamos las características principales de nuestro invitado de honor: "RADIATED BRUTE"
Let's see the main characteristics of our guest of honor: "RADIATED BRUTE"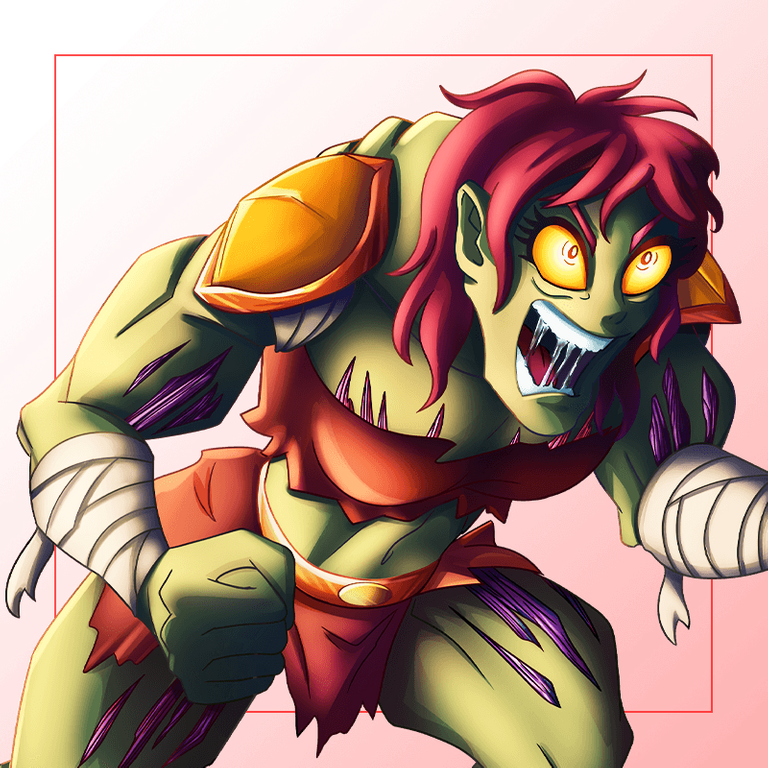 Pertenece a la última edición de cartas: "CHAOS LEGION"
It belongs to the latest edition of cards: "CHAOS LEGION"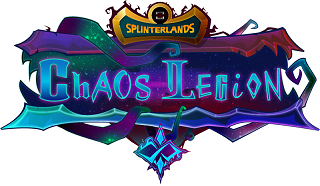 Su rareza es del elemento común y su astilla es la del fuego, es un monstruo de ataque cuerpo a cuerpo (Melee) y tiene una habilidad especial desde el nivel 1 llamada "REACH" y otra desde el nivel 6 llamada "ENRAGE":
Its rarity is of the common element and its splinter is that of fire, it is a melee attack monster (Melee) and has a special ability from level 1 called "REACH" and another from level 6 called "ENRAGE":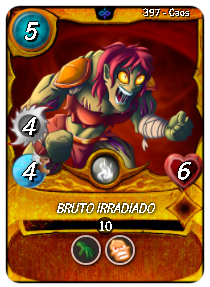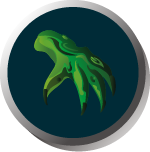 REACH (Alcanzar) Los monstruos cuerpo a cuerpo con ésta habilidad, pueden atacar desde la segunda posición del equipo.
REACH (Reach) Melee monsters with this ability can attack from the second position of the team.

ENRAGE (Enfurecer) Los monstruos que reciben daño a su salud (vidas), su capacidad de ataque cuerpo a cuerpo y de su velocidad, aumentan por 1,5 redondeado hacia arriba.
ENRAGE Monsters that take damage to their health, melee attack ability, and speed are increased by 1.5 rounded up.

A continuación compartiré el Link de la batalla y estaremos revisando paso a paso y gráficamente, los pequeños detalles que hicieron la diferencia e inclinaron la balanza de la victoria.
Next I will share the Link of the battle and we will be reviewing step by step and graphically, the small details that made the difference and tipped the scales of victory.
https://splinterlands.com?p=battle&id=sl_188744cc67805728a6075ee19cc59284&ref=alsiferro20217
¡Mi pelea! / My fight!
Cuando estas a punto de hacer click para que se te presente tu nueva batalla, se crece la emoción y rapidamente miras las últimas jugadas de tu oponente y las reglas de la contienda.
When you are about to click to be presented with your new battle, the excitement builds and you quickly see your opponent's latest moves and the rules of the contest.

Y nos encontramos con 42 puntos de Maná, las reglas de "ENRAGE" y de "VELOCIDAD INVERSA" y tan solo tres astillas participantes, excluida tierra, lo que minimiza la posibilidad de que mi oponente use un invocador de Magia, y con toda esta información se procede a conformar nuestra estrategia y alineación de monstruos.
And we find ourselves with 42 mana, the "ENRAGE" and "REVERSE SPEED" rules, and only three participating slivers, excluding land, minimizing the chance of my opponent using a Magic caster, and with all this information we proceed to shape our strategy and lineup of monsters.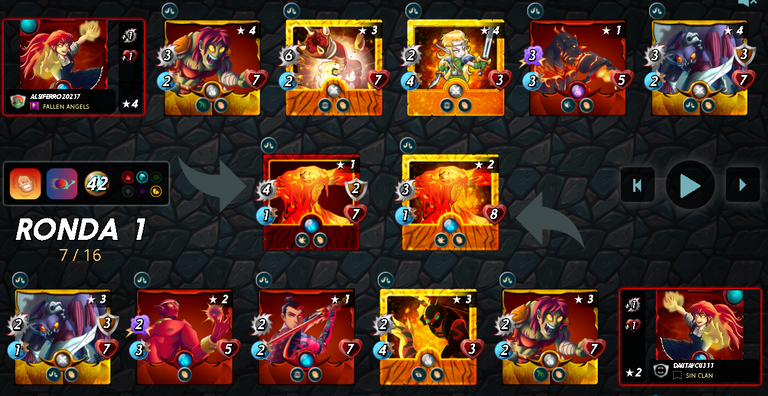 Tomando en cuenta las últimas astillas usadas por mi oponente y las reglas de la batalla, conformé la siguiente alineación:
1-Lo primero fué que seleccioné la invocadora "TARSA" de nivel 4 (máximo nivel para mi liga de plata), tomando en cuenta que ella otorga un aumento de (+1) en ataque cuerpo a cuerpo y (+1) de salud.
Taking into account the last splinters used by my opponent and the rules of the battle, I made the following lineup:
1-The first thing was that I selected the summoner "TARSA" of level 4 (maximum level for my silver league), taking into account that she grants an increase of (+1) in melee attack and (+1) in health .
2-Luego pasamos a la escogencia de los monstruos o guerreros y en la primera posición ubicamos a "LIVING LAVA" nivel 1 con su habilidad "SHIELD" que nos permite sacar provecho de su escudo protector que reduce daños de los ataques siempre y cuando no sean realizados con magia.
2-Then we go to the choice of monsters or warriors and in the first position we place "LIVING LAVA" level 1 with his "SHIELD" ability that allows us to take advantage of his protective shield that reduces damage from attacks as long as it does not be made with magic.
3-Para la segunda posición ubicamos a nuestro invitado de honor "RADIATED BRUTE" de nivel 4, que nos permitió aumentar sus estadísticas y principalmente su ataque Melee hasta 3 de ataque y (+1) que le otorgará el invocador, más con su habilidad "REACH" que le permite atacar desde esta posición al que está en primera posición del enemigo.
3-For the second position we placed our guest of honor "RADIATED BRUTE" level 4, which allowed us to increase his statistics and mainly his Melee attack up to 3 attack and (+1) that the summoner will grant him, more with his ability "REACH" that allows you to attack from this position the one who is in first position of the enemy.
4-Para la tercera posición, ubicamos a "SAND WORM" nivel 3, que por ser de baja velocidad, fuerte pegada cuerpo a cuerpo y la habilidad "SNEAK" (ESCABULLIRSE), en esta contienda sería un aliado poderoso para lograr la victoria.
4-For the third position, we place "SAND WORM" level 3, which, due to its low speed, strong melee hit and the ability "SNEAK" (SLEEP), in this contest would be a powerful ally to achieve victory.
5-En este cuarto lugar ubiqué a "ELVEN CUTTHROAT" nivel 4 para reforzar el ataque al último monstruo de la alineación enemiga por medio de su habilidad "SNEAK".
5-In this fourth place I placed "ELVEN CUTTHROAT" level 4 to reinforce the attack to the last monster of the enemy lineup by means of his "SNEAK" ability.
6-La quinta posición se la entregamos a "DJINN INFERNI" nivel 1 que posee un ataque mágico de 3 y resulta un excelente complemento a la hora de evadir las armaduras que pueda usar nuestro enemigo.
6-The fifth position is given to "DJINN INFERNI" level 1 that has a magic attack of 3 and is an excellent complement when it comes to evading the armor that our enemy can use.
7-Y por último, cuidando nuestra puerta trasera, colocamos a "DISINTEGRADOR", que con su especial habilidad "DEMORALIZE" (DESMORALIZAR), tiene el poder de reducir los ataques cuerpo a cuerpo de todos los monstruos enemigos, de modo que cumplió con un doble rol defensivo; reducir los ataques cuerpo a cuerpo y recibir aquellos de los monstruos enemigos con la habilidad "SNEAK".
7-And finally, taking care of our back door, we placed "DISINTEGRATOR", which with its special ability "DEMORALIZE", has the power to reduce the melee attacks of all enemy monsters, so that it fulfilled a double defensive role; reduce melee attacks and receive those of enemy monsters with the "SNEAK" skill.
Una vez terminada esta alineación comenzamos la pelea y la razón de colocar a cada monstruo en cada posición específica, el haber elevado el nivel del invocador y de varios monstruos; dieron sus frutos.
Once this alignment is finished, we start the fight and the reason for placing each monster in each specific position, having raised the level of the summoner and several monsters; they bore fruit.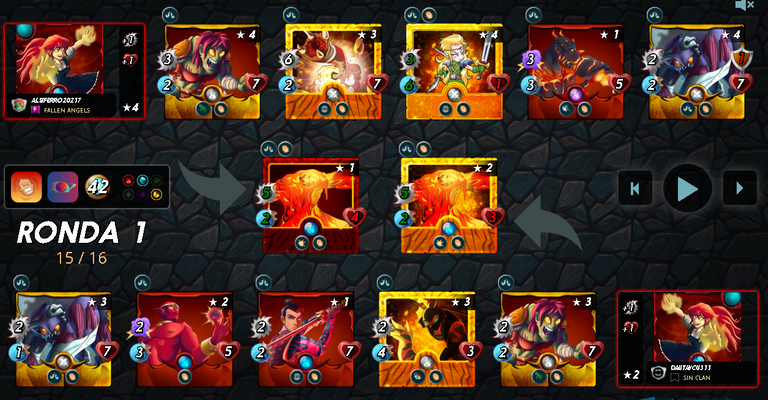 Damos inicio a la primera ronda, y damos una mirada a la alineación de nuestro oponente, y nos damos cuenta que coincidimos mucho en nuestras selecciones, de modo que escogió a "TARSA" de invocadora, a "LAVA" y "BRUTE" en primera y segunda posición respectivamente, a "DISINTEGRADOR" de última posición y también un monstruo de magia de quinto, y por causa de la regla de velocidad inversa, los monstruos mas lentos atacan primero.
We start the first round, and take a look at our opponent's lineup, and realize that we overlap a lot in our selections, so he chose "TARSA" as summoner, "LAVA" and "BRUTE" as first and second place respectively, to last place "DISINTEGRATOR" and also a fifth place magic monster, and because of the reverse speed rule, slower monsters attack first.
Entramos a la segunda ronda y el "DISINTEGRADOR" enemigo ha caído en batalla perdiendo toda su salud mientras el mio aun conserva 1 armadura y todas sus vidas o salud completas, y esto gracias a la combinación de mis dos monstruos con la habilidad de "SNEAK", lo que a su vez, nos permitió aumentar en (+1) nuestro ataque cuerpo a cuerpo.
We enter the second round and the enemy "DISINTEGRATOR" has fallen in battle losing all his health while mine still has 1 armor and all his lives or full health, and this thanks to the combination of my two monsters with the ability of "SNEAK ", which in turn, allowed us to increase our melee attack by (+1).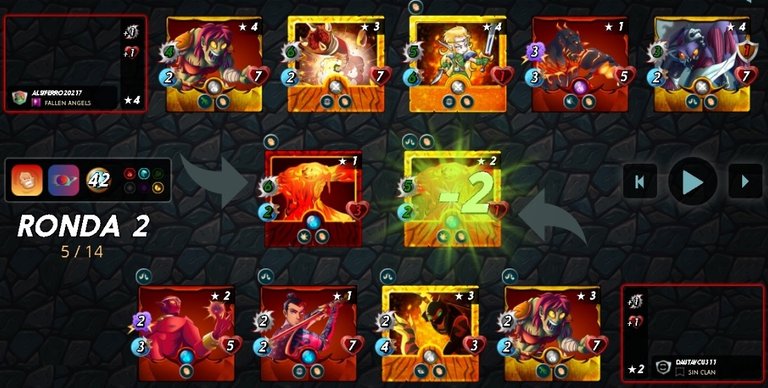 Sigue el calor de la batalla y cae abatido "LIVING LAVA" de nuestro enemigo.
Follow the heat of the battle and fall down "LIVING LAVA" of our enemy.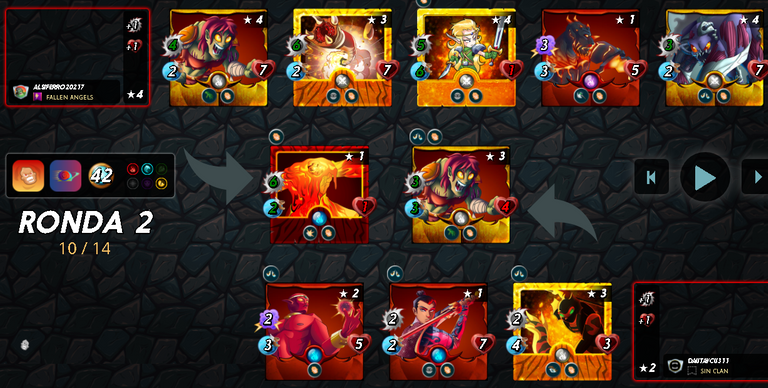 A mi oponente solo le quedan 4 monstruos y los míos siguen todos de pie, mi "LIVING LAVA" entregará su último aliento y llegará el momento cumbre de esta batalla...
My opponent only has 4 monsters left and mine are all still standing, my "LIVING LAVA" will deliver its last breath and the climax of this battle will come...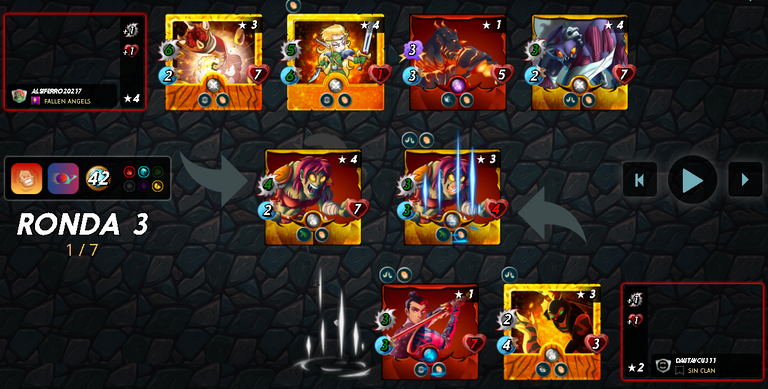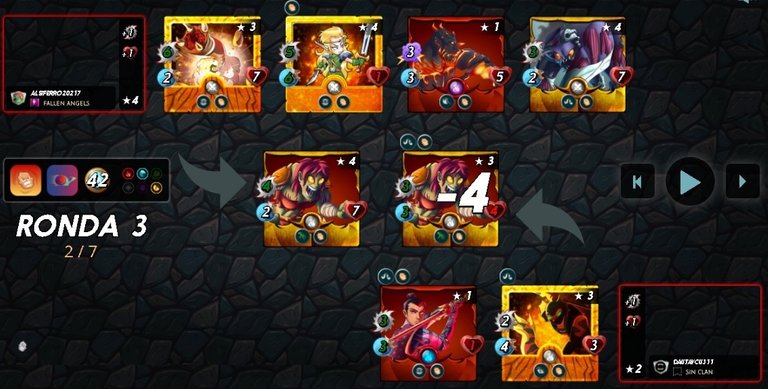 Inicia la ronda 3 y por fín están frente a frente; "RADIATED BRUTE" vs "RADIATED BRUTE", y aquí hubo algo interesante, uno de esos detalles que le dan riqueza y emoción a @splinterlands, y es que por haber recibido el "RADIATED BRUTE" de mi enemigo una pérdida de salud, entonces se le activó la regla "ENRAGE" y le fué aumentada su velocidad, por lo tanto yo ataque primero y conecté un poderoso -4 liquidando de manera fulminante al enemigo.
Round 3 begins and they are finally face to face; "RADIATED BRUTE" vs "RADIATED BRUTE", and there was something interesting here, one of those details that give richness and emotion to @splinterlands, and that is that for having received the "RADIATED BRUTE" from my enemy a loss of health, then the "ENRAGE" rule was activated and its speed was increased, therefore I attacked first and landed a powerful -4, killing the enemy in a fulminating manner.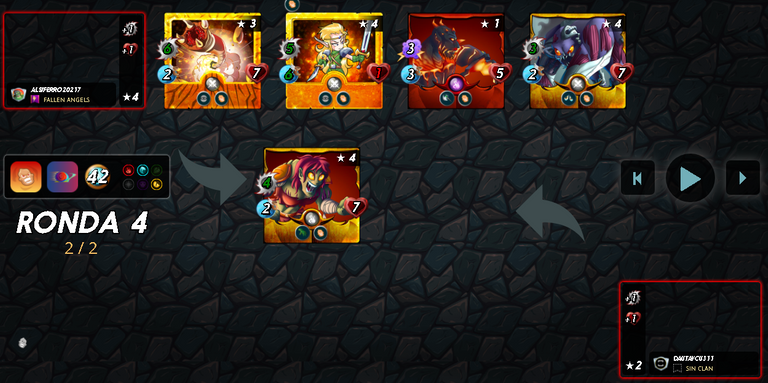 Y en la ronda 4 todo estaba ya definido, el enemigo no pudo resistir una sólida alineación, una estrategia que en esta ocasión resultó de manera óptima, ya que 4 de mis monstruos llegaron hasta el final sin un solo daño y el "DISINTEGRADOR" solo perdió su armadura pero ni una sola vida, de modo que seguiré intentando el armar alineaciones que armonicen con sus habilidades para seguir cosechando victorias. Siempre debemos recordar que cada batalla presentará condiciones diferentes y no siempre esta alineación funcionará, de modo que, aunque la tarjeta si me gusta, tiene que ser usada en aquellas batallas cuyas condiciones sean favorables.
And in round 4 everything was already defined, the enemy could not resist a solid line-up, a strategy that this time turned out optimally, since 4 of my monsters reached the end without a single damage and the "DISINTEGRATOR" only he lost his armor but not a single life, so I'll keep trying to put together lineups that harmonize with his abilities to keep winning. We must always remember that each battle will present different conditions and this alignment will not always work, so even if I like the card, it has to be used in those battles whose conditions are favorable.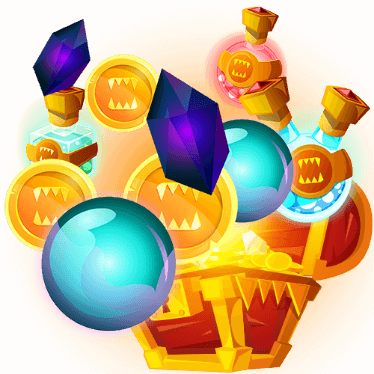 Les invito a conocer más en splinterlands.com
¡Hasta la próxima publicación!
I invite you to learn more at splinterlands.com
Until the next post!
---
---