SHARING MY BATTLE IN SPLINTERLANDS USING "MYCELIC MORPHOID" (Eng/Esp)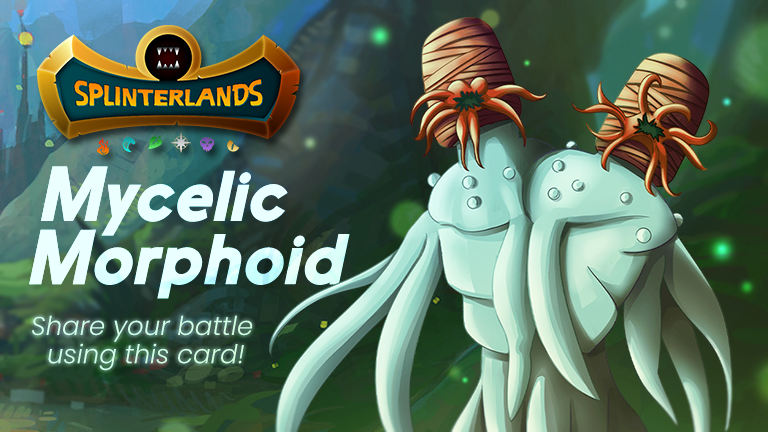 Images and resources obtained from @splinterlands.
Imágenes y recursos obtenidos en @splinterlands.
Hello! It is a privilege to be able to share with you my recent battle using "MYCELIC MORPHOID", I like these weekly challenges for several reasons and today I will tell you another one; in my clan, of which I am one of the founders (Fallen.Angels), we have a great project and we have agreed to form a solid team of "writers" and we all help each other, without exception, we are always pending and we make an effort for doing better and better... and that drives me to do these challenges every week!
¡Hola! Es un privilegio poder compartir con ustedes mi reciente batalla utilizando a "MYCELIC MORPHOID", me gustan estos desafíos semanales por varias razones y hoy les diré otra de ellas; en mi clan, del cual soy uno de los fundadores (Fallen.Angels), tenemos un gran proyecto y nos hemos puesto de acuerdo para formar un sólido equipo de "escritores" y todos nos ayudamos, sin excepción, siempre estamos pendientes y nos esforzamos por hacerlo cada vez mejor... y eso me impulsa a realizar cada semana estos desafíos!

Let's see the main characteristics of our guest of honor: "MYCELIC MORPHOID"
Veamos las características principales de nuestro invitado de honor: "MYCELIC MORPHOID"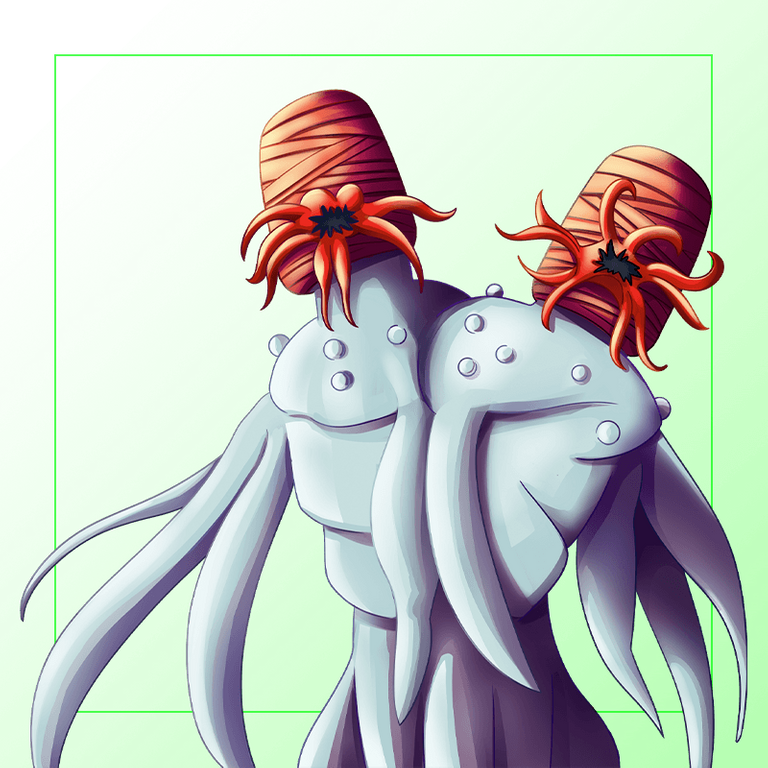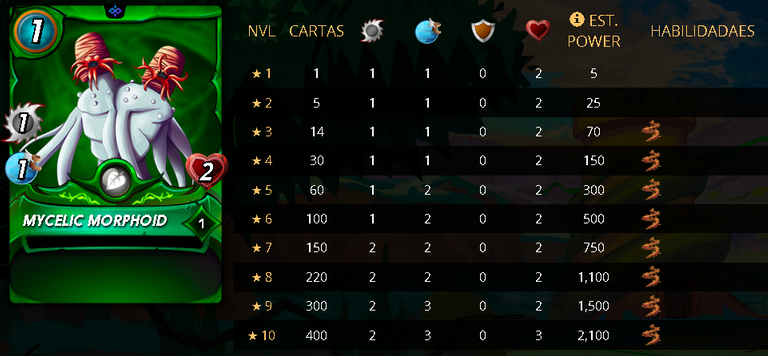 It belongs to the latest edition of cards; LEGION OF CHAOS
Pertenece a la última edición de cartas; LEGIÓN DEL CAOS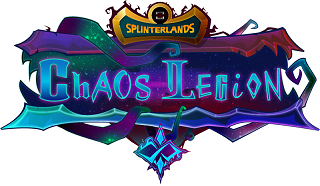 Its rarity is common element and its chip is EARTH.
He is a Melee (MELEE) Monster or Warrior and has a special ability starting at level 3:
Su rareza es de elemento común y su astilla es TIERRA.
Es un Monstruo o Guerrero de ataque Cuerpo a Cuerpo (MELEE) y tiene una habilidad especial a partir del nivel 3:

When the monster takes damage to its health via "Melee" attack, it returns damage to its attacker.
Cuando el monstruo recibe daño a su salud por medio de ataque "Melee", devuelve daño a su atacante.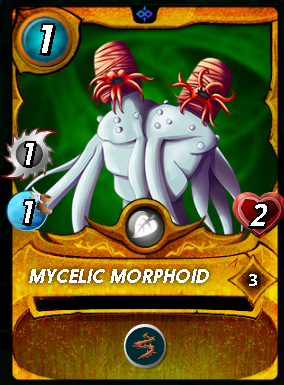 Next I will share the "Link of the battle" and we will be sharing graphically about the challenge at hand and the small details that make the difference:
A continuación compartiré el "Link de la batalla" y estaremos compartiendo gráficamente sobre el desafío que nos ocupa y los pequeños detalles que hacen la diferencia:
https://splinterlands.com?p=battle&id=sl_317b17aa52fed4268d7a133b4541a668&ref=alsiferro20217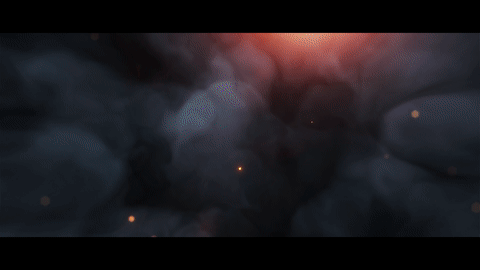 When you are about to click to start, the adrenaline rises and the first thing you look for are the rules of the battle and the last battles of the opponent:
Cuando estás a punto de hacer click para iniciar, sube la adrenalina y lo primero que búscas son las reglas de la batalla y las últimas batallas del oponente:

And we find ourselves with 16 Mana points, 2 abilities or conditions and the possibility of using only the splinters; life and land, which facilitates the possibility that our monster "MYCELIC MORPHOID" can perform well. In the counting of the seconds in countdown we managed to form the following team:
Y nos encontramos con 16 puntos de Maná, 2 habilidades o condiciones y la posibilidad de usar solamente las astillas; vida y tierra, lo que facilita la posibilidad de que nuestro monstruo "MYCELIC MORPHOID" pueda tener un buen desempeño. En el conteo de los segundos en cuenta regresiva logramos conformar el siguiente equipo: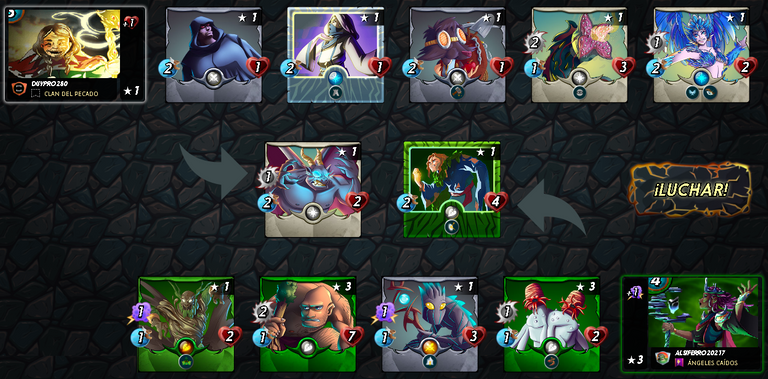 Taking into account the last splinters used by my opponent and the rules of the battle, I made the following lineup:
I selected the summoner "OBSIDIANA" (level 3) to take advantage of the ability to use monsters of the highest levels possible according to my "Silver" league in which I compete and to do the most damage possible through magic attack.
Then we go to the choice of monsters or warriors and in the first position we place the "FAILED SUMMONER" (level 1) to take advantage of his 4 health and only 2 mana.
In the second position we place our guest of honor "MYCELIC MORPHOID" with his valuable ability "THORNS" from level 3, which benefits us a lot because it is a perfect decoy and distractor, mainly in low mana battles and with enemies with the ability "CHANCE", allowing the rest of my monsters to deal as much damage as possible to the enemy without suffering them in the first rounds.
In the third position we place the "HOASTER OF SPIRITS" (level 1), with the ability of "TRIAGE" that restores a part of the health of the friendly monster that has suffered the most damage located in the second row in each round.
In the fourth position we use the "HILL GIANT" (level 3), which has 7 health and is going to have to withstand all the enemy's attacks with the "SLEEP" ability because my last monster has the ability to "CAMOUFLAGE"
In the fifth and last position we place the "DJINN BILJKA" (Level 1) that has the "CAMOUFLAGE" ability, so no attacker can hurt him until he is in the first position
Once this alignment was finished, we started the fight, and the reason for placing each monster in that specific location became evident...
Tomando en cuenta las últimas astillas usadas por mi oponente y las reglas de la batalla, conformé la siguiente alineación:
Seleccioné al invocador "OBSIDIANA" (de level 3) para aprovechar la capacidad de usar monstruos de los niveles mas altos posibles de acuerdo a mi liga "Plata" en la que compito y para hacer el mayor daño posible por medio del ataque mágico.
Luego pasamos a la escogencia de los monstruos o guerreros y en la primera posición ubicamos al "INVOCADOR FALLIDO" (level 1) para sacar provecho de sus 4 de salud y tan solo 2 de maná.
En la segunda posición colocamos a nuestro invitado de honor "MYCELIC MORPHOID" con su valiosa habilidad "ESPINAS" a partir del level 3, que nos beneficia mucho porque es un perfecto señuelo y distractor, principalmente en batallas de bajo maná y con los enemigos con la habilidad "OPORTUNIDAD", permitiendo que el resto de mis monstruos causen el mayor daño posible al enemigo sin sufrir ellos en las primeras rondas.
En la tercera posición ubicamos al "ACAPARADOR DE ESPÍRITUS" (level 1), con la habilidad de "TRIAGE" que restaura una parte de la salud del monstruo amigo que más daño haya sufrido ubicado en la segunda fila en cada ronda.
En la cuarta posición usamos al "GIGANTE DE LA COLINA" (level 3), que posee 7 de salud y va a tener que soportar todos los ataques del enemigo con la habilidad de "ESCABULLIRSE" debido a que mi último monstruo tiene la habilidad de "CAMUFLAJE"
En la quinta y última posición ubicamos al "DJINN BILJKA" (Level 1) que posee la capacidad de "CAMUFLAJE", por lo que ningún atacante le podrá hacer daño hasta que esté en la primera posición
Terminada esta alineación iniciamos la pelea, y se fué evidenciando la razón de colocar cada monstruo en esa específica ubicación...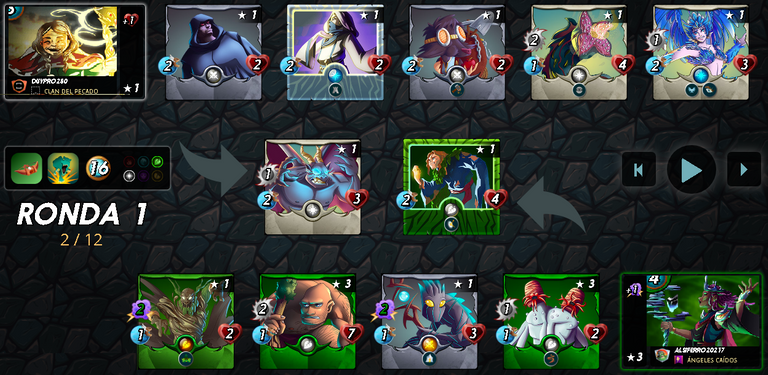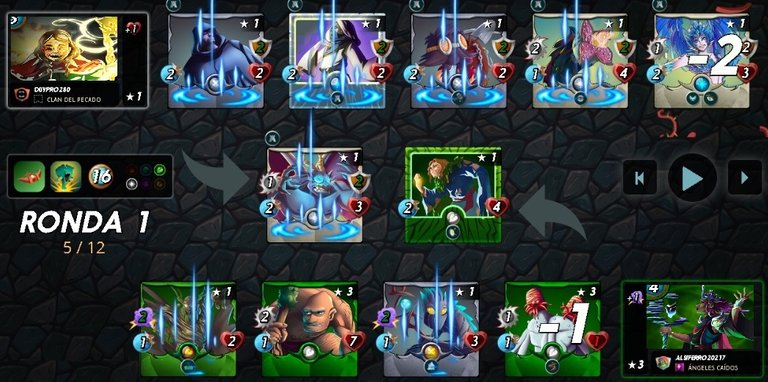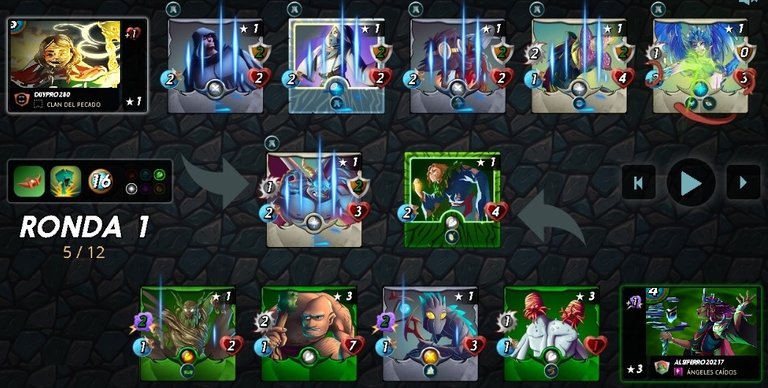 The first round begins and the fastest monster in the contest is the enemy's "HEAVENLY HARPY", and having the "CHANCE" ability, it attacked our "MYCELIC MORPHOID" first and it returns a -2 thorns. ..
Comienza la primera ronda y el monstruo más rápido de la contienda es la "ARPÍA CELESTIAL" del enemigo, y al poseer la habilidad de "OPORTUNIDAD", atacó de primero a nuestro "MYCELIC MORPHOID" y este le devuelve un -2 de espinas...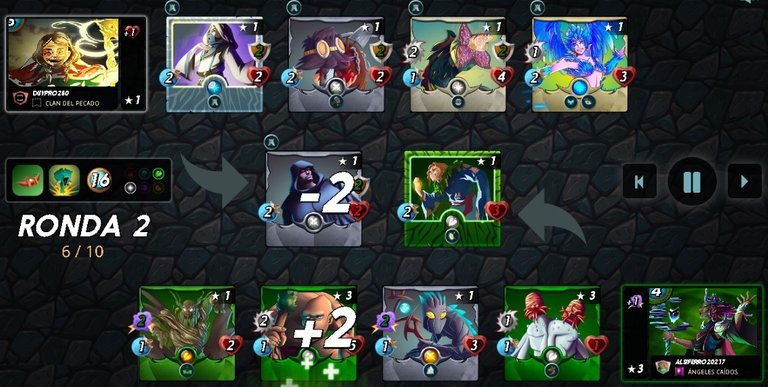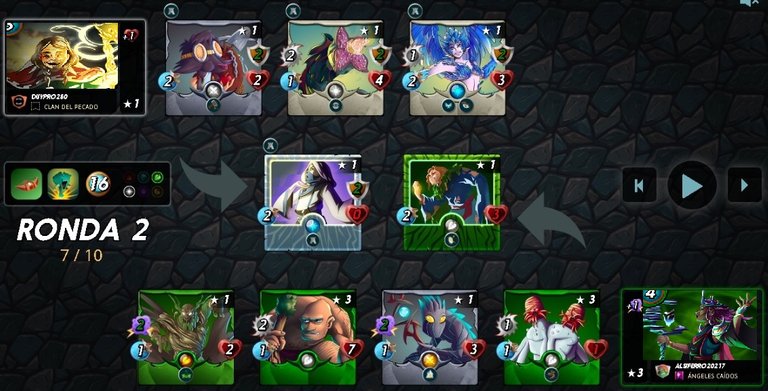 In the first round we destroyed the "GARGOYA SCRAPPER", and by the end of the second round two additional enemy monsters are falling, leaving my enemy with only three, while I still have the 5 monsters I started with...
En la primera ronda destruimos al "GARGOYA SCRAPPER", y finalizando la segunda ronda están cayendo dos monstruos enemigos adicionales, quedando tan solo con tres mi enemigo, mientras que yo, aún conservo los 5 monstruos con los que inicié...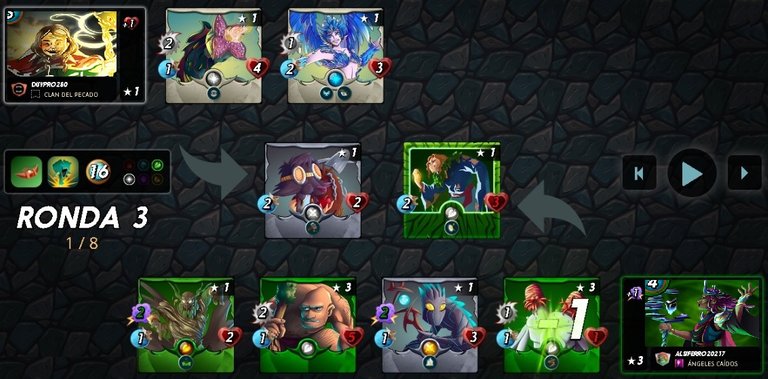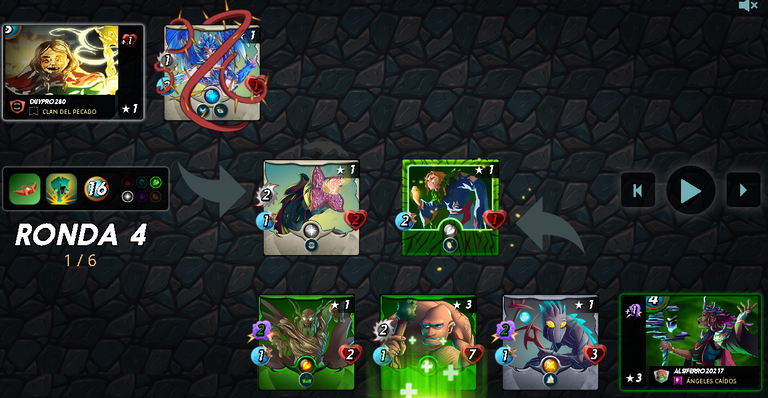 In round 3 our "MYCELIC MORPHOID" drops after having withstood 3 attacks from the enemy and the "SCAVO RENT" also drops from the enemy, so the fourth round begins...
En la ronda 3 cae nuestro "MYCELIC MORPHOID" después de haber soportado 3 ataques del enemigo y también cae del enemigo el "ALQUILER DE SCAVO", así comienza la cuarta ronda...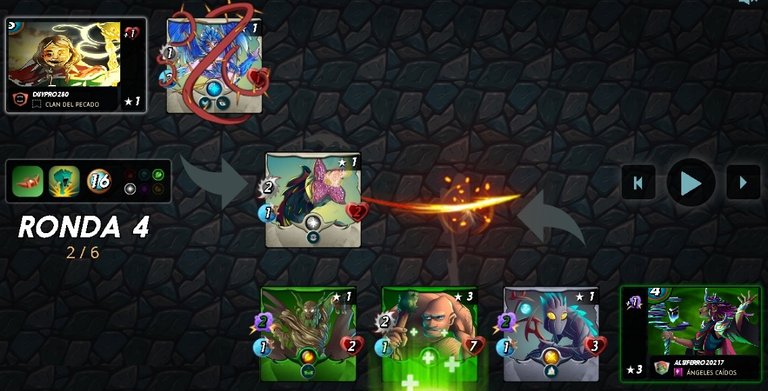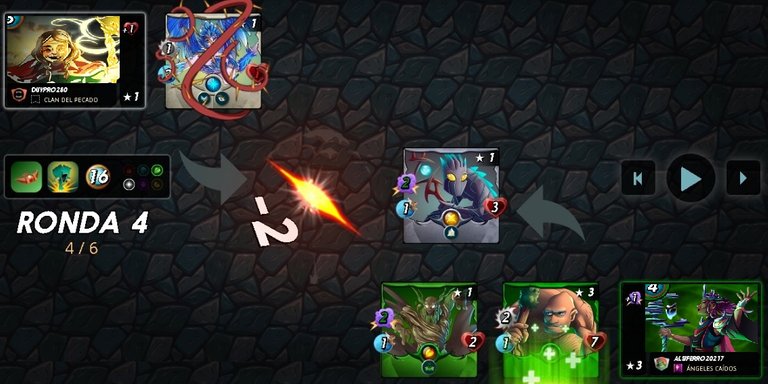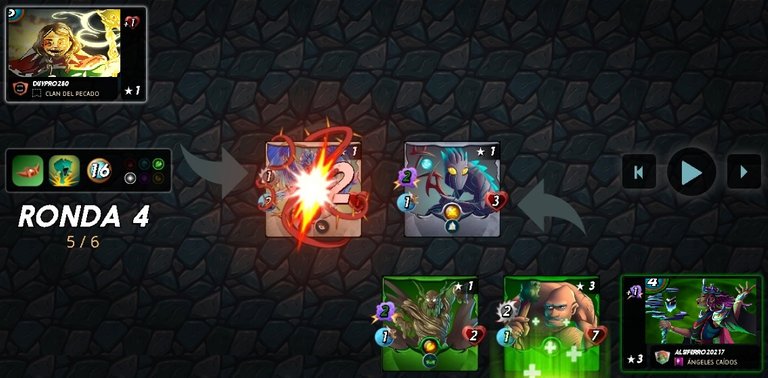 We are in the fourth and final round, and our "FAILED SUMMONER" just fell, but the enemy, who started the fight with 6 monsters, arrived with only 2 at the end, and their chances are greatly diminished and they fall down!
Making my summary of this battle we can affirm that the strategy did work very well, we won the victory with a wide margin of advantage, since 3 of my entire monsters remained. The lineup served its purpose, as my monster "SPIRIT HOASTER" did its job perfectly by restoring health to both "GIANT ON THE HILL" and our "MYCELIC MORPHOID", and on the other hand our "DJINN BILJKA" He also did his thing, with that spectacular "CAMOUFLAGE" ability that makes him untouchable until he reaches the first position. So I am very satisfied with these results, and on future occasions, with similar characteristics and conditions, this strategy can continue to be used, making the appropriate adjustments.
I like the "MYSCELIC MORPHOID" a lot, it's a very good weapon if you know how to use it and with only 1 mana!
Estamos en la cuarta y última ronda, y recién cayó nuestro "INVOCADOR FALLIDO", pero el enemigo, que inició la contienda con 6 monstruos llegó solo con 2 al final, y muy disminuidas sus posibilidades caen abatidos!
Haciendo mi resumen de esta batalla podemos afirmar que la estrategia si funcionó muy bien, nos alzamos con la victoria con amplio margen de ventaja, ya que quedaron 3 de mis monstruos enteros. La alineación cumplió su objetivo, puesto que mi monstruo "ACAPARADOR DE ESPÍRITUS" cumplió a la perfección su trabajo al restaurarles la salud tanto al "GIGANTE DE LA COLINA" como a nuestro "MYCELIC MORPHOID", y por otra parte nuestro "DJINN BILJKA" también hizo lo suyo, con esa espectacular habilidad de "CAMUFLAJE" que lo hace intocable hasta que llegue a la primera posición. De modo que estoy muy satisfecho con estos resultados, y en próximas ocasiones, con características y condiciones parecidas, se puede seguir usando esta estrategia, haciendo los ajustes que sean pertinentes.
El "MYSCELIC MORPHOID" me gusta mucho, es un arma muy buena si se le sabe usar y tan solo con 1 de mana!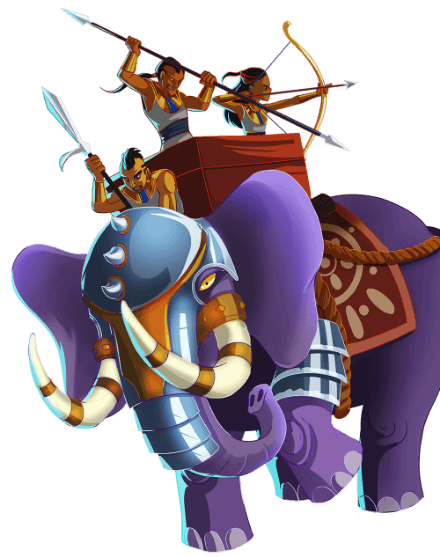 I invite you to learn more at splinterlands.com, and our "CLAN" of "Warriors" (If you are Hispanic and want to join a clan click here](https://peakd.com/@fallen.angels/posts)
Until the next post!
Les invito a conocer más en splinterlands.com, y nuestro "CLAN" de "Guerreros" (Si eres hispano y quieres unirte a un clan haz click aqui](https://peakd.com/@fallen.angels/posts )
¡Hasta la próxima publicación!
---
---