[ENG/ESP] Splinterlands Brawl Report - PIZZA 2 GUILD 19/1/2022 + 3 chaos legion packs opening!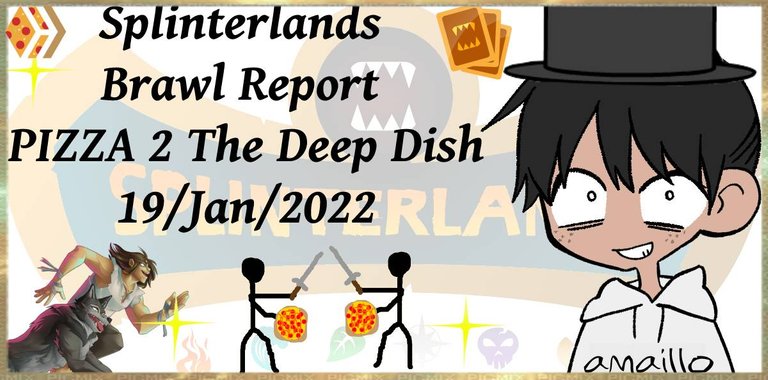 I hope whoever is reading is having a day full of happiness!
Espero que quien esté leyendo esto, esté teniendo un día lleno de felicidad!
Currently, I have bought 18 chaos legion packs in total, 15 from the official store and 3 from the Hive engine, since 3.1$ for a pack seems like a great price to me.Anyway, here is my Chaos legion pack opening!
Actualmente, he comprado 18 paquetes en total, 15 en la tienda oficial y 3 en Hive engine, ya que 3.1$ por un pack me parece un precio excelente. De todas formas, aquí está mi apertura de paquetes de chaos legion!.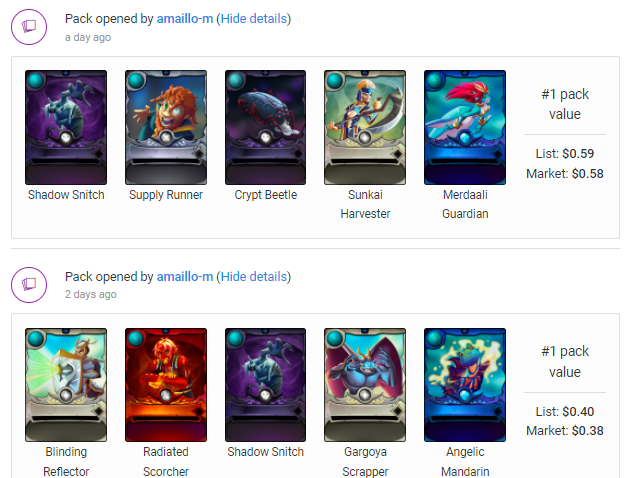 They all are...dissapointing x_x. I don't will open more packs until the airdrops end, only in that moment i will open more. I was thinking of opening one from time to time, but I really don't feel like doing it anymore, if I buy a pack it will be to hold it and nothing else. Hope you have better luck than me if you open one of these.
Todas son...descepcionantes x_x. No abriré más paquetes hasta que el airdrop termine, solo en ese momento abriré más. Pensaba abrir alguna de vez en cuando pero, realmente no tengo ganas de hacerlo ya, si compro algún paquete será para holdearlo nada más. Espero tengas más suerte que yo con estas cosas si abres alguna algún día.
In other news, according to splintercards, 6,553,410 packs have been sold, but only 2,325,000 have been opened, interesting. Maybe i'am not the only one waiting for all the airdrops to open packs.
En otras noticias, según splintercards, se han vendido 6.553.410 paquetes, pero solo se han abierto 2.325.000, interesante. Quizás no soy el único que holdea packs para abrirlos cuando lancen todos los airdrops.

I don't have nothing more to talk about, let's go with the brawl!
No tengo más nada de lo que hablar al respecto, vamos con la brawl!
Battle #1
Ruleset: Aim true, keep your distance.
Mana cap: 36.
Allowed splinters: Fire, water, life, death, dragon.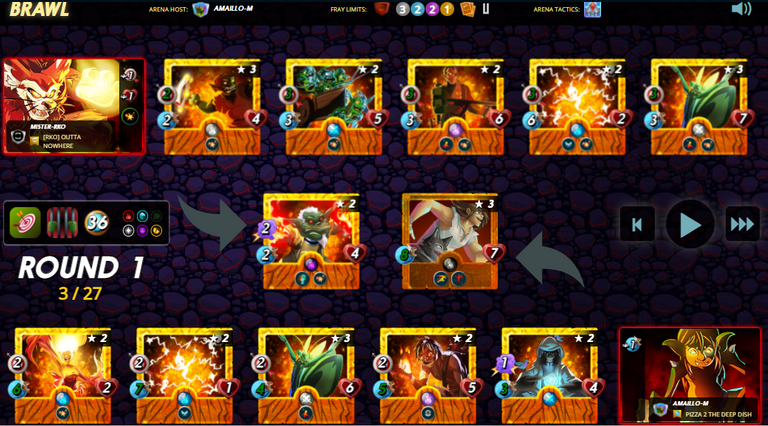 Sadly this is one of those times were i ended thinking too much my strategy and at the end i had nothing more time to think. With that ruleset the speed of Pyre+Krash wouldn't be useful to evade, so used it is not a good idea at all but in that moment i thought that maybe the factor of attack first and also have a good tank maybe could help me to win. Anyway, i used Krash in the frontline as tank, the elven in the second position because can acs like a secondary tank best than any other card. The rest of card are just ranged damage dealers, but i put those with more life in the front.
Lamentablemente, este es uno de esos momentos en los que terminé pensando demasiado en mi estrategia y al final no tuve más tiempo para pensar. Con ese conjunto de reglas, la velocidad de Pyre+Krash no sería útil para evadir, así que usarlo no es una buena idea en absoluto, pero en ese momento pensé que tal vez el factor de atacar primero y también tener un buen tanque podría ayudarme a ganar. De todos modos, usé Krash al frente como tanque, el elfo en la segunda posición porque puede actuar como un tanque secundario mejor que cualquier otra carta. El resto de la carta son solo para hacer daño a distancia, pero puse los que tienen más vida al frente.
Result of the battle #1: Loss. After posting my team, I did the calculations and determined that if my opponent had used Contessa, I would have lost with my fire team, but if I had used Cotessa in this match, I would have lost just the same because my opponent played a Yodin. XD. As much debuff as Contessa would have inflicted on him, I don't think it would be enough to beat Yodin, interestingly if the Aim true rule wasn't present, there would be a slim chance of beating Yodin.
Resultado de la batalla #1: Derrota. Luego de publicar mi equipo, hice cálculos y determiné que si mi oponente hubiera usado a Contessa, yo habría perdido con mi equipo de fuego, pero si yo hubiera usado a Contessa en esta partida, hubiera perdido igual por que mi oponente jugó con un Yodin xD. Por más debuff que Contessa le hubiera inflingido, no creo que sería suficiente para ganarle a Yodin, curiosamente si la regla de Aim true no estuviera presente, habría una pequeña posibilidad de ganarle a Yodin.
Brawl final results/Resultados finales de la brawl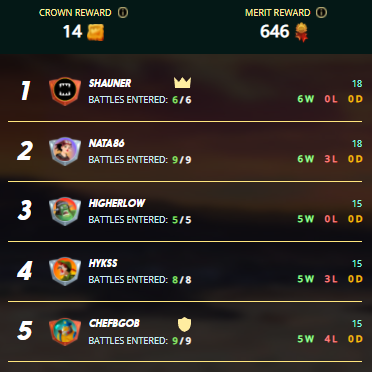 I finished last place as I only played 1 game, so I don't think it's worth showing that, instead here you can see the first places. Man, Higherlow and Shauner had a perfect fray xD.
Terminé de último lugar ya que solo jugué 1 partida, así que no creo que valga la pena mostrar eso, en su lugar aquí pueden apreciar los primeros lugares. Cielos, Shauner y Higherlow obtuvieron una fray perfecta xD.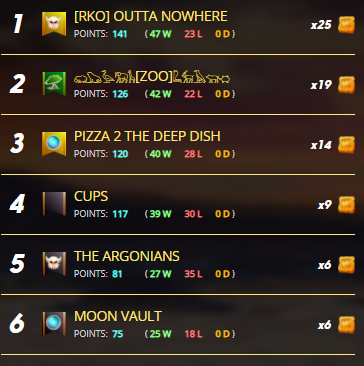 Regarding the guild, we got the 3th place! That is nice!, next time will go for the first spot. Lately we have had a lot of participation in the clan in the frays, because of that we have reached better positions than before, that is in part because several..."sacrifice" by getting into frayss where they must rent full to have a chance, like me xD.
En cuanto al gremio, obtuvimos el tercer lugar! Eso es genial. A por el primer lugar! Últimamente hemos tenido bastante participación en el clan en las frays, debido a eso hemos alcanzado mejores puestos que antes, eso es en parte ya que varios se..."sacrifican" metiéndose en frays donde deben rentar a full para tener oportunidad, como yo xD.
This is all for today folks! I hope you had fun reading and watching the battles!
¡Esto es todo por hoy amigos! ¡Espero que te hayas divertido leyendo y viendo las batallas!
---
Ad space/Espacio publicitario <3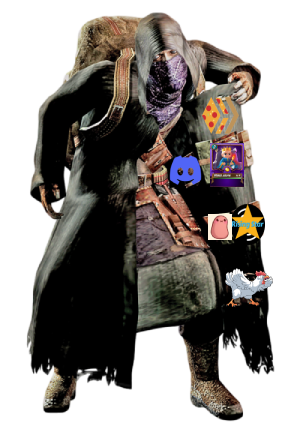 "Gotta selection a good things stranger"
Brawl Reports of my guild/Informes de brawls de mi guild:

Do you want to try Splinterlands? You can use my referral link (https://splinterlands.com/?ref=amaillo-m), if you do I can delegate some cards that will help you rise in ranks faster!
¿Quieres probar Splinterlands? Puedes usar mi link de referido (https://splinterlands.com/?ref=amaillo-m), si lo haces puedo delegarte (es decir, prestarte) algunas cartas que te ayudarán a subir más rápido de rango!
Hey, if you want to get some extra income in Hive (because yeah, never is enough income xD), why do not to try Rising Star? And also Cryptobrewmaster!, both of them are good and easy games! HUH?! did you don't like games?! O_o. Well you can try Exode which is a bit more strategic, ah? You do not like to think ?!
Oye, si quieres obtener un ingreso extra en Hive (porque sí, nunca hay suficientes ingresos xD), ¿por qué no pruebas Rising Star? Y también Cryptobrewmaster!, ¡ambos son juegos buenos y fáciles! ¡¿EH?! ¡¿No te gustan los...juegos de solo dar clicks?! O_o. Bueno puedes probar Exode que es un poco más estratégico,Ah? No te gusta pensar?!
Welps, you can emm get PIZZA here and stake 20 PIZZA , to get some more PIZZA and also be capable of give pizza in your comments! What?! The pizza makes you fat u say? O_o (note: you can still be capable of give pizza just by holding 20 tokens). Also, why no join to our DISCORD? We have $PIZZA and games!

Bueno, puedes conseguir PIZZA aquí stackear 20 PIZZA, para conseguir más PIZZA y también ser capaz de regalar pizza en tus comentarios! ¡¿Qué?! La pizza engorda, dices? O_o (nota: puedes otorgar pizza aún solo si holdeas 20 tokens). Además, por qué no unirte a nuestro DISCORD? Tenemos $PIZZA y juegos!
Ok, you can also delegate some of SPT to (@)monster-curator to get some pasive SPT (in case you aren't doing nothing with it).
Ok, también puedes delegar algo de SPT a (@)monster-curator para obtener algo de SPT pasivo (en caso de que no le estés dando uso para hacer curaciones/dar votos).
¿Nuevo en Hive? Date una vuelta por este post que te explica todo lo básico que necesitas saber. Si quieres comprar Hive puedes darte una vuelta por
Binance o por Orinoco.io, puedes usar Hive para stackearlo y obtener más recursos (es decir, más capacidad para hacer transacciones) además de poder obtener más Hive por tus curaciones ("likes").
---
---