A little comic
Morning my dear community
I wanted to participate in the splinterlands competition this week so here is my submission for the 180th competition….
I present Tarsa and Spark …
Tarsa is a summoner in Splinterlands and I've been creating a story around this character, She has this little flame thing called Spark in my fanfic. This comic is just a little test to see if I like her and I do, I've been writing a little about her to get to know her a bit better.
Here is the comic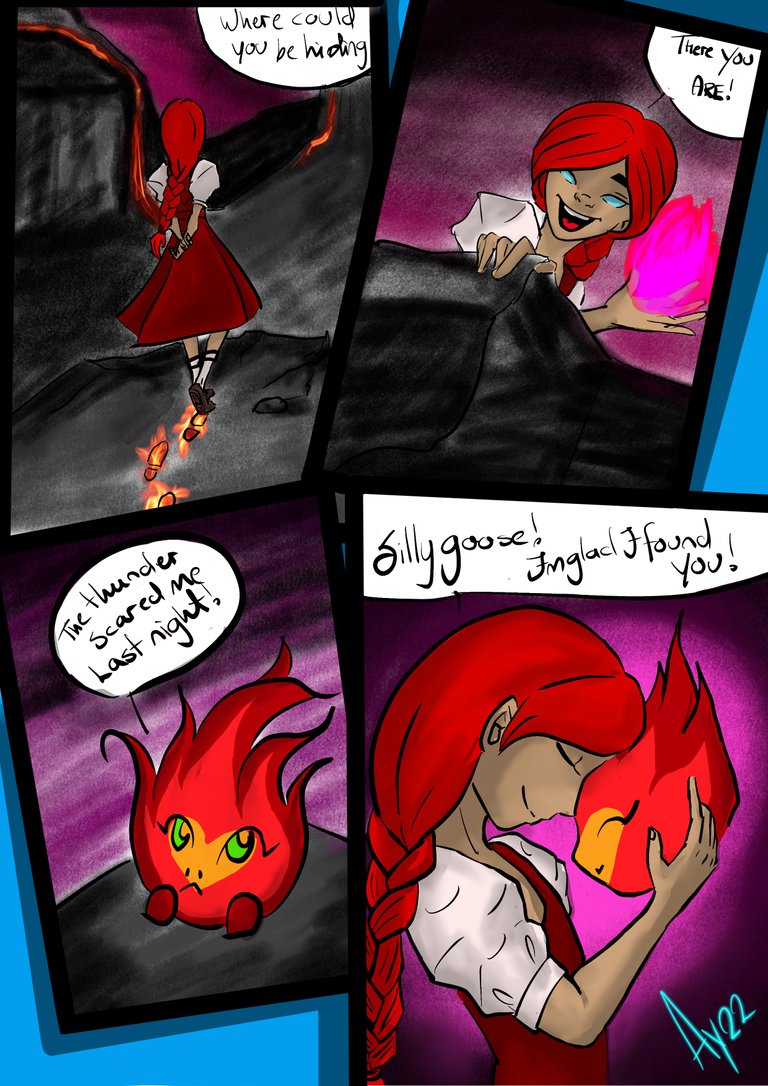 Here is the beginning, middle or somewhere in her story, just something that came to me when I was drawing.
"Tarsa!" - her dads voice echoed in a distance, she buried her head in her arms sitting by a small fire she created to keep her warm and safe.
She hated life in the small village, the other people treated her differently because of her abilities, she didn't understand why she was so different or why she was born with the ability to control fire and fire creatures.
She heard her dad closing in, he would probably be mad about her latest stunt.
"There you are!" - her dad entered the light shining from her fire
"I'm not saying sorry to anyone"- she exclaimed with stubbornness in her voice.
"I've been worried sick, your mother has been crying all day. Why did you set fire to the classroom? You could have seriously hurt someone!" - he said with repressed anger in his voice.
"You weren't there, you don't know how she talks to me. Nobody treats me normally so I wanted to show her up." - her face was stone cold in the warm light of the fire.
What can i do, he thought to himself, raising her had been the most challenging thing he ever could have imagined, he loved her so much but ever since she was a baby this ability, her amazing control over fire and creatures had scared him.
"Let's go home and comfort your mother at least" - his tone filled with hopelessness.
She looked at her dad, strong and big but so fragile in his desperation.
"Fine" - she looked at the fire and it died down by her will,
"Let's go old man"
They walked together to the village in silence.
—

I'm not used to writing like this anymore, I used to write fan fiction and stories but I kind of lost it and forgot about it until recently… I'm pretty happy with the beginning and I want to keep it up ….
I do hope you like the comic and the little story. I'm looking forward to creating and getting to know Tarsa better by writing her story.
Love from Iceland and the frozen laundry I have hanging on the balcony
Amanda Yrr
---
---