Battle Weekly Challenge - Mycelic Slipspawn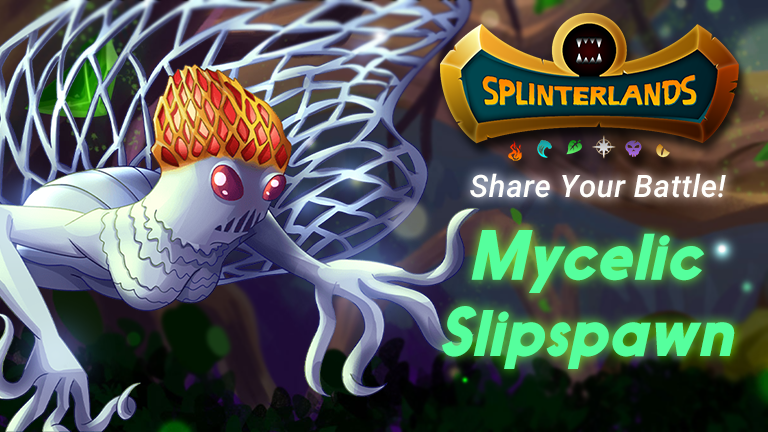 Hello everyone and welcome to the Battle Weekly Challenge. This week the challenge is with Mycelic Slipspawn, a common Earth element card with the Taunt ability. This card belongs to the Chaos Legion edition and is part of the Starter cards, so we can use it for free.
In this battle we are going to face a level 1 Obsidian summoner. We are going to play on equal terms since we can only use cards at level 1. So let's see the rules, the team and the details of the battle.
Battle Rules
This is a 42 mana battle with the "Heavy Hitters" rule where only Life and Earth elements are allowed to play.

| Icon | Name | Description |
| --- | --- | --- |
| | Heavy Hitters | All Monsters have the Knock Out ability. |
My Lineup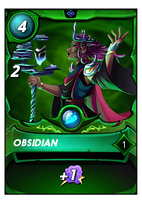 The fearsome woman now known as Obsidian grew up in the remote village of Stonebluff as the last remaining Earth mage. Each year, Earth elementalists went off to compete in the contest, leaving Obsidian to train the next generation of warriors. She wished to join the contest of champions, but the village elders advised her against it, saying she needed to stay behind and focus on training others to use Earth magic. She grew resentful of the way she was treated, knowing she was better than previous mages before her. So, she planned her revenge. In a mine near the village, she taught classes on Earth magic and gained the trust of her students. Her teachings were strenuous and those who could not follow techniques were punished, forced to magically hold obsidian above their heads until it fell on them. She eventually learned to use obsidian to enhance the powers of others. And there was one apprentice she took under her wing. Someone who carried equal anger in his heart. She amplified his abilities in combat practice against other students, making him stronger and more ferocious than his opponents.
Obsidian: I really like this summoner as it gives +1 magic attack to all friendly magic attack monsters. Does magic damage is very important. Monsters with magic attack may do damage from any row, since this form of attack ignores the defender's Armor STAT (damage is applied directly to health). Unless there is a monster with Phase on the enemy's team, magic attack will always hit. There is no miss chance.
Unicorn Mustang: I have chosen Unicorn Mustang as the main tank because I think it is a very complete card for 8 mana. It has a good combination of speed, attack and HP. Its high speed and HP will allow us to attack first, dodge some attacks and resist longer in battle. In addition, his Void ability will also help us to absorb the magical attacks of enemy monsters.
Mycelic Slipspawn: In the second position I have decided to use Mycelic Slipspawn, the protagonist of this battle challenge. This is an amazing magic attack card that can be used as a second tank due to its high HP and its "Taunt" ability, which makes all enemy monsters target this monster. Although its mana cost is high, it is a perfect card for high mana battles as it protects the rest of our friendly monsters with its "Taunt" ability.
Magi of Chaos: Another amazing magic attack card that in combination with our summoner will have +1 additional magic attack. It fits very well with our magic attack team.
Mushroom Seer: I saw that my opponent used a lot of magic attack compositions in his last games, so I decided to use this card that reduces the magic attack of all enemy monsters by -1.
Wood Nymph: This card will help us to keep our tank alive thanks to its Tank Heal ability, which restores a portion of the monster in the first position's health each round.
Goblin Psychic I decided to use Goblin Psychic as a second support to keep our tank alive as long as possible. I really like the Goblin/Nymph combo as it gives a lot of sustain.
The Battle
Click here to see the full battle!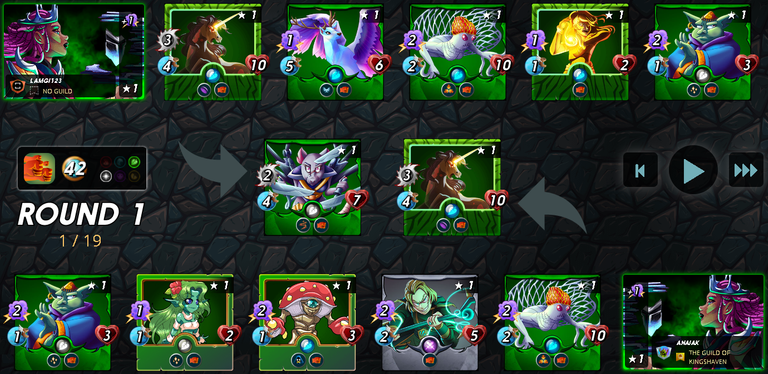 Did your strategy work?
I think my strategy worked quite well. We have been able to successfully counter the enemy's strategy and win the battle. I think the key to our victory has been to significantly reduce the magic attack of enemy monsters and protect our friendly monsters with Mycelic Slipspawn. The help of our supports has also been important to keep our tank alive as long as possible. I am very happy with the result and the strategy I used.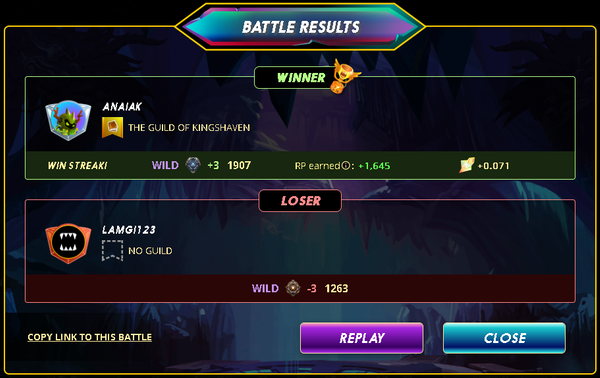 Do you like Mycelic Slipspawn?
Yes, I like Mycelic Slipspawn. Personally, it is a card that I use a lot for its impact in battles. I think Mycelic Slipspawn should be taken into account in most high mana compositions, especially if we use the Obsidian summoner that gives +1 magic attack to all friendly magic attack monsters.
Using Mycelic Slipspawn allows us to protect our friendly monsters with the "Taunt" ability, which is very important especially if the enemy uses monsters with the Opportunity, Sneak or Snipe ability.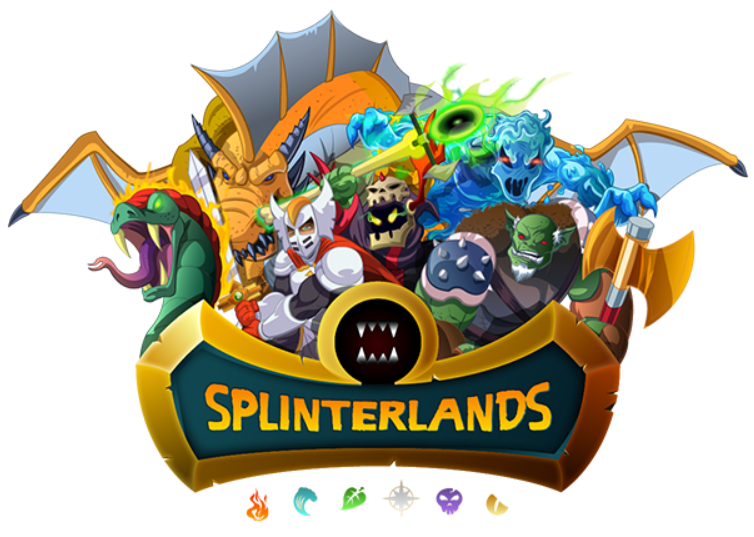 ---
---