My first time buying 12 packs! - Andy Plays plays Rising Star Game
I waited and saved. And waited and saved. And now, finally the time arrived: I bought my first 12 pack bundle in Rising Star. I did buy one pack before that, but since that time saved for th those 12 packs.
Earlier I wasn't sure, if I wanted to go for the 12 packs with Hive and convert my Starbits to Hive. But with the recent price increase in Packs paid with Hive, I did choose not to wait any longer, but finally make the big step! And it really did change a lot.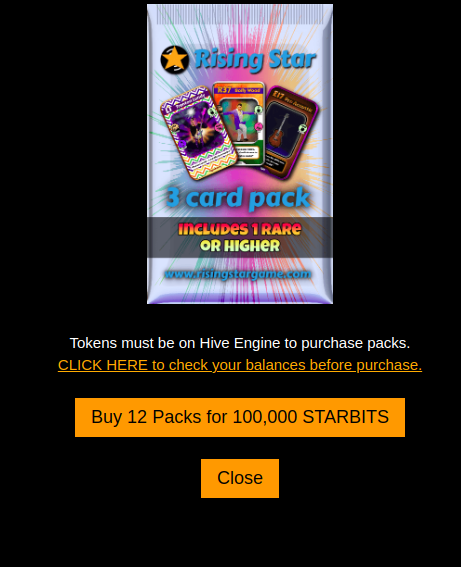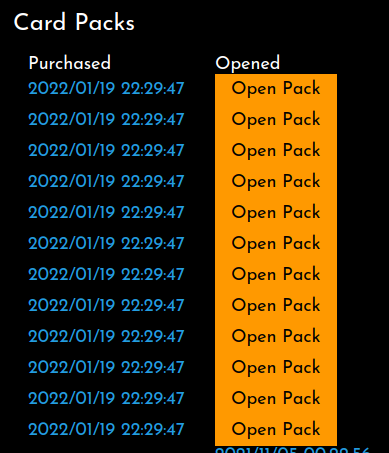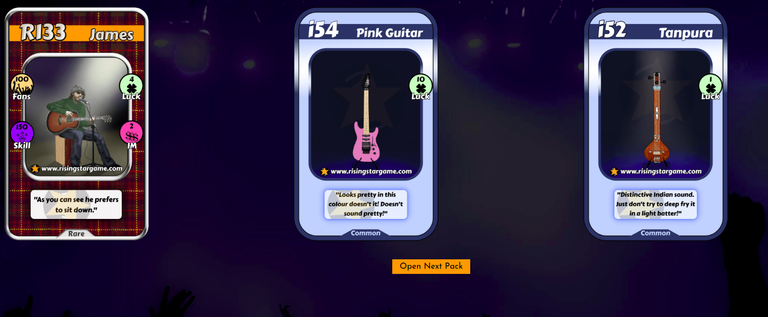 My first pack contained R133 James, an i54 Pink Guitar and a i52 Tanpura.
The "cheapest" James is currently at 7,300 starbit. The pink guitar is trading at around 1,200 starbits and that i52 Tanpura at 450 Starbit. This adds up to a value of 8950, which is only a little less, than the 10k you invest for a pack. And more than invested - since I got 12 packs for 100k, which is 8.33k per pack.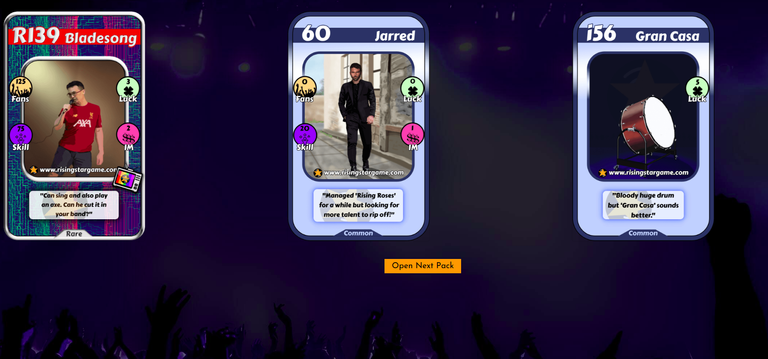 My second pack contained a R139 Bladesong, a 60 Jarred and a i56 Gran Casa. Bladesong is trading around 6,600 Starbits, the cheapest Jarred is listed at 2,300 Starbits and the Gran Casa is listed at 470 Starbits, adding up to a total of 9,370, which is again a little profit.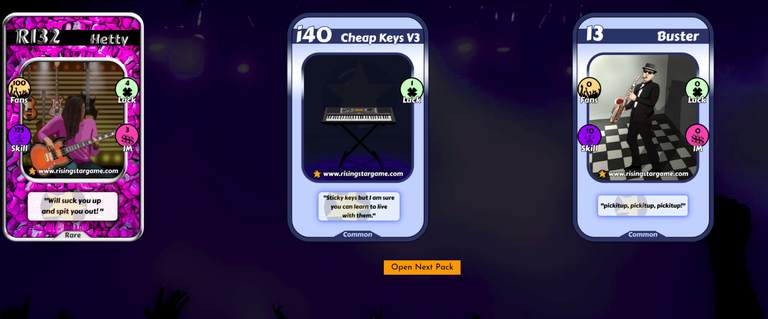 My third pack got me R132 Hetty, some Cheap Keys V3 (i40) and a 13 Buster.
The Cheap Keys go for 500 Starbits, Hetty is listed for 6k and Buster goes for 525 Starbits. So that is around 7k Starbits in total, which is my first bigger loss.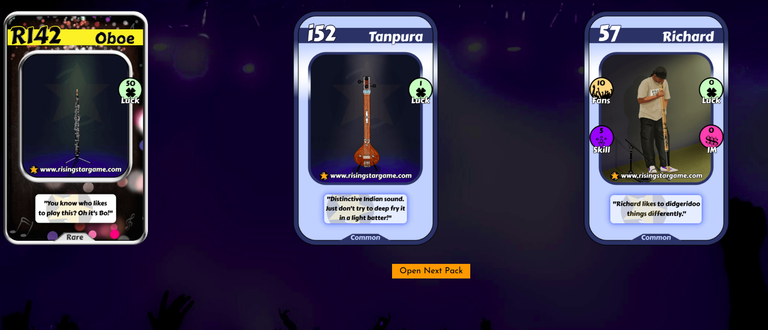 The next and fourth pack contained a R142 Oboe, a i52 Tanpura and a 57 Richard.
Richard is listed at 550 Starbits, the Tanpura roughly the same, which adds up around 1.1 k Starbits. The Oboe is listed for 3.7k Starbits. This adds up to around 4.8k Starbits - so it is almost half the worth I paid for.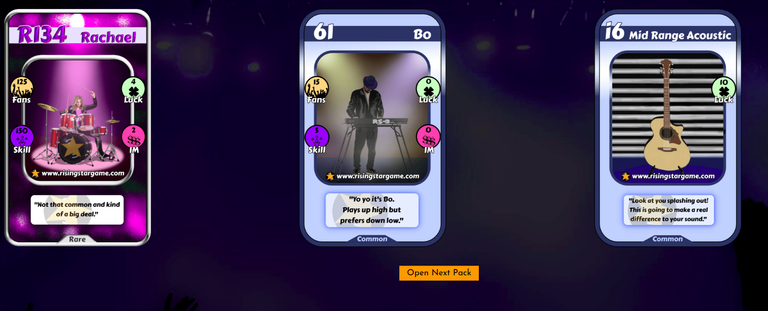 R 134 Rachel, 61 Bo and a i6 Mid Range Acoustic was in my fifth pack.
Rachel is listed for 6k, Bo starts at 1.4k Starbits and the cheapest Mid Range is listed at 6.5k. So this was my best pack so far, with a value of 13.9k Starbits!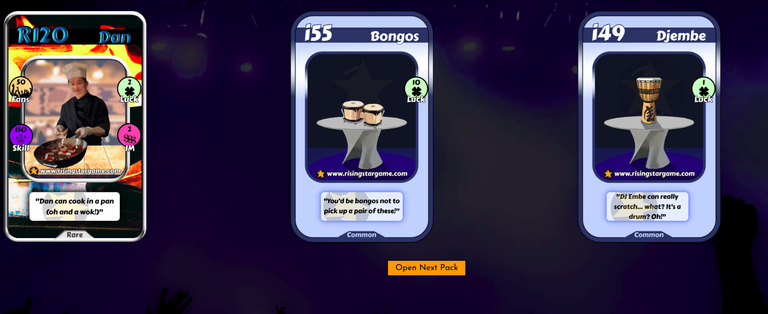 The sixth pack contained R120 Dan, i55 Bongos and i49 Djembe.
The Djembe goes for 500 Starbits, the Bongos are at 550 and Dan is listed at 6k - so a value of 7k in total.

R121 Benson, 53 Colin and another Bongos was inside my seventh pack.
Benson starts at 6.2k Starbits, Colin at 900 Starbits and Bongos are another 550 Starbits - adding up to 7.6k in total.

Pack No. 8 contains R136 Desmond, 13 Buster and another i52 Tanpura.
Buster is listed for 525, Tanpura for 450 and Desmond for around 6900 - so a total of around 7.9k Starbits. Almost break even.

#9 was another instrument only pack with R143 Diamond Mic, i50 Star 30 and i48 Bassoon.
The Mic is listed at 6k, Bassoon and Star 30 both at around 500 Starbits - so another 7k in value.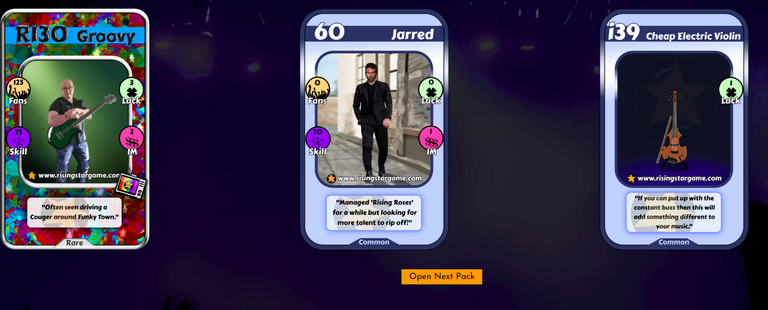 R130 Groovy, 60 Jarred and i36 Cheap Electric Violin was my tenth pack.
The violin is quite cheap at around 500 Starbits, Jarred at 2,300 Starbits and the rare Groovy at 6k. So another 8.8k Starbits in value.

My last pack contained another Desmond, another Bongos and Sasha.
So 6.9k for Desmond, 500 for the Bongos and 800 for Sasha - adding up for another 8.1k for this pack.
Somehow, I didn't catch the pack with R126 Sarge, 63 Clinton and 55 Molly.
Molly is another 800 Starbits, Clinton is listed for around 500 Starbits and Sarge at around 7k. So that is another 8.3k Starbits.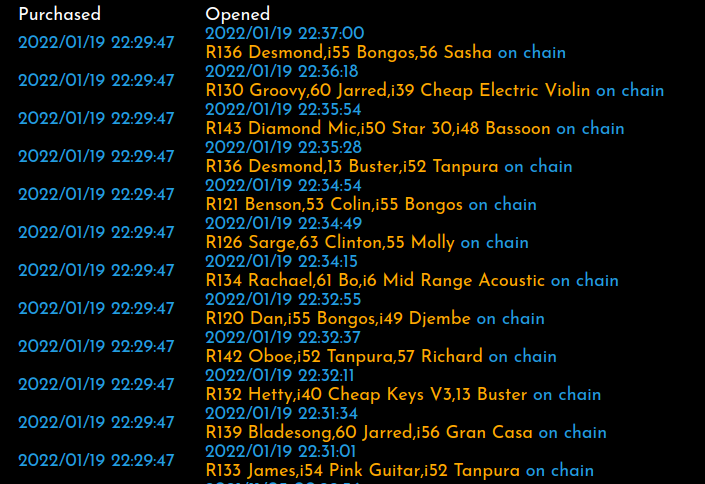 In total I got a value of ~98,700 Starbits. So I lost only 1,300 Starbits compared to buying the cards on the market.
Not getting an epic or legendary was the unfortunate part. It was still fun and boosted my stats a lot.
Hope that it won't take this long for the next 100k Starbits.
Cheers,
@andy-plays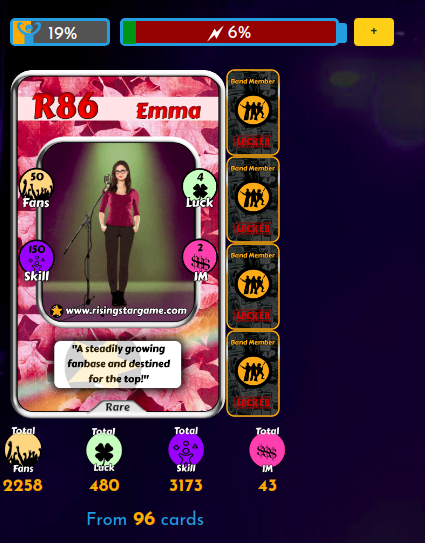 ---
---