Reward Card Analysis Part V and an amazing Gladius Case!- A Diary Of A Splinterlands Player #021
The Rares - Part II:
The second part of my analysis on the rare reward cards and my fifth part over all. Some more are to come!
Venari Bonesmith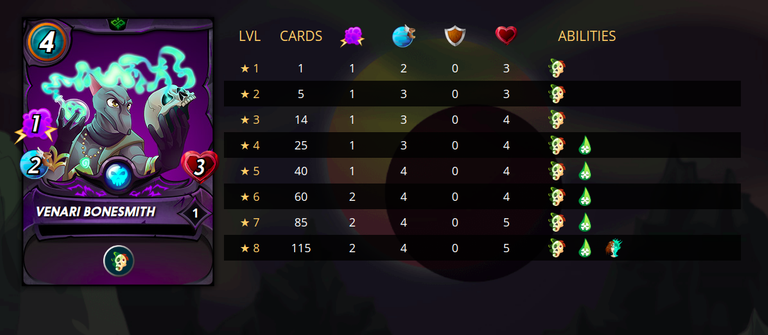 I think this is the last Venari. After Life there is Death. And the Bonesmith is a bloodsucker. Literally. It has Life Leech increasing its health every time it deals damage. The big problem are void cards. Usually magic damage would help this card a lot, hitting almost certain, if not dodged by a phase card. But with void, the life leech ability is neglected up to Gold Cap, since the Bonesmith has only 1 Magic Damage from level 1-5. This is a clear disadvantage to all other Live Leechers, all of them having 2-3 magic (or ranged in the case of Vampire) damage. But the Bonesmith is the cheapest of them. In terms of price but also mana. So if you are not facing a void card, everything is fine and the Bonesmith can start to accumulate HP.
But yes, it faces harsh competition: Vampire and Ancient Lich are also Life Leech monsters in Death Splinter, but also being able to use the ability from level one. Vampire is a common card currently only being 3x of the Bonesmith, while Ancient Lich is a legendary card sitting at 84x of the Bonesmith. But it also has 3 magic attack, and gets void and resurrect. Bonesmith gets to 2 magic attack from Level 6-8 and gets poison at Level 4 and Dispel at Level 10. It also gets one more starting HP at level 4 and level 7, and gets one more speed at level 2 and 5. If not facing a void monster, the Bonesmith can be pretty valuable – or if it gets Opportunity or Snipe through the Rule Set.
Twilight Basilisk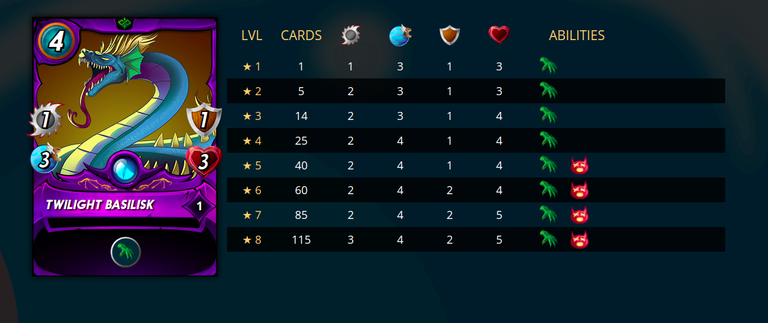 Dragon has two Rare cards, since there are no common dragons this Reward rotation. The Twilight Basilisk is usually the cheaper one. At level 1 it has 1 Melee Attack, 3 Speed, 1 Shield, 3 HP and Reach, making it a very underwhelming card, which therefore has not a lot of use. This slightly changes at level 2, when another Melee Attack is added. The value is added at level 5, giving it stun. But it has some competition: In Dragon there are Dragon Jumper and Lighting Dragon, the last getting it already at Silver Level, the first getting it at Gold level as well, but being limited by using it on the weakest monster, because of its opportunity. Since both other dragons are a lot more expensive, both price and mana wise, the Basilisk is a good addition for the Dragon Splinter. But except for Dragon Splinter there are endless alternatives. Fire has Pit Ogre at level 1, Lava Launcher at Level 4 (also Gold level), Spark Pixies Level 5 (also Gold level) and Goblin Fireballer at level 10 (Diamond / Champion level), as well as Gladius Card Fina Voxom, which also gets it at Gold level. Water has Medusa at level 3 (Common, Silver level), Sniping Narwhal at level 6 (Common, Gold level), Frost Giant and Two Gun Pete, both legendary at level 4, so those are only available to Diamond and Champion players. Earth has Stone Golem and Spirit Shaman, the first being available to use it at Gold, the second already at Silver. Life has Thunderbird and Bila the Radiant, both also get the ability at Gold level. Death has Undead Rexx (rewards, level 9, Diamond+), Dark Enchantress (Alpha/Beta epic, level 4), Soulstorm (Untamed, epic level 6), Lord of Darkness (Alpha/Beta, legendary, level 2) and Cthuhu (Dice, legendary, level 2). So right now, both the legendary cards will be able to use it from Silver, Dark Enchantress from Gold and the other two in Diaond and above. Additionally there is Liza Fox, a Gladiator that gets stun at level 4, which makes it available at Silver level, since she is a rare card. And finally there are Goblin Mech (reward, common, level 6), Gremlin Blaster (reward, rare, level 5), Cyclops (Beta, rare, level 6), Dwarven Wizard (Promo, epic, level 4) and Chain Golem (Untamed, legendary, level 4), who all get it in Gold and above.
But still, at time of writing the Basilisk is the cheapest Stun user regarding price. And it is one of the cheaper cards regarding mana, especially in modern format.
So yes, the space is still in hard competition, but the Twilight Basilisk is a cheap versatile option.
Naga Assassin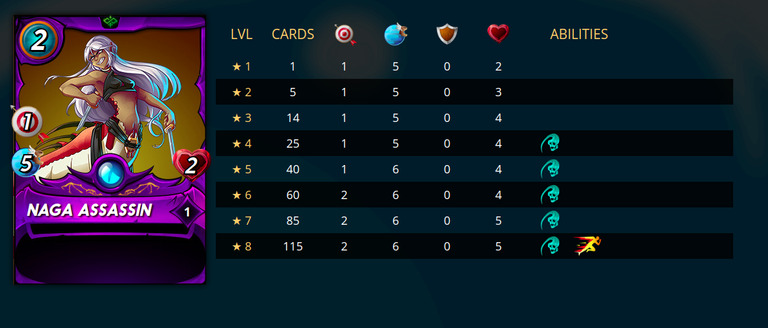 The Naga Assassin is a completely different story. Starting with one ranged attack, 5 speed and two HP, with no abilities, at two mana, it has its place in low mana battles already. At Silver cap (Level 4, 25 BCX) it gets Backfire, with the other Backfire option being the Pelacor Deceiver, which gets the ability at Gold Level first. So this is a unique selling point to the Naga Assassin. Actually it gains only HP in the first few levels, then backfire, then another speed and another ranged attack (at level 6), before it gets another HP and Swiftness. At Silver Cap, this is a complete beast. It doesn't really do a lot of damage itself, but with 5 speed backfire is already going to be triggered a lot. And if that Swiftness would've been any earlier, it would completely broke the meta. In the Lost Magic rule set, this card is almost untouchable, while dealing a lot of damage to all the attackers. It is still to be seen, how good it really is, but to me, this is no $0.69 card. There is no real comparison, but at 2 mana alone this card is much more valuable, only being limited by its low ranged attack damage.
Gargoya Devil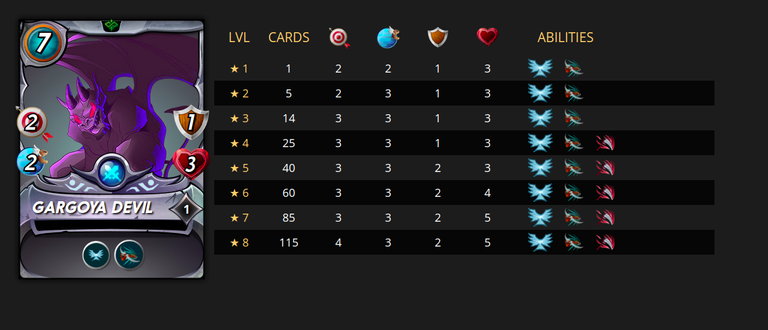 The last rare monster is the neutral Gargoya Devil. At level 1 it already has 2 ranged attack, 2 speed, one shield, 3 HP, Flying and Close Range, making it able to hit from first position. At Silver Cap it gets Deathblow – being the only card in the game as of right now – that has this ability. It will deal 2x damage to its opponent, if the opponent is the only monster left on the enemy team, giving a big hit to Last Stand monsters. Since it gets one more ranged attack at level 3, this will lead to 6 ranged attack to the last enemy monster, which is huge. It is limited by its low health and low speed. It goes to 3 speed at level 2 and stays this way, and is going to get another HP at level 6 and 7, and getting another attack at level 10, as well as another shield at level 5. So yes, it is getting bulkier starting from level 5, but it is still very vulnerable to magic damage on its own. Still being able to attack from first position makes this card very valuable. And it is said, that – at least in combination with others, it is a Llama + Kron / Flesh Golem killer.
It is also a little limited by its high mana cost, but that is something that almost all close range cards share (Lava Launcher being at 9 mana, Axemaster at 7 mana, Beatrix Ironhand at 6 mana and Hero of the Beyond at 7 mana. The two Gladiators Alfredo at two mana and Tatiana Blayde at 8 mana are a little different; Axemaster gets Close Range at level 4, being only available to Gold and above and Alfredo at level 5, also being able to be used only when the Guild Barracks are at Level 7 and above).
What a Case!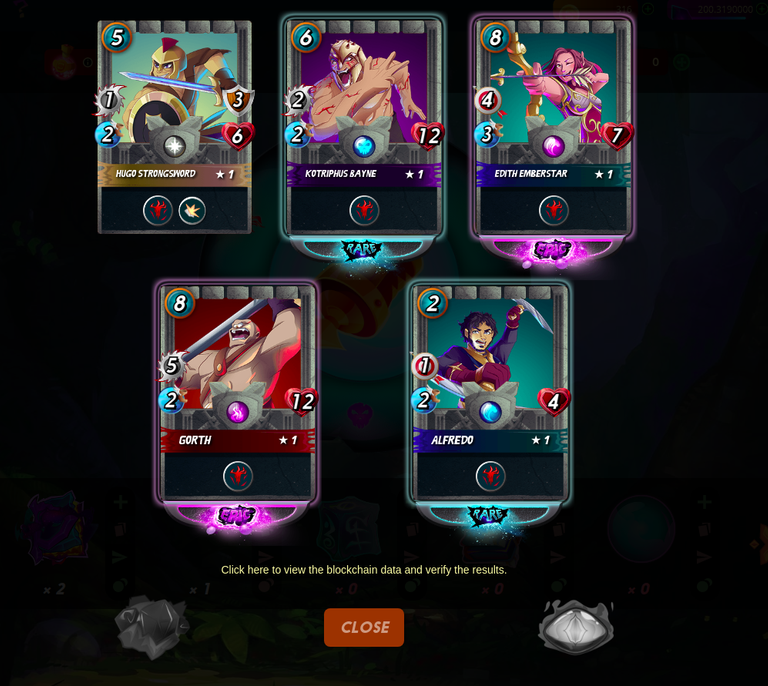 Didn't think, that I would get so lucky with a Gladius Case, but this was far above any of my expectations! Two Epics and two Rares! A total of almost 500 CP and very useful Gladiators!
Cheers,

---
---